In spite of being on the market for almost two decades, Nexcess has not been very popular with WordPress site owners up until recently. Until recently, however, it was not as popular with WordPress website owners.
The reason for this was that Nexcess and Liquid Web joined forces in 2019 to make their hosting business more focused. It is because of this union that Nexcess has become both companies' primary approach for managed WordPress, WooCommerce, and Magento hosting.
In this Nexcess review, I will discuss the hosting services provided by Nexcess as well as the pros and cons of using them. We will examine the following: What does Nexcess offer? What are its features and costs? How simple is it to use? How well does it perform? How fast does it load? What is customer support like? What are the pros and cons of Nexcess? Should you use Nexcess?
What is Nexcess?
We already know that Nexcess is one of the oldest giants in the hosting space. For almost 20 years, they won over customers with their reliability and performance in what was previously their main field of expertise.
Nexcess Merger with Liquid Web
Nexcess teamed up with Liquid Web in 2019—a well-known web application, managed hosting, and cloud services firm. Despite the merger, the companies decided to continue operating independently while pursuing their own goals and niche segments in the hosting industry. That's why Nexcess is an intriguing choice for WordPress, WooCommerce, and Magento hosting.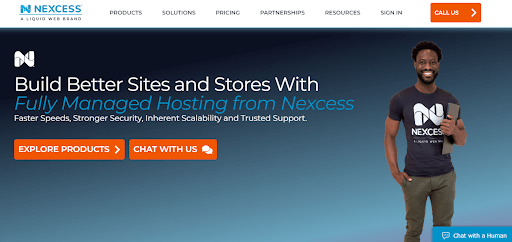 Nexcess Review: Let's Talk About the Pricing First
Prior to the merger, Nexcess wasn't the least expensive choice if you wanted to host a basic WordPress website. That has, however, changed significantly. You can now set up for an extremely reasonable $13.30 monthly cost. You would normally pay twice as much with WP Engine, and the server characteristics and efficiency are comparable.
So, if I just talk about the pricing plan for managed WordPress hosting then that's different.
All the Servers at Nexcess Are Secure & Trustworthy
There are a lot of managed WordPress hosting services available on the market these days, and Nexcess is one of them. Automatic upgrades for WordPress core and all plugins are standard across the sector, and Nexcess delivers the same thing. Beyond that, you get a visual regression testing tool that is functional. You can use this method to focus not on the code changes you've made directly, but on what's happening on the front end of the website – visually – in other words, the module looks for visual changes on the website as opposed to code changes.
It just so happens that WordPress is the most popular platform both for website owners and hackers. Every minute, over 90,000 WordPress sites around the world are being attacked (according to Wordfence).
You obviously must take your website's security seriously if you're thinking of joining the WordPress ecosystem. Nexcess can help you in several ways: It gives you a free SSL certificate and daily backups of your site, which lets you restore your site to its previous working version in case of serious damage.
Furthermore, iThemes Security Pro is provided free of charge. iThemes Security is one of the most popular security plugins for WordPress. iThemes Security Pro normally costs $80+ annually, but Nexcess provides it for free. The malware scanner will also keep an eye on your site to ensure that everything is kosher.
Capable Enough to Setup a Great Staging Environment
Being a developer this is one of the main features that I love the most that Nexcess provides you with one-click staging sites to simplify the development process. Developing a live website is never a good idea, and it is likely the easiest way to break something quick.
With staging sites, you can circumvent that issue. Using this technique, you can create a mirrored copy of the current version of your website—save it as staging—and then work on the staging site. You may then copy the alterations directly to the live website if everything works correctly.
Email Hosting Price & Costing
WP Engine and Kinsta, two of the most prominent managed WordPress hosts, do not provide email hosting alongside their websites. If you host your website with WP Engine or Kinsta, you will have to purchase separate email hosting if you wish to keep your email inbox. Nexcess includes email hosting as part of its services, although it doesn't provide as many email accounts as some other providers.
Does Nexcess Really Support Enterprise Websites?
Nexcess has a few advantages when it comes to performance. The fact that Nexcess owns their data centers and servers is one of them in this Nexcess review. Because they don't rely on Google Cloud or Amazon Web Services like many other managed or cloud hosting companies, Nexcess can react much quicker in the event of any problems.
The other advantage is that there is no third-party company involved in the infrastructure, so they can react much quicker in the event of any problems. This is due to the fact that Nexcess hosts their machines that are compatible with PHP 7 and 8, provides a Nexcess CDN, and employs multi-layered caching. Nexcess can compress any image you use on your site on upload and lazily load it for visitors.
Furthermore, there's Plugin Performance Monitor, a Nexcess solution that evaluates performance on your site and looks for issues that might be lowering it. The plugin stack on your site is primarily examined for adjustments that might slow it down.
Nexcess's visual regression tools, plugin performance monitors, and included email hosting (a simple service) are some of the most impressive features. In comparison to other popular managed WordPress hosts, Nexcess delivers impressive features. What's particularly impressive about Nexcess is its plugin performance monitor and visual regression tools.
How It looks: When I Say Nexcess Is Easy to Use?
Just like most other internet hosting services, getting started with Nexcess is simple. However, Nexcess is geared towards savvy users seeking to manage their own admin dashboards and wade through a couple of setup pages before their website is rocking.
While Nexcess is not particularly difficult, its interface is suited to users seeking full control over their hosting setup rather than novice-friendly (which would conceal certain features and options). The Nexcess dashboard reveals the status of your account more than the hosting configuration itself. You can see your next invoice, the number of support tickets you have currently opened, knowledge base articles, and blog posts here.
Let Me Share Some Facts: Why Nexcess Is Such a Powerful Hosting Provider?
So, the following are some noticeable features that make Nexcess stand out from other competitors.
It's Build to Scale:
Nexcess offers an open-source build on OpenStack which is reliable for all the solutions and sizes by using these technologies: OpenStack, Kolla, Ansible, Docker.
Instant Caching
So Nexcess uses NGINX which performs short-lived memory caching for frequently used of the website assets. The technologies that have been used are HTTP/2, Gzip compression & Bad bot management.
Take Care of the Application Performance
In order to maintain high-speed of the applications for ecommerce websites, Nexcess uses Apache web server PageSpeed.
Support for Server Side Scripting
The Nexcess Cloud has the Redis instance enabled that is designed for application caching and acceleration. On top of that, it also has various PHP versions 5.6, 7.0, 7.1, 7.2, 7.3, 7.4 & 8+ NodeJS 8 & 10 Python 2.7, 3.4 & 3.6 Ruby 2.2, 2.3, 2.5
Cloud Containers
With Nexcess hosting service the cloud containers has been maintained on the Docker, Swarm, Mesh Networking, ElasticSearch, Solr, Varnish.
Final Words
So for now, I'm pretty sure that you have an idea how the support different tech-savvy content management systems and ecommere platforms. If you're interested something hassle-free and supportive cloud hosting service then, the nexcess is the right option for you.
What do you think of Nexcess as a managed hosting? Check out other hosting reviews as well: