The Ordinary is established by late Brandon Truaxe who was an entrepreneur in Toronto and he suddenly passed away in January 2019. The inception of DECIEM was also done by Brandon Truaxe. DECIEM is associated with several other products such as NIOD and Hylamide. However, The Ordinary has been its best and most successful seller due to affordable prices and providing top-notch quality along with exciting new products. It's not necessary to spend a huge amount of money on skincare when you can get your hands on The Ordinary products since they are under $15 and they are stored in dropper bottles with white labels along with a description on them.
The Ordinary products are classified as follows:
Hydrators and Oils
The Ordinary Retinols and Retinoids
Vitamin C
Acids
Antioxidants
More molecules
Cleansers
Suncare
Haircare
The Ordinary Products Worth Your Money
Despite, it's low prices and high quality, the names of the products and it's components are quite strange as they refer to ingredients such as hyaluronic acid, which leaves you trying to interpret what it does and how are you supposed to use it or do you need to check your chemistry book for these ingredients. That's where it gets interesting as we are here to provide you with sincere reviews of the best The Ordinary products which are worth purchasing. Now you can buy their products saving more using The Ordinary deals & discounts.
Exfoliating your skin with chemicals and acids sounds scary, right? However, it turns out that The Ordinary gives a luxurious line of products at prices of soda cans and this chemical exfoliation is a more effective way of removing the outermost layer of dead cells on your skin and revealing a more natural and clearer skin. Nevertheless, you should know what you're applying to your skin and why?
15+ Best The Ordinary Skin Care Products
The Ordinary Acids
1) The Ordinary AHA 30% + BHA 2% Peeling Solution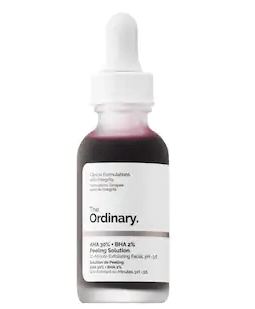 The Ordinary AHA and BHA Peeling Solution consist of Alpha Hydroxy Acids (glycolic and lactic acids) and Beta-Hydroxy Acids (salicylic acid). The AHAs help exfoliate the topmost layer of skin to even the skin tone and for a more clear skin while the BHAs contain salicylic acid which deeply exfoliates inside the skin's pores helping to clear excess oil and hyperpigmentation hence reducing blemishes on your skin.
How to Use It
Apply it for 10 minutes and wash it off with warm water thoroughly to get rid of any acid left on your skin. It's a weekly Peeling Solution for clearer and brighter skin.
2) The Ordinary Hyaluronic Acid 2% + B5
This acid is great to nourish your dehydrated skin as it has multiple molecular weights of HA for hydrating your skin deeply and Vitamin B5 gives a boost to your skin's surface hydration. Since it has HA has great water retention properties, it provides instant hydration to your skin. It will help hydrate your skin during or after an acne breakout and make your skin feel healthier. It's one of the best moisturizing products of The Ordinary.
Who Could Use the Ordinary Hyaluronic Acid 2% + b5?
It's suitable for all skin types since it has a lightweight texture and it would suit anyone who is looking to hydrate their skin and make it softer.
3) The Ordinary Lactic Acid 10% + HA 2%
This Lactic Acid is an Alpha Hydroxy acid which gently exfoliates the skin and provides you with a more even, soft and smooth skin. It contains Tasmanian Pepper berry which reduces the irritation related to the usage of acid.
How to Use It
Use it before going to bed and it suits almost all skin types. You can use it every night, however, one should start with Lactic Acid 5% to avoid any irritation.
4) The Ordinary Glycolic Acid 7% Toning Solution
This Glycolic Acid is also an AHA, sister of Lactic Acid with slightly different properties since it mildly exfoliates the skin and also helps clear pores and regenerate your skin clarity. Also, it has the same Tasmanian Pepperberry property along with aloe Vera to avoid any irritation. It's a great product to refine the texture of your skin.
When to Use It
It's ideal to use it in PM and avoid contact with the sun after applying this or you should wear sunscreen.
5) The Ordinary Salicylic Acid Masque
This is a beta-hydroxy acid (BHA) that exfoliates your skin's outer layer and penetrates through your skin to unclog pores and it has great benefits to acne-prone skin as it would help reduce your acne and blackheads. The Salicylic Acid has anti-inflammatory properties which would prevent redness on the skin and minimize irritation on the skin.
How to Use It
You can use it in both AM and PM on the acne spots for visible improvement twice a week. Leave it for 10 minutes after applying and rinse it off with lukewarm water.
6) The Ordinary Azelaic Acid Suspension
It is produced naturally by yeast that lives on healthy skin. This acid has a gel-like texture that absorbs into your skin allowing it to minimize blemishes and acne. It gives an even tone to your skin and reduces hyperpigmentation as well.
Benefits:
• Has antioxidants
• Anti-inflammatory properties
• Improves the texture of your skin
When to Use
Apply it at night after using a serum or toner on your face.
7) The Ordinary Niacinamide 10% + Zinc 1%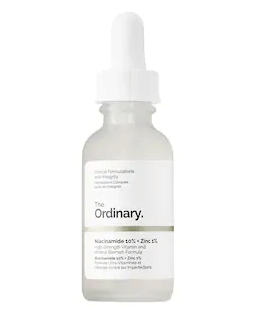 This acid is an all-rounder product for oily skin, it targets pores and oil congestion by controlling the production of sebum along with its anti-inflammatory properties. The addition of Zinc is a bonus as it helps with reducing blemishes.
When to Use
Apply it twice daily in the morning and evening on the entire face.
The Ordinary Eye Cream
8) The Ordinary Caffeine Solution 5% + EGCG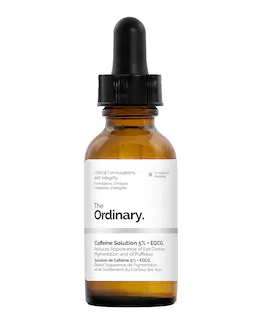 This Caffeine solution helps reduce puffiness and dark circles under your eyes and is great for sleep-deprived people. It is a lightweight formula with 5% of caffeine along with EGCG which is found in green tea leaves and it contains powerful antioxidant properties. It reduces your eye bags as well thus you will end up saving your concealer money.
How to Use It
Just apply a tiny drop under your eyes in the morning or evening and massage. People with sensitive skin should refrain from it.
The Ordinary Toners and Serums
9) The Ordinary Squalane Cleanser Review
This Squalane Cleanser is a cleansing product developed aimed at removing makeup while leaving the skin smooth and soft. Squalane is the hero ingredient here which has the following benefits:
• Powerful antioxidants
• Provides moisture to the skin
• Has the efficacy to retain moisture in the skin
• Light for oily skin
• Provides moisture to dried skin
How to Use It
Take a little bit of cleanser in your palm and massage gently for 20-30 seconds between your palms which would turn this cleanser from balm to oil-like consistency leaving a very light texture cleanser. Massage it gently on your face and wash it with warm water.
10) The Ordinary 100% Pycnogenol 5%
Pycnogenol is a natural extract derived from the pine bark of French maritime pine trees. It works in unity to revitalize the skin and boosts skin hydration and elasticity. It is enriched with effective antioxidants. It has a lower concentration and is free of alcohol, water, and oil.
When to Use
You can use it in the evenings or morning as it revives skin from inside out. You can apply it alone as well as after water-based serums.
11) The Ordinary Buffet
The Buffet is formulated to target aging skin problems like wrinkles and saggy skin. It contains multiple peptides that help in skin tightening and elasticity. It is a kind of anti-aging serum that tackles several aging signs.
Benefits
• The formula is highly concentrated in active ingredients
• The texture is a liquid jelly-like rather than sticky so it's good to use
• It's moisturizing
• Value for money
How to Use It
Apply to your entire face at any time of the day after cleaning.
The Ordinary Moisturizer
12) The Ordinary Natural Moisturizing Factors + HA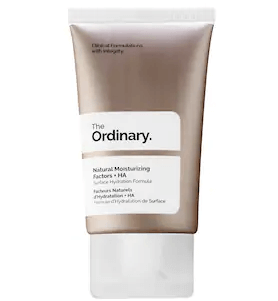 The Ordinary Natural Moisturizing Factors + HA strengthens your skin's outermost layer against dryness and deeply moisturizes it leaving it smooth and supple. As it contains acids like amino acids, fatty acid, and Hyaluronic acid, it helps in retaining moisture in our skin leaving it soft and moisturized.
Benefits
• Feels lightweight on the skin since it absorbs quickly
• Strengthens your skin's outermost layer
• Moisturizes skin, leaving it softer and hydrated
• Its gentle, doesn't irritate the skin
• Acts as a primer before makeup
How to Apply
Apply after serums as needed for moisture and hydration.
The Ordinary Primers
13) The Ordinary High-Adherence Silicone Primer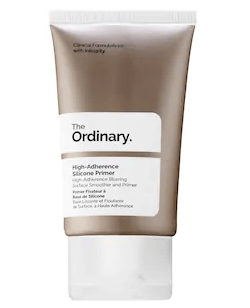 This Primer uses advanced adaptive silicones to act as matte and hydrating primer to form a great base for makeup which reduces all imperfections and pores on the skin and adheres for a longer period. It has a gel cream-like formula that leaves your skin smoother and gives it a silky touch.
How to Apply
You can use it under makeup as your primer or alone as well to hydrate and moisturize your skin.
The Ordinary Retinoids
14) The Ordinary Granactive Retinoid 2% Emulsion
This Emulsion has a milk kind of consistency and is lightweight. It can treat various skin problems including acne, aging, and hyperpigmentation.
Benefits
• Has antioxidants
• Helps in improving wrinkles and fine lines
• It Helps in maintaining firmness and elasticity of the skin
• Improves the texture of our skin
How to Use It
Apply it in your PM skincare regimen since it would react to exposure of sun so don't forget to apply a good sunscreen when going out the other day after applying retinoids. Do not use it with other retinoids.
The Ordinary Vitamins
15) The Ordinary Vitamin C Suspension 23% + HA Spheres 2%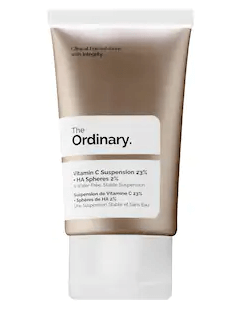 The key ingredients in this serum are L-ascorbic acid and Sodium Hyaluronate both of which provide your skin with various benefits:
• Anti-ageing effects such as reducing fine lines and wrinkles
• Gives your skin supple and smooth texture
• Keeps your skin hydrated
• Safe for pregnant women to use
• Boosts collagen production, keeping skin firm
How to Use It
Apply it at night after applying your toner or cleansing your face. Apply a pea-sized dollop of this serum on your face before going to bed. Expect a slight tingling sensation on your skin in the first week.
16) The Ordinary Magnesium Ascorbyl Phosphate 10%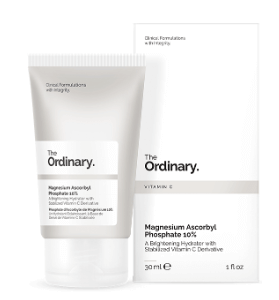 This Ordinary cream is perfect for those who are new to using Vitamin-C on their skin since it has a light cream texture that easily absorbs onto any skin type and especially good for sensitive skin. It is an all-rounder product for all skin types including oily, dry, and flaky skin. It will reduce uneven skin tone, pigmentation, and gives you smooth skin.
When to Use
Use it in the mornings or evenings after applying your water-based serums.
The Ordinary Hydrator
17) The Ordinary 100% Plant-Derived Squalane
Squalane is a saturated and solid hydrocarbon that is found naturally in the skin. It helps retain moisture in the skin if used on a regular basis and hydrates all types of skin giving them a smooth and supple texture. It can also be applied to hair to prevent them from heat damage and breakage thus giving them a shiny look.
How to Use It
Apply a few drops to your face at any time of the day after using your toner.
The Ordinary Skin Care Guide
The Ordinary has transformed the beauty industry 's landscape into portrait mode where all your skincare wardrobes are filled with The Ordinary 's wallet-friendly products. They have the potency to help you with all skin types in super effective ways. To make your skincare trouble-free for you, we have put together this simple skincare guide for you so you can start with a really good collection of The Ordinary.
Firstly, Cleansers are a basic part of your skincare routine and The Ordinary provides you with the best cleanser for all skin types which is "The Ordinary Squalane Cleanser". It gives you soft and smooth skin with all the hydration it requires.
Your skin requires Vitamin C to stay firm since Vitamin C has properties of collagen in it which gives your firmness and elasticity in your skin. It has antioxidant properties as well which protects your skin from any sort of radical damage and gives you an even skin tone. As mentioned above, "The Ordinary Vitamin C Suspension 23% + HA 2%" is great for dull skin.
Here come the acids, both AHAs and BHAs are great for exfoliating your skin and get rid of dead skin cells. It brings on glowing skin and gives you an even tone.
Moreover, your skin requires hydration and oils as well to keep your skin hydrated and moisturized. "The Ordinary 100% Organic Virgin Chia Seed Oil" is perfect for your skin and even your hair since it is a really good consolidation of antioxidants that keep your skin hydrated and protects your hair from damage.
The Molecules are also an important part of your skincare and The Ordinary provides the best molecules for all skin types and age groups to treat fine lines for aging people and puffiness for teenagers. "The Ordinary Caffeine Solution 5% + EGCG" is best to reduce puffiness under your eyes with the blend of antioxidants.
Retinoids are one of the best products of The Ordinary as they are the derivative of Vitamin A which helps your skin with the appearance of pigmentation, fine lines, and pores. It also helps to keep your skin's firmness intact through boosting collagen.
Finally, yet importantly, we have got "The Ordinary Buffet", which consists of peptides and is a multi-tasking serum that targets all signs of ant-aging, acne-prone skin, and dull skin. It is a must-have in your skincare regimen.
Best Products for Acne
• Salicylic Acid 2% Masque
• Azelaic Acid Suspension
• AHA 30% + BHA 3% Peeling Solution
• Glycolic Acid 7% Toning Solution
Dry Skin The Ordinary Products
• Natural Moisturizing Factors + HA
• 100% Plant-Derived Squalane
• Hyaluronic Acid 25 + B5
• Lactic Acid 5% + HA
The Ordinary Best Products for Oily Skin
• AHA 30% + BHA 2% Peeling Solution
• Salicylic Acid 2% Masque
• Niacinamide
To conclude, we have provided you with all the guides on how to go about your skincare regimen from all the basics to advanced level formulas. Now you are good to go as you are fully equipped with all the knowledge you need for your skincare. Check out amazon discount codes for anything related to skincare and beauty brands.