I know you are concerned about the downtime and performance of your websites like every other business owner does. If you're also one of those who are currently on the hunt for the right hosting solution. Then, I bet you, you're in a great spot. Keep reading the Cloudways review to get the best hosting solution.
When we talk about the managed cloud hosting solution. Then, there's none other better and the most competitive managed cloud hosting providers like Cloudways. Why so?
I am going to talk about this in detail and will help you to explore how you can leverage and optimize your websites using Cloudways.
Walkthrough: What Is Cloudways?
Cloudways has been in business for many years. And it has already helped thousands of businesses in achieving their dreams. Cloudways supports various sorts of business niches like ecommerce, SMBs, Freelancers, and Individuals.
It comes with top-notch cloud providers that include Digital Ocean, Linode, Vultr, AWS, and Google Cloud Platform. The great part is it integrates the layer of server management with a couple of amazing features which give peace of mind to the business owner and freedom at the same time.
Easy to Deploy
It just takes a few clicks to deploy an application with Cloudways using one of their top cloud providers.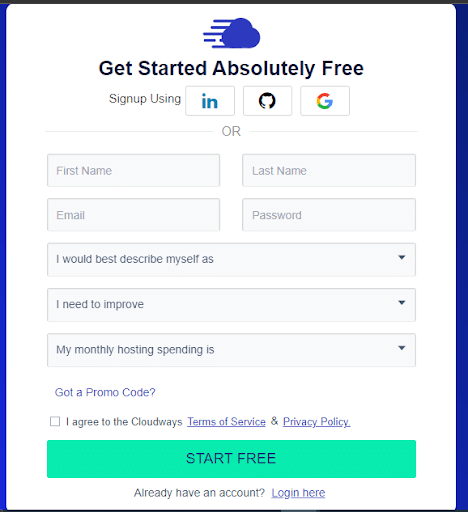 First, you need to sign up with the Cloudways platform by filling out the basic information.
Once done, you will see the interface like this as shown below: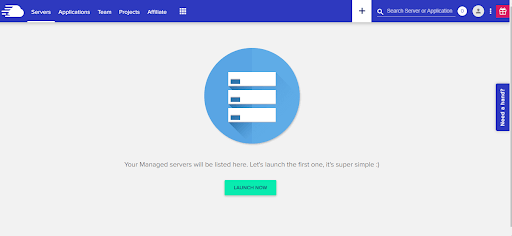 Hit the launch now to deploy your first server using Cloudways.

First, you need to name your application, and server and list the projects if you are running a bunch of projects.
Second, you need to choose among the top 5 cloud providers and set the server size as per your website's requirements.

Lastly, you need to select the server location. Please note: it's recommended to choose the nearest server as per your targeted audience to enjoy better performance.
All set? It's time to hit the launch now button and you're good to go.

It takes a few minutes to deploy a server along with your associated application.
Supported Applications with Cloudways
With Cloudways you can host all kinds of websites that have the built-in architecture on PHP. If we particularly talk about the 1-click applications, so following are them:
WordPress
Magento
Custom PHP
Explore: Cloudways Features
Now, it's time to share some of the exceptional features and add-ons offered by Cloudways that become the center point of the user attraction.
Cloudways Performance Stack
First thing first, without site performance you're nothing, And, I also believe in the following statement that "hosting can make you or break you". With that, I really want to discuss the Cloudways server technologies that provide unleash performance to the websites.
Cloudways offer two major sever technology (Apache & NGINX) that operates and execute the initial request from the client in no time.
Following up with that, it also stacks up the latest version of the caches like Varnish, Memcached, etc.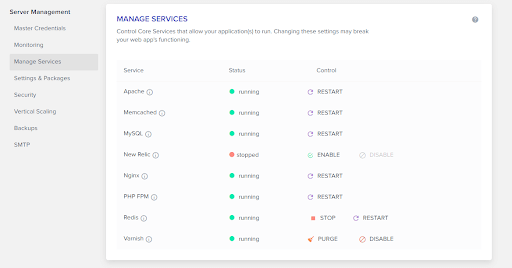 Security Options
When it comes to security, Cloudways religiously follows all the SOPs to protect and secure the servers. So, with security the very first thing IP Whitelisting, it means you can block all the unwanted IPs from the single dashboard to avoid access to the application.
Similarly, you can same apply the IP whitelist to the MySQL database for remote connections.
Security is the main concern for every business owner. And this Cloudways BOT Protection feature is one of my absolute favorites. And, that's the reason I prefer Cloudways.
Spam and bots are really becoming a pain and it's better to stop or track them with a proper monitoring mechanism. The Cloudways Bot Protection offers detailed statistics of the website traffic with a complete breakdown that clearly indicates the proportion of bots in the overall website traffic.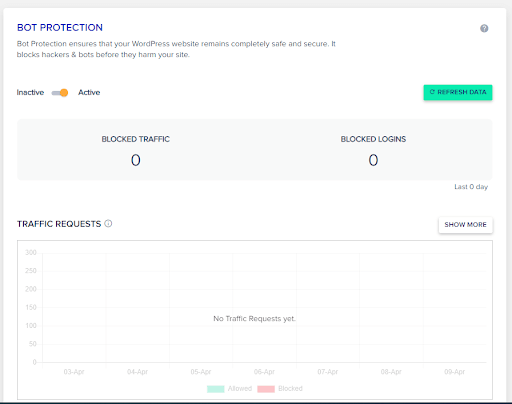 Along with that, you can also track the login requests or login attempts.
Not only that, but you can also avail free SSL certificate for each and every application.
Please note: Due to personal usage I'm unable to share the actual data in the screenshots.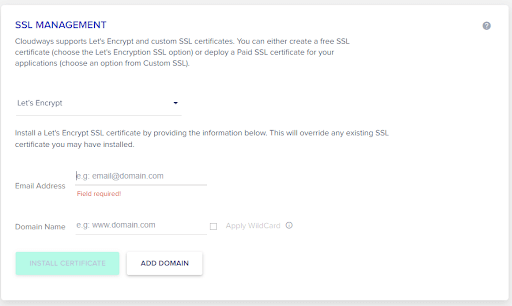 Let's Talk About Backup Options
So, with Cloudways you can avail two different levels of backup one is application-based and the second on the server level.
While taking a server backup, you need to schedule a time, backup frequency, and retention time of the backup. Also, you can also take an immediate backup by clicking on "Take Backup Now."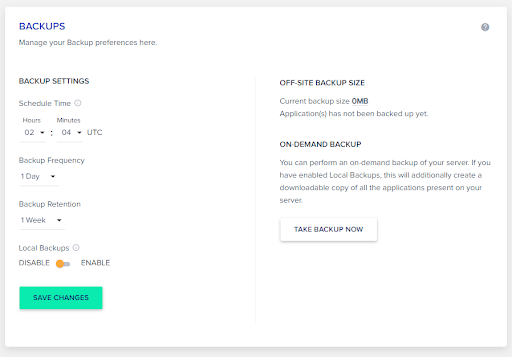 With application back up on any site. You can restore application data that includes files or any database. It allows you to have multiple on-demand backups. So, if anything breaks in the live application or doesn't work as per your demand. You can always utilize this restore feature with Cloudways.
Server Scalability
It mainly happens that you need to scale the server size due to various reasons. If you also get into the same situation then there's nothing to worry about. All you need to do is go to server scalability features and scale the server size as per your need.
In order to scale your server, you don't need to ask permission for it.
Cloudways Monitoring
Well, the first question that comes into my mind was what metrics I can analyze or track wth the Clouways monitoring feature.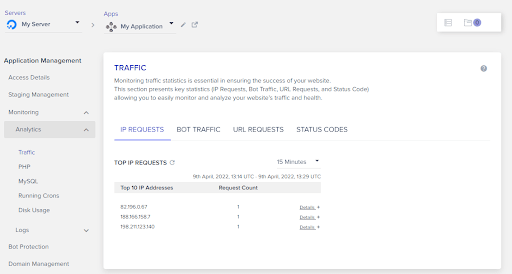 The above dashboard allows you to track and manage different metrics like traffic, operation handling with PHP, MySQL, current running Crons, disk usage, and also log activities.
Other Feature that You Don't Want to Miss Out!
Apart from the above amazing let me also share some of the great features that you don't want to miss and might also help in making the right decision.
Staging environment that helps you in testing the site before making it live.
Deployment via Git.
Master credentials to access your server and application.
SMTP configuration where you can add third-party emailing services and Rackspace Email.
Cron and domain management dashboard
Migration tools
Cloudways recently launch Cloudfare integration that offers Enterprise CDN, Full Page Cache, WAF, Image Optimization, and much more.
Cloudways Support
TBH, Cloudways support is really good having a team of patient and technical personnel that can help to resolve issues within no time.
Cloudways offers 24/7/365 via live chat and also supports the ticketing option for queries that require a much longer time than usual.
However, Cloudways does not provide application support by default. It means that if you face any sort of issues within the application like WordPress or Magento. You won't be able to entertain in these regards.
Besides, Cloudways also offers an additional Support Scope with extra benefits like Calls, etc which requires extra bugs.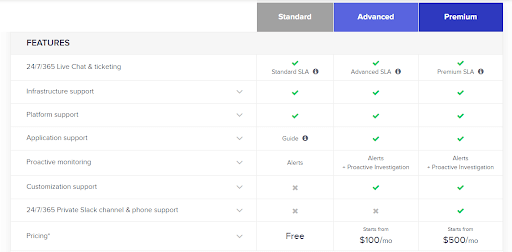 Cloudways Pricing
The factor that gives an edge over other hosting providers is their pricing plan. The best part is that they offer Pay-As-You-Go which means you only need to pay for your active servers and when you stop using the server you don't have to pay them.
The pricing plan starts from $12 per month.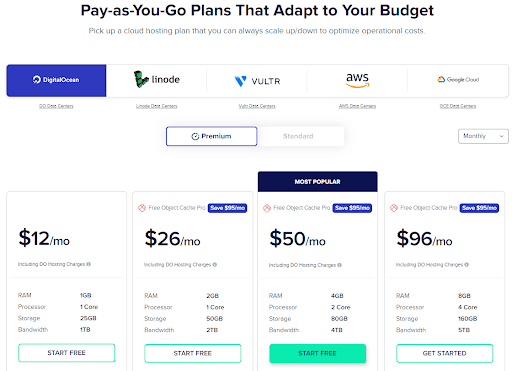 The Verdict!
Alright, that's a wrap! I tried my best to explain the maximum features of the Cloudways. Before, making a decision on the Cloudways I would highly recommend you to try their 3-days free trial. It gives you a complete idea of how it fulfills your use cases.
If you want me to explore or share the review of any other hosting provider. Please do let me in the comment section. Happy Hosting!
Frequently Ask Questions
Q. Does Cloudways have a file manager?
There's no such separate file manager set up available within the platform. You need to use FileZilla or other third-party file managers to access web application files.
Q. How does Cloudways billing work?
Cloudways offers a Pay-as-You-Go service. You only pay for the resources you consume. You may receive the invoice between the 1st and the 6th of every month for the total resources used in the previous month.
Q. How do I add funds to my account Cloudways?
Log in to your account and navigate to the member area. Then click on the Funds tab on the left-hand side of your screen. Now click on the Add Funds button and add your desired amount. These added funds will be deducted from your next invoice.
Checkout other hosting reviews:
Bluehost Review