I know you are concerned about the downtime and performance of your websites like every other business owner does. If you're also one of those who are currently on the hunt for the right hosting solution. Then, I bet you, you're in a great spot. Keep reading the Cloudways review to get the best hosting solution.
When we talk about the managed cloud hosting solution. Then, there's none other better and the most competitive managed cloud hosting providers like Cloudways. Why so?
I am going to talk about this in detail and will help you to explore how you can leverage and optimize your websites using Cloudways.
Walkthrough: What Is Cloudways?
Cloudways has been in business for many years. And it has already helped thousands of businesses in achieving their dreams. Cloudways supports various sorts of business niches like ecommerce, SMBs, Freelancers, and Individuals.
It comes with top-notch cloud providers that include Digital Ocean, Linode, Vultr, AWS, and Google Cloud Platform. The great part is it integrates the layer of server management with a couple of amazing features which give peace of mind to the business owner and freedom at the same time.
Easy to Deploy
It just takes a few clicks to deploy an application with Cloudways using one of their top cloud providers.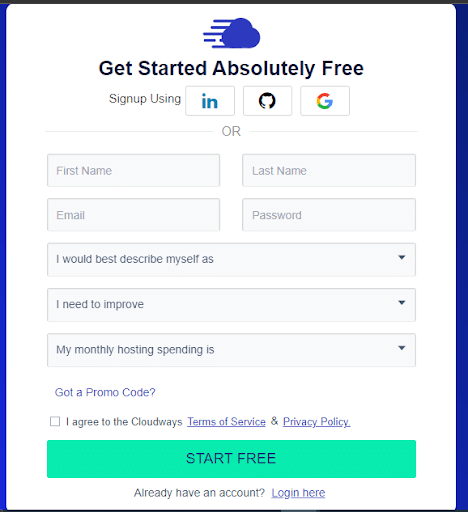 First, you need to sign up with the Cloudways platform by filling out the basic information.
Once done, you will see the interface like this as shown below: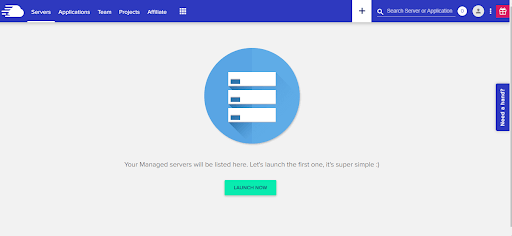 Hit the launch now to deploy your first server using Cloudways.

First, you need to name your application, and server and list the projects if you are running a bunch of projects.
Second, you need to choose among the top 5 cloud providers and set the server size as per your website's requirements.

Lastly, you need to select the server location. Please note: it's recommended to choose the nearest server as per your targeted audience to enjoy better performance.
All set? It's time to hit the launch now button and you're good to go.

It takes a few minutes to deploy a server along with your associated application.
Supported Applications with Cloudways
With Cloudways you can host all kinds of websites that have the built-in architecture on PHP. If we particularly talk about the 1-click applications, so following are them:
WordPress
Magento
Custom PHP
Explore: Cloudways Features
Now, it's time to share some of the exceptional features and add-ons offered by Cloudways that become the center point of the user attraction.
Cloudways Performance Stack
First thing first, without site performance you're nothing, And, I also believe in the following statement that "hosting can make you or break you". With that, I really want to discuss the Cloudways server technologies that provide unleash performance to the websites.
Cloudways offer two major sever technology (Apache & NGINX) that operates and execute the initial request from the client in no time.
Following up with that, it also stacks up the latest version of the caches like Varnish, Memcached, etc.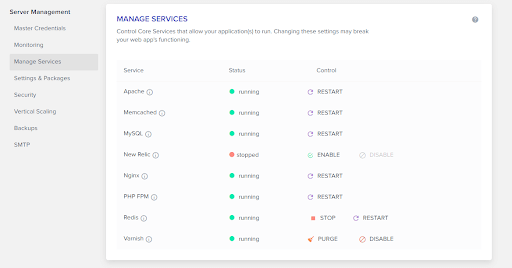 Security Options
When it comes to security, Cloudways religiously follows all the SOPs to protect and secure the servers. So, with security the very first thing IP Whitelisting, it means you can block all the unwanted IPs from the single dashboard to avoid access to the application.
Similarly, you can same apply the IP whitelist to the MySQL database for remote connections.
Security is the main concern for every business owner. And this Cloudways BOT Protection feature is one of my absolute favorites. And, that's the reason I prefer Cloudways.
Spam and bots are really becoming a pain and it's better to stop or track them with a proper monitoring mechanism. The Cloudways Bot Protection offers detailed statistics of the website traffic with a complete breakdown that clearly indicates the proportion of bots in the overall website traffic.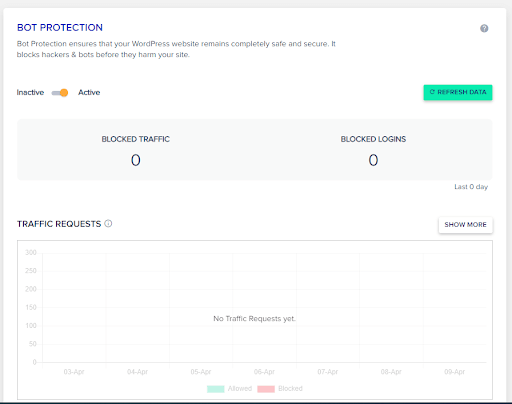 Along with that, you can also track the login requests or login attempts.
Not only that, but you can also avail free SSL certificate for each and every application.
Please note: Due to personal usage I'm unable to share the actual data in the screenshots.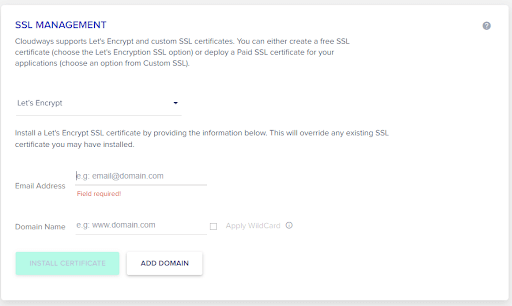 Let's Talk About Backup Options
So, with Cloudways you can avail two different levels of backup one is application-based and the second on the server level.
While taking a server backup, you need to schedule a time, backup frequency, and retention time of the backup. Also, you can also take an immediate backup by clicking on "Take Backup Now."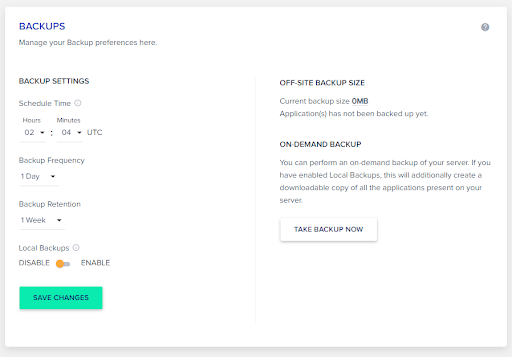 With application back up on any site. You can restore application data that includes files or any database. It allows you to have multiple on-demand backups. So, if anything breaks in the live application or doesn't work as per your demand. You can always utilize this restore feature with Cloudways.
Server Scalability
It mainly happens that you need to scale the server size due to various reasons. If you also get into the same situation then there's nothing to worry about. All you need to do is go to server scalability features and scale the server size as per your need.
In order to scale your server, you don't need to ask permission for it.
Cloudways Monitoring
Well, the first question that comes into my mind was what metrics I can analyze or track wth the Clouways monitoring feature.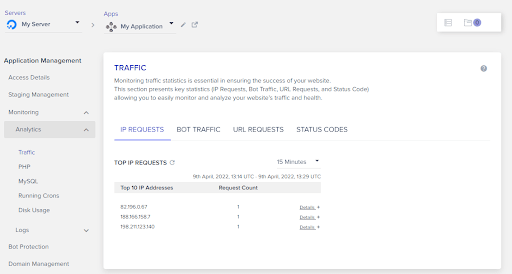 The above dashboard allows you to track and manage different metrics like traffic, operation handling with PHP, MySQL, current running Crons, disk usage, and also log activities.
Other Feature that You Don't Want to Miss Out!
Apart from the above amazing let me also share some of the great features that you don't want to miss and might also help in making the right decision.
Staging environment that helps you in testing the site before making it live.
Deployment via Git.
Master credentials to access your server and application.
SMTP configuration where you can add third-party emailing services and Rackspace Email.
Cron and domain management dashboard
Migration tools
Cloudways recently launch Cloudfare integration that offers Enterprise CDN, Full Page Cache, WAF, Image Optimization, and much more.
Cloudways Support
TBH, Cloudways support is really good having a team of patient and technical personnel that can help to resolve issues within no time.
Cloudways offers 24/7/365 via live chat and also supports the ticketing option for queries that require a much longer time than usual.
However, Cloudways does not provide application support by default. It means that if you face any sort of issues within the application like WordPress or Magento. You won't be able to entertain in these regards.
Besides, Cloudways also offers an additional Support Scope with extra benefits like Calls, etc which requires extra bugs.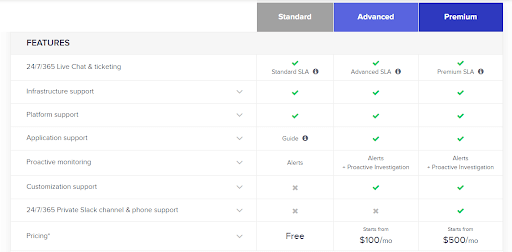 Cloudways Pricing
The factor that gives an edge over other hosting providers is their pricing plan. The best part is that they offer Pay-As-You-Go which means you only need to pay for your active servers and when you stop using the server you don't have to pay them.
The pricing plan starts from $12 per month.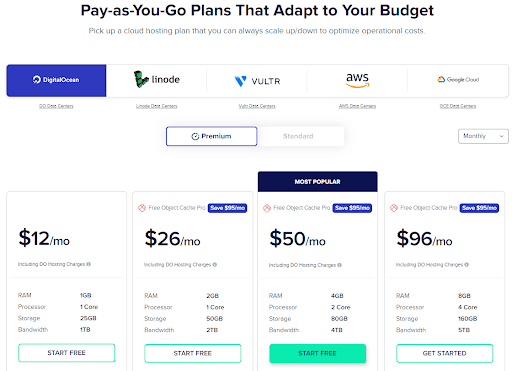 The Verdict!
Alright, that's a wrap! I tried my best to explain the maximum features of the Cloudways. Before, making a decision on the Cloudways I would highly recommend you to try their 3-days free trial. It gives you a complete idea of how it fulfills your use cases.
If you want me to explore or share the review of any other hosting provider. Please do let me in the comment section. Happy Hosting!
1. Karl Hughes, CEO of Draft.dev
You can connect with him via LinkedIn
We haven't moved away from our current host yet, but we've experimented with Cloudways and have found that it offers more powerful server options, and makes our site run incredibly fast. Their customer support team is also incredibly fast. They have been great with the many questions I had about the platform. This is something I look for from every company I intend to work with. Small businesses should look out for this as well. Good customer support means that you don't have to hire your own web development team.
2. Jack Kanefield, founder & CEO of the ONNO.com
You can connect with him via LinkedIn
I personally always like to put Cloudways above Kinsta when it comes to the best hosting service for both small and large businesses, mostly for a few reasons.

First of all, Cloudways offers more flexibility and more control over your sites than Kinsta by allowing you to choose your cloud host from five different servers (Digital Ocean, Linode, Vultr, AWS, and Google Cloud) as well as your data center from 65+ different options, and it's safe to say that these perks alone give Cloudways a huge edge over its bigger competitor.

As if that wasn't enough, Cloudways not only offers more flexibility than Kinsta but it is also cheaper (Kinsta's starter plan is $35/month while Cloudways' $12/month) and offers much more support options to help you with any possible issues or bugs you may suffer, which is why I think it's better than Kinsta all day long.
3. Ismail Kuden, Co-Founder of Kudenrugs.com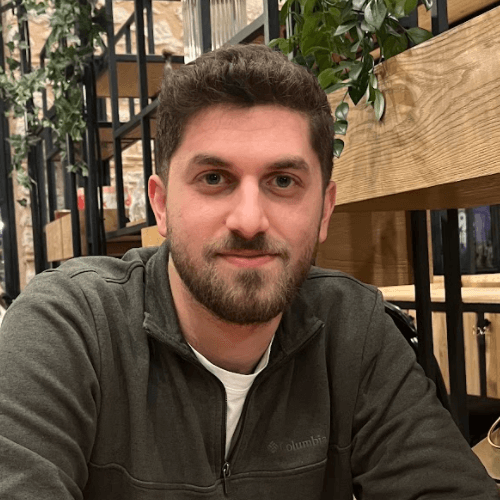 You can connect with him via LinkedIn
For businesses that rely heavily on their website, choosing the right hosting services is essential. Two of the most popular choices for business hosting are Cloudways and Kinsta. Both services offer a number of advantages, but there are some key differences to consider.

Cloudways offers a managed platform that makes it easy to set up and maintain your website. It also provides a wide range of features and tools to help you optimize your site for performance. Kinsta, on the other hand, focuses on providing high-speed hosting with excellent uptime. It also offers a user-friendly control panel and 24/7 customer support. Ultimately, the best choice for business hosting will depend on your specific needs and preferences. However, both Cloudways and Kinsta offer reliable and feature-rich services that can help take your business to the next level.
4. Max Benz, Founder and CEO at Bankinggeek.com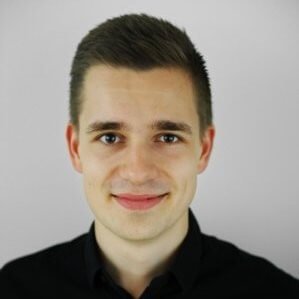 You can connect with him via LinkedIn
When it comes to choosing a hosting service for business, there are a few key factors to consider. First, it is important to think about the size and scope of your business. If you have a small, local business, then you may not need as much storage space or bandwidth as a larger, international company. Second, it is important to consider your budget. Both Cloudways and Kinsta offer affordable options for businesses of all sizes, but Kinsta may be a better choice if you are working with a tight budget. Finally, it is important to read reviews and compare features before making a decision. Both Cloudways and Kinsta offer excellent customer support and a wide range of features, so the best way to decide is to read reviews and compare prices. Based on these factors, we believe that Kinsta is the best hosting service for business.
5. Lisa Dietrich, Co-Founder of Remotecanteen.com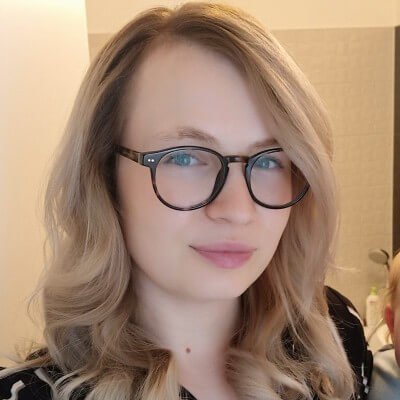 When it comes to choosing a hosting service for business, there are a lot of factors to consider. Price, features, scalability, and customer support are all important considerations. Two of the most popular hosting services on the market are Cloudways and Kinsta.. Both offer a wide range of features and benefits, but which one is the best choice for business?

Cloudways is a great choice for businesses that need a flexible and scalable hosting solution. The platform offers pay-as-you-go pricing, so you only ever pay for the resources you use. Cloudways also offers a wide range of features, including unlimited storage, bandwidth, and emails. Plus, the platform is fully managed, so you don't have to worry about maintaining your servers.

Kinsta is another excellent option for business hosting. The platform offers fast servers, automatic backups, and 24/7 customer support. Kinsta also makes it easy to scale your website as your business grows. Prices start at $30 per month for 1GB of storage and 20GB of bandwidth.

Both Cloudways and Kinsta offer great options for business hosting. Which one you choose will depend on your specific needs and budget.
6. Baidhurya Mani, Founder of Sellcoursesonline.us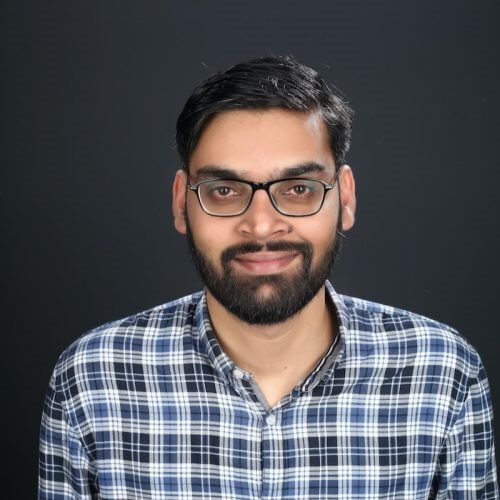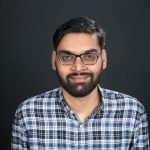 You can connect with him via LinkedIn
Cloudways is a cloud-based hosting service that offers pay-as-you-go pricing and a wide range of features. One of the main benefits of Cloudways is its scalability – you can easily adjust your plan as your business grows. Additionally, Cloudways offers 24/7 support and a 99.9% uptime guarantee.

Kinsta is a WordPress-specific hosting service that is known for its speed and security. Kinsta offers managed WordPress hosting plans that start at $30 per month. One of the main benefits of Kinsta is its focus on security – all plans include free SSL certificates and daily backups. Additionally, Kinsta offers 24/7 support and a 99.9% uptime guarantee.

Ultimately, the best hosting service for your business will depend on your specific needs and budget. But if you're looking for a reliable and affordable option, Cloudways is a great place to start.
7. Mila Garcia, Co-founder of iPaydayloans.com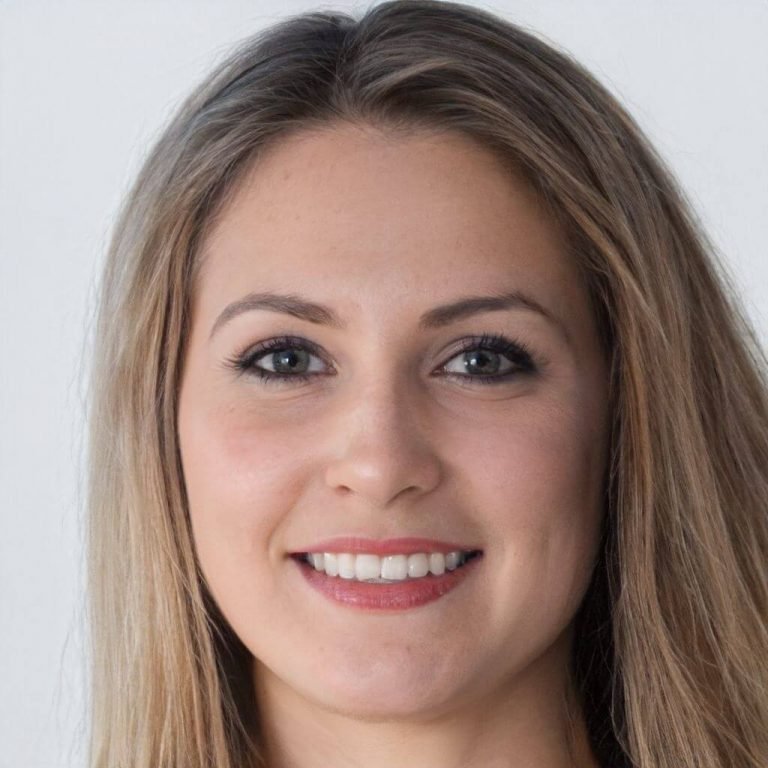 Cloudways is the stronger hosting option because its platform allows you to deploy your cloud servers in one of 65+ data center locations. This in turn means that you can pick whichever region and city is not far from your servers to guarantee greater site speed. However, what is more impressive is Cloudways' pay-as-you-go pricing, as the provider offers flexible pricing plans that allow you to conveniently choose between hourly or monthly pricing packages. And while the service is not perfect since it does lack a cPanel and fails to offer domain registration, it is the best option for those looking for a hosting provider that can facilitate a whole host of add-ons, customizations and integrations to ensure that it works perfectly with your needs.
8. Stella Scott, Co-founder at Easypaydayloan.co.uk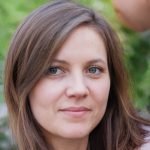 You can connect with her via LinkedIn
For those who need a reliable website hosting platform with an extensive array of features and excellent customer support, Kinsta is your best option. Kinsta uses Google Cloud Platform's infrastructure to provide your website with the best hosting experience. Kinsta is packed with wholesome features such as website management, including powerful security and protection, the ability to manage backups and snapshots, a real-time alerting system, and monitoring your site's performance. Nonetheless, advanced support for eCommerce websites, including SEO analysis and optimization, A/B testing, and analytics, is another great feature. This Magento-based eCommerce platform is easier to install, manage, update, and scale with a one-click interface compared to Cloudways.
9. Stella Cooper, CEO at Paydayloansuk.com
Cloudways possesses a soft edge overall, but Kinsta is better for WordPress. Both these hosting services are tied to performance and security. Still, Cloudways takes the lead with its superior pricing, and its versatility is worth considering in terms of features and support.

Cloudways is an excellent and focused web host, and its service has flexible cloud hosting plans, seamless web-based customer support, rapid setup times, and best-in-class uptime. However, it's the best company you can rely on to keep your site up and running to services that offer those items.

On the other hand, Kinsta is the first host to be powered exclusively by the Google Cloud Platform, such as Google's latest generation Compute-Optimized VMs (C2) and Google Cloud's premium global tier network most lavish and rapid machines starting at $35/month. Moreover, It provides expert, free, and human-performed migrations with all its plans. But Cloudways doesn't provide expert assistance migration services.
10. Madilyn Hill, CEO at TruePersonfinder.com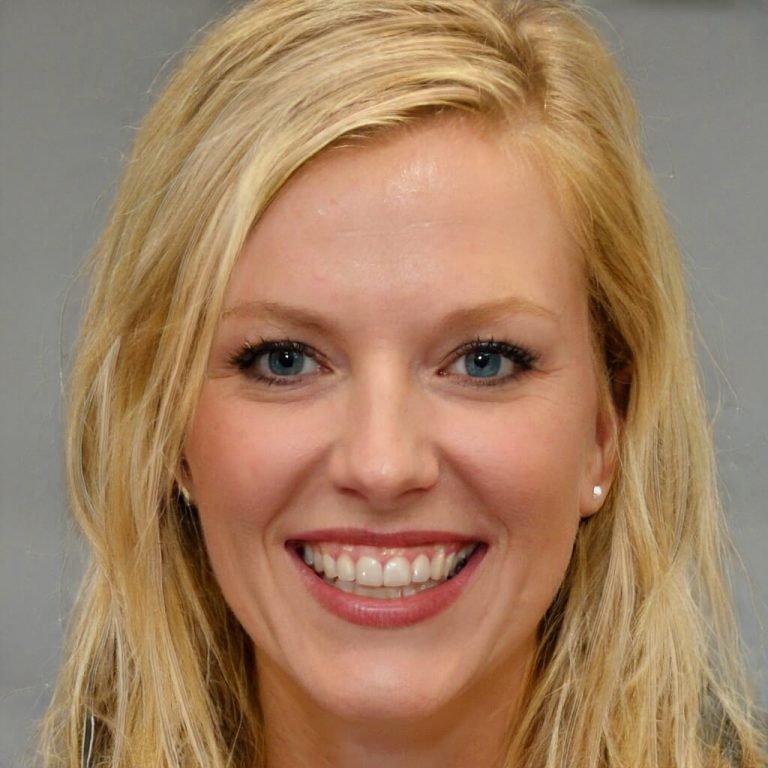 You can connect with her via LinkedIn
Cloudways has more support channels than Kinsta. Since both hosting platforms are premium managed hosting services, Cloudways is better due to its additional support option. A user gets 24/7 specialized support with both hosts, with a few noteworthy differences. Kinsta has a single support model for all its plans, which means regardless of the subscription you select, you get similar support facilities.

On the other hand, Cloudways has standard live chat and ticket support included on all its plans. You can purchase two extra channels, such as a private slackline and phone. However, the hosting platforms agents are quick to respond and polite.
11. Alex Haley, the co-founder at Yardsnearme.com
You can connect with him via LinkedIn
In my opinion, Cloudways is better than Kinsta as there are some added features available in Cloudways compared to Kinsta. For example, in Kinsta, you will not have the option to use Cloud Infrastructure. On the other hand, Cloudways provides several other alternatives, including Digital Ocean, Vultr, and Linode. Along with this, Cloudways offer a premium option to its users. Therefore, they can leverage the services of AWS, thus expanding their storage space and bandwidth speed, and that too with lesser expense spent for hosting. Another good thing about Cloudways is that it gives users to choose the CMS from a wide range of options, offering services like WordPress, Magneto, Joomla, Laravel, and more. As a result, the users can leverage the benefits of their preferred CMS with Cloudways. This is why I recommend Cloudways to the users over Kinsta.
12. Ashley Amor, Marketing Manager & Co-founder of Peoplefindfast.com
You can connect with her via LinkedIn
Being a business person, I always try to choose the best hosting service for my company's website, which promises sufficient bandwidth, fast loading speed, multiple security features, etc. In my opinion, Cloudways is much better than Kinsta when it comes to performance and security.

It allows me to operate WordPress, Magento, Laravel, Joomla, WooCommerce, and Drupal websites quickly and smoothly. Moreover, it offers a free SSL certificate, automatic backups, sufficient disk space (20GB to 3840GB), ample bandwidth (2GB to 20TB), free CDN (content distribution network), and a site migration facility. On the other hand, Kinsta is ideal for WordPress website owners. It comes with SSD storage, free KeyCDN with limited bandwidth, free SSL certificates, a firewall, automatic backup, and a 99.9% uptime guarantee.
13. Eliana Levine, Co-founder at Findpeopleeasy.com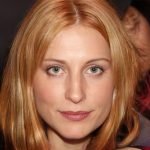 You can connect with her via LinkedIn
Hosting options majorly depend on your needs and work. However, some essential factors should be considered before choosing the better hosting option out of the two—for instance, pricing as per the plans provided. Cloudways provides a range of infrastructure you can choose from as per your pricing and budget. On the other hand, Kinsta offers one standardized structure. In addition, Cloudways is way more versatile than Kinsta when it comes to its features. And as for support, Cloudways offers more support channels compared to Kinsta.

In conclusion, Cloudways is the better option, in my opinion, in terms of hosting services.
Frequently Ask Questions
Q. Does Cloudways have a file manager?
There's no such separate file manager set up available within the platform. You need to use FileZilla or other third-party file managers to access web application files.
Q. How does Cloudways billing work?
Cloudways offers a Pay-as-You-Go service. You only pay for the resources you consume. You may receive the invoice between the 1st and the 6th of every month for the total resources used in the previous month.
Q. How do I add funds to my account Cloudways?
Log in to your account and navigate to the member area. Then click on the Funds tab on the left-hand side of your screen. Now click on the Add Funds button and add your desired amount. These added funds will be deducted from your next invoice.
Checkout other hosting reviews:
Bluehost Review