As you have already got an idea from the title of this blog post. Yes, today we're going to compare two big giants of the managed WordPress hosting service provider Cloudways vs Kinsta.
Well, last week my emails were overwhelmed with the question: which one to choose for our WordPress application where we don't need to manage everything on our own. Then, I thought it is the right time to run down the Cloudways vs Kinsta complete comparison that can help you to choose wisely.
Let's read it till the end.
Hosting Stack (Speed)
Cloudways
If you think that Cloudways also follow the same flow as traditional hosting platforms then, that's not the case. Cloudways offers its own hosting stack that makes the cloud servers more reliable and faster as compared to other competitors.
With Cloudways you can empower your online stores with multiple caching technologies that include, Varnish & Redis. Multiple web servers like Apache & NGINX, the latest PHP versions. On top of that, you can toggle in between the server resources that you don't want to utilize.
Other noticeable performances for Cloudways are:
HTTP/2 for swiftest communication between servers and clients
Pre-configured PHP-FPM to improve the load time
A cache plugin named Breeze for WordPress users
CloudwaysCDN to boost the response time.
SSD drives for quicker page load times
Auto-healing capability to restart
Kinsta
On the other side, If I talk about the Kinsta so it also offers the upto the mark and standardized workflow to manage host website performance. Kinsta comes up with the Google Cloud's premium global tier network and Google's latest generation Compute-Optimized VMs (C2) which are the most expensive and fastest server machines these days.
The unique part of Kinsta is that they offer free APM tools with full stack traces which becomes really helpful in WordPress issues tracking. However, Kinsta only supports WordPress-managed hosting.
Work Flow & Dashboard
Cloudways
Cloudways allows you to manage all PHP-based applications. To deploy or host your application is way too easy, you don't need to be technical geeks to live your server. All you need to follow the basic steps like choosing your application like WordPress, Magento or Custom PHP, etc. Then, name your application, name your server, choose among the top 5 cloud providers, the nearest server location, and you're done!
The entire server and application operations can be operated via a single dashboard and if you still get stuck; the support is there for you to assist you.
Kinsta
Kinsta only supports WordPress applications that allow you to manage server-related operations. Using the Kinsta dashboard, you can easily switch between the PHP versions, and push your website to the production or staging. Also, offers the CDN option with no-additional cost and a separate dashboard to purge the cache for the site.
Data Centers
Cloudways
If we talk about the data centers then, Cloduways clearly WIN this sprint with more than 60 global presences around the globe.
Canada, Montreal
Ireland
Italy
India
China
Hong Kong
South Africa
BRAZIL
Bahrain
India
USA (Iowa, S.Carolina, N.Virginia, Las Vegas, New York, Fremont, Newark, San Francisco
Belgium
Netherlands
Finland
Taiwan and much more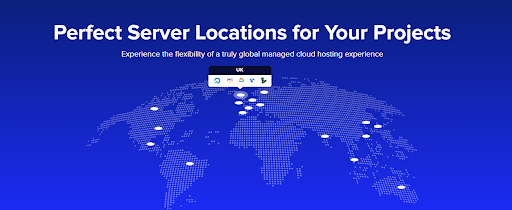 Kinsta
While Kinsta has 29 data centers that only focus on WordPress applications.
Following are the data center locations include:
Changhua County, Taiwan
Hong Kong
Tokyo, Japan
Osaka, Japan
Seoul, South Korea
Mumbai, India
Delhi, India
Jurong West, Singapore
Jakarta, Indonesia
Sydney, Australia
Melbourne, Australia
Warsaw, Poland
Hamina, Finland
St. Ghislain, Belgium
London, United Kingdom
Frankfurt, Germany
Eemshaven, Netherlands
Zurich, Switzerland
Montréal, Canada
Toronto, Canada
São Paulo, Brazil
Santiago, Chile
Council Bluffs, Iowa, USA
Moncks Corner, South Carolina, USA
Ashburn, Virginia, USA
The Dalles, Oregon, USA
Los Angeles, California, USA
Salt Lake City, Utah, USA
Las Vegas, Nevada, US
Security and Backups
Cloudways
Hosting services without a security mechanism is nothing. That's why Cloudways has partnered with some of the major cloud providers including AWS, DigitalOcean, Linode, Vultr, Google, Cloudflare, Sucuri, and a couple more.
It offers to install an SSL certificate with Let's Encrypt with a single click without any cost. The security team also runs the security patches for extra security and you can Whitelist unwanted IPs from the dashboard.
Cloudways gives you the privilege and mold around your application and server backup at your own priorities. You can take back up on weekly and have the retention time as well. If you want the immediate then you can also go from the Cloudways dashboard
Kinsta
If I talk about Kinsta also presents a Let's Encrypt integration, which facilitates free SSL certificates but is only powered for WordPress applications. The SSL certification process is fully automated which saves time and money at the same time. Along with that, your site got protected with .htaccess files.
Let's talk about other security features of KInsta like you can avail:
Monitoring your sites every two minutes for uptime
Strict software-based restrictions
Free DDoS protection powered by Cloudflare
Two-Factor Authentication (2FA)
And, yes the cool is part with Kinsta you can avail an automated backup of your application so that your application remains secure.

Scalability
Cloudways
You witnessed or analyzed a spike for your eCommerce store for the upcoming season. Don't worry because 1-click server size scalability will help you there without breaking any of the flow of the store operations.
With Cloudways the entire resources scale up at the same time includes (RAM, Storage, Bandwidth, and CPU).
Kinsta
Kinsta uses compute-optimized C2 Google Cloud machines, LXD-managed hosts, and orchestrated LXC software containers for each WordPress website. Therefore, every WordPress site that you hosted with Kinsta has its own isolated container which has all of the software resources required to run it, including Linux, Nginx, PHP, and MySQL.
So, with that, it promises maximum performance along with scalable cloud infrastructure making it easy for you to upgrade or downgrade with ease.
Database Support
Cloudways
Cloudways servers support the latest versions of MySQL databases with various versions that can easily be switchable within the dashboard. The reason is Cloudways differences PHP-based applications so you can have the perfect match for your application.
Kinsta
Kinsta provides a wide range of database support with direct access to database files and allows you to edit, delete or change data with tools such as MySQL Workbench, Sequel Pro, HeidiSQL, and phpMyAdmin. The platform supports secure SSH tunnelling into the databases stored on its Google Cloud Platform servers.
Customer Support
Cloudways
There's no doubt that Cloudways has one of the experienced and technically skilled support engineers. The support team is available 24/7/365 with a strong ticketing system. Besides, Cloudways has an extended support scope as well that can avail on the extra charges.
Kinsta
However, Kinsta outranks Cloudways when it comes to the quality of customer support. The support team is super-responsive and will quickly provide answers to your queries. They are a good grasp of WordPress too, as they are themselves WordPress developers.
Pricing
Cloudways
Cloudways offers you to go with the Pay-As-You-Go pricing model which means that you only need to pay for the resources that you have utilized. For instance, if you have stopped the server at any time. You will only pay for the resources and it doesn't matter if you utilized the server for a whole month or not.
Cloudways offers a 3-days free trial while Kinsta doesn't provide any trial. The minimum hosting plan starts from $12/mo.
Kinsta
The Kinsta plan from $30 per month and the best is they offer monthly and yearly subscriptions.
Here's the quick description of the Kinsta plans:
Starter – $30/month
Pro – $60/month
Business 1 – $100/month
Business 2 – $200/month
Business 3 – $300/month
Business 4 – $400/month
Enterprise 1 – $600/month
Enterprise 2 – $900/month
Enterprise 3 – $1,200/month
Enterprise 4 – $1,500/month
You get 2 months free on annual subscriptions.
Word of Mouth
Cloudways
Cloudways has been an Easiest to Use, User Most Likely to Use, and High Performer PaaS service.
Almost 5 out of 5 user ratings.
Kinsta
In that case, if we talk about Kinsta, they don't have strong community support like Cloudways.
And the review rate is 4.5 out of 5.
Who Stole the Show: Cloudways or Kinsta?
TBH, I have used both the platforms but the fact is the power, authority, and control is given by Cloudways that's not possible with Kinsta. Recently, Cloudways has launched their partner with Cloudflare as well.
The advantage that Cloudways give to the people is the concept of working on more advanced channels with improved UI/UX.
If you want to give a shot to Cloudways, sign up today and explore how it can benefit your business.
See our other Web Hosting reviews: