It's been a long since we are living amid this pandemic. We are constantly worrying if we are breathing in fresh and purified air. Or we have to put on our masks, but not everyone can wear them 24/7; some cannot due to their elderly age or little kids who are not aware of everything going around.
Wouldn't you love to breathe in clean air without any stress? Well, of course, who wouldn't, especially this global pandemic has made us all so anxious, even for tiniest things like breathing. So now it's time to say goodbye to all the allergies.
Here we bring a solution for you all to enjoy quality air at your home- Air Purifier. Well, you might be thinking that What is an Air Purifier?
What is an Air Purifier?
Air Purifier is a device that cleanses our air. It is designed to clear our indoor air from all impurities such as smoke, odor, dust, allergens, etc. However, it is claimed that indoor spaces have more contaminants than outdoor spaces. It is necessary to filter our air from all dangerous pollutants in our surroundings.
Air Purifiers are produced explicitly for indoors. Unfortunately, they can't cleanse the outdoor air. But in this pandemic, even if someone is suffering from the viral, air purifiers would be a great option. They would filter out all the allergens from sneezing and coughing, giving you and your little ones a safe home to breathe in.
How Does It Work?
Air purifiers are designed to filter the impurities out of our indoor air. All air purifiers have different technical features. They comprise filters that capture and absorb harmful particles and bad smells from the air.
Best Air Purifier in 2021
Molekule is the best air purifier in 2021. It is one of the premium air purifiers. It claims to not only capture the pollutants from the air but destroy them. It is designed explicitly for allergic people to keep them safe from dangerous contaminants like dust, smoke, etc. You can easily buy it at discounted price using Amazon coupons.
It comes with a unique technology named PECO (Photo Electrochemical Oxidation). PECO is designed to purify the air by eliminating and destroying all the airborne viruses, bacteria, mold, etc. It has a proprietary nano-catalyst that is designed to destroy contaminants through oxidation. It works by lights and LEDs, then produces hydroxyl radicals. Since the fibers of PECO are covered with proprietary nano-catalyst, the radicals target the harmful particles captured in them. The radicals then transform all the harmful particles such as bacteria, viruses, etc., into gaseous form.
Molekule Air Large Room Air Purifier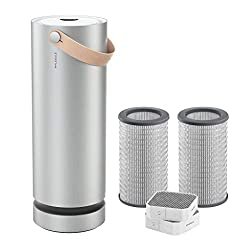 This is one of the best air purifiers of 2021. It is the best choice for allergic people like people who have asthma; this purifier could help them in proper breathing by eliminating all sorts of toxins from the air.
It not only traps the harmful particles from the air but destroys them through PECO technology. The nano-technology in it is claimed to destroy around 1000 times smaller particles than a HEPA filter could.
It can cover up to 600 square feet of area, which means it is designed for a larger room. Also, it has innovative technology features. It can be connected to WiFi, and then you can install the application in your iPhones and Android phones to control it while sitting on your couch. Molekule air purifier has a touch screen display as well.
It is a sleek and modern style electronic machine. It is portable and can be easily carried from room to room. It is priced at around $800 and is one of the best air purifiers.
It comes with two filters, i.e. Pre-filter and PECO filter. Pre-filter captures large particles and dust from the air while the PECO filter breaks down and destroys all the harmful particles present in the air such as viruses, VOCs, bacteria, mold, allergens, etc.
It requires cleaning and changing filters to maintain it. Pre-filter needs to be changed every three months, and the PECO filter needs to be changed every six months. Molekule provides a $65 pack of two Pre-filters and one PECO filter.
| | |
| --- | --- |
| Pros | Cons |
| Destroys all impurities from the air | Very expensive |
| Sleek design | Heavyweight |
Molekule Air Mini Small Room Air Purifier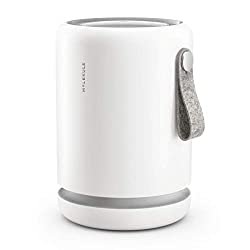 It is the Molekule's best affordable air purifier. It covers around 250 square feet of area, which is suitable for a smaller room. You can place this air purifier in your child's bedroom to protect them from putrid air. It has a handle so that you can carry it easily everywhere.
It has a 360-degree air intake and good airflow that eliminates all sorts of harmful particles from the air. It has a compact design that looks cute and a height of 12 inches.
This mini air purifier comes with two filters, a pre-filter and PECO filter. It functions exactly like the large molekule air purifier. Both filters are equally effective. This air purifier cleans a room in less than an hour and is quite effective. It also has intelligent technology characteristics similar to the giant Molekule air purifier.
It costs around $400, and this is relatively cheap. It costs around $150 for filter changing every six months; hence replacement and maintenance are expensive.
It has a simple and easy one-touch system. Even your 5 -year old can use it in your absence.
| | |
| --- | --- |
| Pros | Cons |
| PECO filter destroys both pollutants and gases | Filter replacement cost is high |
| Compact size | Bit noisy |
| Doesn't emit ozone | Leaves traces of carbon dioxide after destroying the contaminants |
| Easily changeable filters | |
| Lightweight (only 7.3 lbs) | |
Frequently Asked Questions
Q. How often do you need to change your Molekule filters?
We recommend you change your PECO filter every six months and Pre-filter every three months. You can get these from Amazon when purchasing your Molekule Air Purifier.
Q. Is Molekule air purifier better than HEPA?
Yes, Molekule air purifiers have PECO technology that destroys 99.99% of airborne pollutants.
Q. Which is the best air purifier on the market?
Molekule is the best air purifier on the market with great PECO technology and nano-catalyst. It has both a large and mini version with similar characteristics in a reasonable budget.
Q. Is Molekule suitable for removing the dust?
Molekule Air is considered one of the best air purifiers for removing dust, pet dander, etc. PECO Technology destroys the dust and allergens after pre-filters trap them.
Q. How should one select air purifiers for their home?
One should first look for the size of the air purifier and the area of their rooms where they would want to keep it. One should also check if the air purifiers emit ozone or other gases since they could be harmful to your health.
Q. Should you sleep when the air purifier is on?
Yes, you could sleep while the air purifier is doing its work. It will directly improve your sleep quality. And you won't wake up with a stuffy nose or headache, or a sore throat.
Q. Is Molekule Air worth it?
Yes, they are worth it since they improve your indoor air quality to a great extent. It gives you a good breathing experience. Ultimately, it's your choice if you want to buy or not since its benefits vary for everyone.