If you are someone who always wakes up with a stifling nose, nasal problems, and sneezing, you need to check if your room and surrounding are purified. One should take clean air into account when sleeping. Clean air is directly linked to your sleeping quality. Now purchase any air purifier using amazon promo codes off anything.
If you or your kid has asthma, and if they face problems in breathing, then you need to check if they are breathing in a clean surrounding. We have pollutants in our air and even in our homes. So here we bring a solution for you- Air Purifier.
What Is an Air Purifier
Air Purifier is a device that cleanses our air. It is designed to clear our surrounding indoor air from all impurities such as smoke, odor, dust, allergens, etc.
However, it is claimed that indoor spaces have relatively more contaminants than outdoor spaces. It is necessary to filter our air from all dangerous pollutants in our surroundings.
How Does Air Purifier Work
Air Purifiers are used to filter our indoor air and improve air quality. They work in different ways since each air purifier has different technical characteristics. They usually work with multiple filters such as HEPA (High-efficiency particulate air), pre-filters, PECO (Photo Electrochemical Oxidation), carbon filters, etc.
Some of the filters capture macro particles while some of them purify your room from bad smell. All of the filters work in accordance with each other.
We have evaluated some of the Best Air Purifiers with Top-rated reviews:
10 Best Air Purifiers to Buy in 2021
Since we are amid this pandemic, air quality is now more important than ever. We must have a healthy and promising surrounding to prevent all sorts of dangers. Here we will provide you with different air purifiers with top-notch quality at different price ranges from the most economical to high-end purifiers as well. We believe that air purifiers should be available to everyone so we have various affordable options with high quality as well.
Best Air Purifier for a Small Room
1. Levoit Core 300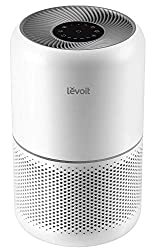 Levoit Core 300, has a sleek and modern design which is aesthetically pleasing for everyone.  However, it is a compact device that won't take much of your tablespace. It is the most budget-friendly option with three filter ranges including pre-filter, HEPA filter, and an activated carbon filter. Also, it can filter around 300 square feet of area. Its true HEPA filter has the efficacy to filter 99.97% of harmful particles such as dust, pollen, pet dander, smoke, etc.
This air purifier comes under $100 which is quite cheaper. It is lightweight and portable so it's easy to carry around. The filter requires replacement every 6-8 months and pre-filter is washable. It also gives the look of dim blue light at night to create a soothing effect.
| | |
| --- | --- |
| PROS | CONS |
| Economical price | No sign of air quality sensor |
| Compact and sleek design | |
| 3-in-1 filter range | |
| Easy to use | |
| High airflow rate | |
| True HEPA | |
| Less noisy | |
| Doesn't emit ozone | |
2. Honeywell HPA100
Honeywell HPA100 targets to cover smaller rooms of around 155 square feet. It comes with the best True HEPA filter and pre-filter. The Activated Carbon filter is inside the pre-filter which then absorbs bad odors as well as confine the larger harmful particles from the air.
The filters have to be replaced every 3 months. It comes in a compact design and 7.7lbs weight which means it is portable and easy to carry.
| | |
| --- | --- |
| PROS | CONS |
| Affordable | The replacement will be costly since filters will need replacements every 3 months |
| Good quality fan power | |
| Less noisy | |
| Has automatic shutoff feature | |
Best Air Purifier for Allergic People
3. Molekule Air Large Room Air Purifier
Molekule Air Purifier is one of the most expensive air purifiers for $800. It is specifically designed for people who are allergic people and a perfect fit for larger rooms of 600 square feet.
Furthermore, it has smart technology characteristics since it can be used when connected to WiFi from your phones as well. Also, It has a touch screen display.
However, it uses PECO (Photo Electrochemical Oxidation) which not only captures impurities from your surrounding but destroys it. First, the pre-filter collects the contaminants, then nanotechnology (PECO) destroys all the viruses, allergens, mold, bacteria, ozone, and chemicals.
| | |
| --- | --- |
| PROS | CONS |
| Destroys all sorts of impurities | It's expensive |
| Sleek design | Heavyweight |
| Quick and easy maintenance | |
4. Coway Airmega 400 Smart Air Purifier
This is one of Coway's premium air purifier. It has a dual filtration system that removes all impurities from the air because it has a coverage area of 1560 square feet. You can schedule your air purifier according to your routine which is a plus point. It has a washable pre-filter.
However, it can be used with WiFi by connecting to Alexa or your phone device. It has five fan modes that adapt themselves according to their surroundings.
| | |
| --- | --- |
| PROS | CONS |
| Smart technology | Expensive appliance |
| Sleek design | Noisy |
| You can schedule according to your convenience | |
Best Air Purifier for a Large Room
5. Alen BreatheSmart Classic Large room
This air purifier covers approximately 1100 square feet of area. It is suitable for detecting dust, allergens, pet dander, etc. Also, it traps pollutants that cause allergies and breathing problems. This air purifier is a great option for larger rooms.
In fact, it has a smart laser sensor that spots harmful particles and adapts accordingly which extends the life of its filter.
| | |
| --- | --- |
| PROS | CONS |
| No noise | Expensive |
| Have smart sensor feature | |
6. Dyson DP04 Air Purifier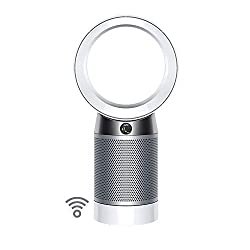 This a compact air purifier with its cooling features. It has the characteristics of adapting according to the surrounding. It has smart technology where you can connect it to your phone. The phone will update you with more additional information such as when to change the filters, etc. The smartphone app also keeps you updated about the air quality, both indoors and outdoors.
It comes with two filters- HEPA filter and Carbon filter which are designed to capture particles and absorb bad odors respectively. It also has three modes i.e. Auto mode, Custom mode, and Night mode.
| | |
| --- | --- |
| PROS | CONS |
| Sleek design | Expensive |
| Good airflow | |
| Less noisy in night mode | |
| Easy to clean | |
7. Honeywell Bluetooth Smart Air Purifier
It has the efficacy of filtering the air of up to 310 square feet of area. It comes with two filters i.e. Pre-filter and true HEPA filter. It can be easily connected to Bluetooth in smartphones. Firstly, you need to install the Honeywell Bluetooth Portable Air Purifier app and then connect it to your Android or IOS phones.
This air purifier is made of plastic and has a good control panel. It weighs 14lbs which is quite light in weight.
| | |
| --- | --- |
| PROS | CONS |
| You can schedule it according to your feasibility | High maintenance cost |
| Good fan power | Relatively noisy |
| Adapts cleaning level according to its surrounding | |
8. Blueair Blue Pure 211+Air Purifier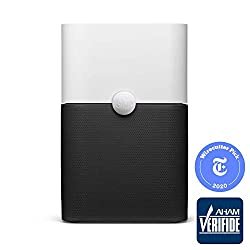 This air purifier comes in three filters i.e. pre-filter, particle filter, and activated carbon filter. Also, it has replacement filters which is a good part. Although it includes three fan settings. It can cover 540 square feet area.
Furthermore, it improves air quality for about 5 times in an hour. It uses electrostatic and mechanical filtration to capture harmful particles.
| | |
| --- | --- |
| PROS | CONS |
| 3 stage filtration system | Expensive |
| Less noisy | No true HEPA filter |
| Filters are long-lasting | |
Best Air Purifier for Sensitive People
9. Austin Air HealthMate HM400
It has a four-stage filtration system i.e. Pre-filter, Medium particle pre-filter, carbon filter, and a true HEPA filter. Its's double pre-filtration system is a bonus point since it captures a large number of airborne pollutants.
It can cover around 1500 square feet of area. It has a 360-degree airflow system.
| | |
| --- | --- |
| PROS | CONS |
| Long-lasting air filter | Noisy |
| Good design and quality | No use of smart technology |
| Affordable | |
10. Winix AM90 Air Purifier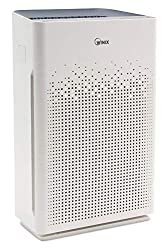 Winix AM90 air purifier can cover up to 360 square feet of area. It's a great choice for medium-sized rooms. Winix air purifier comes with three basic filters i.e. True HEPA filter, Pre-filter, and Activated carbon filter. This air purifier has Plasma Wave technology that breaks the pollutants like viruses which are its USP.
It also has smart technology of WiFi through which you can connect it to Alexa. Also, it consists of smart sensors that detect harmful particles in air improve air quality.
| | |
| --- | --- |
| PROS | CONS |
| Use of smart technology such as Alexa | Only 1-year warranty |
| Quiet | |
Benefits of Using Air Purifiers
Health benefits such as helps people with allergies and asthma
It traps cigarette smoke which will prevent respiratory diseases
Improves air quality and living environment
Enhances your breathing quality
It protects the sick people
Also protects kids and elderly people from catching any virus
It captures 99% of airborne bacteria
Reduce bad smells and odors
To conclude, we have provided you with the Best Air Purifiers on the market. These choices will make your research easier.
Frequently Asked Questions
Q. Which is the best air purifier on the market?
The best air purifier on the market is Molekule Air Purifier. It not only captures the harmful particles but destroys them. It also comes with PECO technology which is its USP.
Q. Is the air purifier worth the money?
Yes, they are worth it. However, it varies for everyone since you have to pay for it. We are providing you with all its benefits and now you have to make the decision. It improves your lifestyle and air quality as well.
Q. How many air purifiers do I need?
You don't need to buy a separate air purifier for every room. You can buy portable air purifiers which you can easily carry around every room in your home.
Q. Are there any side effects of using air purifiers?
No, there are no side effects. Just make sure you research properly before buying any since few of them emit ozone. We have provided you the list of best air purifiers on the market without ozone.
Q. Are air purifiers noisy?
Well, it depends on different air purifiers. Few of them are noisy while many are not. There is an option of setting the noise levels in most of the air purifiers.