This holiday season, if you're looking for a unique gift or deal, the wax warmer & melts gift set is unquestionably for you. It's time to start crossing people off your gift-giving list. The smell of Christmas festivities is a traditional way to start the holiday season. This cozy, tantalizing scent brings to mind the flavors and comfort of decadent desserts, making your winters cozier. Check out some of this year's best Christmas wax warmers deals offered on Amazon, Walmart & eBay that would make an excellent gift!

An alternative to scented candles is a wax warmer, which is typically filled with fragrant wax melts that are similar to traditional candles in terms of scent and material composition but lack a wick and typically have no flame. Christmas Wax Burner is a useful decorative item that you install inside your home or office to serve as a source of fragrance. They serve as a more effective and environmentally friendly substitute for regular candles.
Let's explore some best Christmas Tree Wax Warmer deals.
Top Deals on Christmas Wax Warmers
1. Elanze | Christmas Candle Wax Warmer
Elanze Design offers an affordable yet classy interchangeable countdown to Christmas wax warmer. A frame on the front of the interchangeable warmer allows for sentiment changes. It includes 26 prints to mark the days until Christmas, A cheerful holiday calendar. This Christmas wax melter is a must to fill your home with a luxurious, calming scent with no worries of flame and soot left behind. Most common standard electrical outlets can accommodate a corded plug-in with an on/off switch, Ideal for warming your preferred fragrance from a smaller glass jar candle. It is eye-pleasing ceramic stoneware with a classic design, 5 x 3.5 x 3.5 inches in size, that can also be replaced with any artwork with a 3 x 3-inch portrait.
2. Today Aspire Stoneware Electric Wax Warmer
Top-rated store Elanze created this specifically designed candle wax warmer. This is made of sturdy, long-lasting ceramic stoneware that is thick and high quality. By simply placing the jar candles on a metal warming plate inside the warmer, the jar candles are heated. The wax will heat up and slowly melt once it is plugged in and the metal plate is turned on, leaving a lingering but not overpowering scent in the space. This increases the wax lifespan by more than two times and keeps all soot and smoke-related dirt out. It has added significance as a Christmas gift or piece of home decor because it contains an encouraging verse or sentiment that could be the best motivation for Christmas festivities.
3. Scentsy Christmas Camper Warmer
It would be a great deal if you could find the Christmas Wax Warmers with a pleasing look. Scentsy Christmas Camper warmer serves the purpose of beautifully decorative looks. This product with electrical plugs is made especially for American consumers as outlets and voltage vary from country to country. This hand-painted red and galvanized steel warmer is both festive and practical, and it adds cheer to the festivities with its rooftop wax dish and traditional holiday decorations. With a Power of 25W, it might need an adapter or converter to be used if traveling to any other country.
4. STAR MOON Pluggable Wax Warmer
This Ceramic Wax Melt Night Light Warmer for Christmas Decorations is simply adorable! This 10 Ounce red ceramic Christmas wax burner with plug-in produces a soft and pleasant fragrance that lingers in the bedroom while warming the wax for the candles. The delicately crafted ceramic wax melter can be used as a decoration after Christmas. Its translucent white portion is doodled with festival designs. Therefore, turning it on will lighten the white part and leave patterns of reindeer, snowflakes, and coniferous forest on the ceramic wax melter's body, in addition to the fragrance released, to create a festive and joyful atmosphere for you.
5. Jimbo – ScentSationals Holiday Wax Warmer
This winter, allow the magic and spirit of Christmas to fill your house. Use ScentSationals Holiday Wax Warmer Jimbo to add beauty and festive scents to fill your home with coziness, light, and warmth. With your new Christmas Wax Melter, choose from hundreds of different aromas of wax. Families of fragrances for ScentSationals scented wax include Fresh, Floral, Wood, Fruit, Bakery, and Spice. Jimbo offers distinctive shapes and patterns that look fantastic as home decor. When plugged in, this warmer's breathable holes illuminate your space with a soft glow. A little ambiance is added by soft lighting. Then what are you waiting for? Grab this cute wax burner, and get prepared for Christmas.
6. Scentworks Santa's Coming to Town
The ceramic halogen wax melter from Scent Works, "Santa's Coming to Town," adds the perfect decorative touch to any space while slowly releasing your favorite wax melts' fragrance. Equipped with a 25-Watt halogen warming bulb for faster wax melting, it accommodates a quick, clean, and secure replacement for candles Without mess, smoke, flame, or soot. For convenience and ease of use, a 36″ long cord with an on/off control switch is included. Use Scent Works Wax bars for best results. It could be the perfect Christmas wax warmer this winter.
7. Candy Cane Bow – Scentsationals Holiday Collection
With this unique wax cube warmer, you can celebrate the whimsical and liberating holiday. They have distinctive shapes and patterns that look fantastic as home decor. When plugged in, this warmer's breathable holes illuminate your space with a soft glow. A little ambiance is added by soft lighting. It is a simple and hygienic heat source. It has a 120-volt cord that plugs into a standard outlet and an on/off dial for simple operation. A perfect addition to the
Christmas collection
.
8. Merry Christmas – Scentsationals Holiday Collection
ScentSationals' holiday wax warmers are made to make you feel festive. Find the ideal fit for your home by perusing our collection of designs. Enjoy fresh, holiday-themed scents while also enhancing the ambiance of your décor. From Iced Vanilla Cookies to Cinnamon Bear, you can inhale delectable scents and improve the atmosphere at your holiday gathering.
9. STAR MOON Wax Melt Warmer Christmas Collection (Gift Bag)
To match your mood, your day, or your insanely busy life, it's so simple to switch out the scents on a plug-in wax melt warmer in a matter of seconds; a gift is a symbol of receiving happiness! The gift bag fragrance wax heater's 3D shape and placement in the kids' room both create a festive mood for the kids and adults. Enjoy the best Christmas tree wax warmer in a gift bag shape to decorate and enlighten your home.
10. STAR MOON Christmas Wax Warmer (Santa's Red Pants)
The STAR MOON Christmas Wax Warmers, Santa's Red Pants design warmers are created with a retro aesthetic and a contemporary functional socket with 1.5m long wires. It is used on the family's aromatherapy heater, which brings fragrance in addition to color to the interior design. Uplift your Christmas celebrations with this amazing Amazon offer.
11. Holiday IllumiScents Illumination Wax Warmer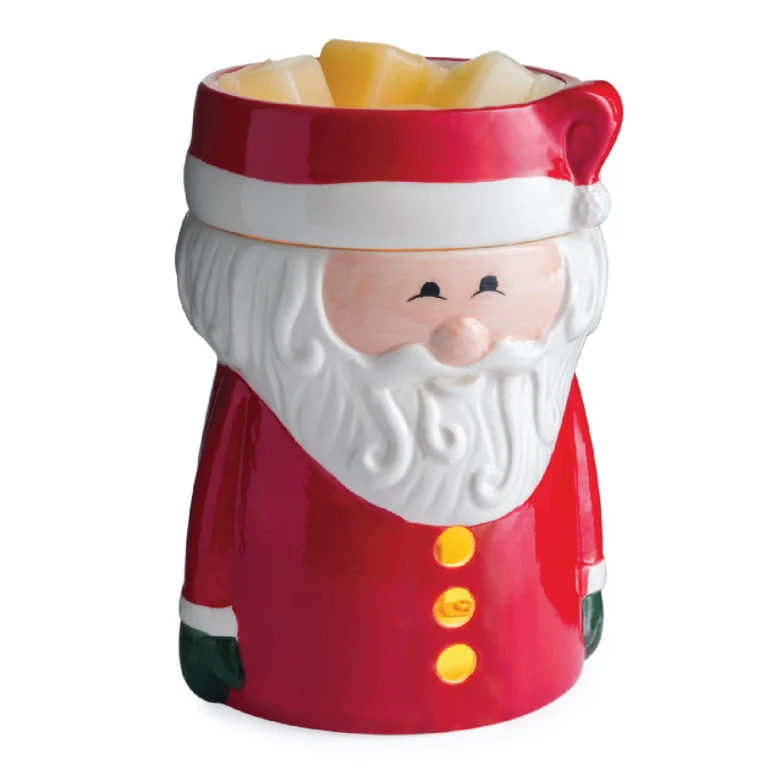 The Red Santa Claus Illumination warms your festive house with its charming grin and glowing buttons. These popular conventional warmers are Illumination Fragrance Warmers that will glow up your Christmas. It is created with your style in mind to complement your Christmas home decor. The charming design of this warmer, combined with your favorite holiday scent, will up the ante whether you're hosting a Christmas party, baking cookies, or just spending time with your family.
12. Pluggable Fragrance Wax Warmer, Christmas Fireplace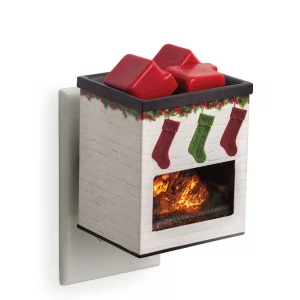 Christmas Fireplace Pluggable Fragrance Warmers by Candle Warmers Etc. are both decorative and functional fragrance warmers. By twisting the plug base, it can be utilized vertically and horizontally. Metal, glass, ceramic, and porcelain were used to create these warmers. They are available in a variety of styles to suit your personal preferences. Warming wax creates a safer home fragrance by eliminating flame, soot, and smoke, while the glow of the warming bulb is cozy.
13. Mainstays Green Inverted Electric Wax Warmer
You can decorate your house this holiday with the help of this Mainstay's white Christmas tree wax warmer with Inverted Bulb Electric. This electric wax warmer is a whimsical and nostalgic ceramic Christmas tree featuring a striking ceramic tree pattern that is inspired by an earlier era. Remove the tree, place your preferred wax melt fragrances in the bottom tray, and your space will quickly fill with fragrance.
14. SCENTSY STARRY CHRISTMAS Warmer White Gold Metal
Fill your room with aroma rather than flame, smoke, or soot by melting Scentsy wax using the heat of an electric low-watt light bulb or element Scentsy warmer. 15W, 11′′ tall Ring in the new year with subtle vintage charm is a perfect decoration idea for Christmas. Warm light will start to flow out from behind each branch as soon as you turn it on. This tree would look stunning in a chic farmhouse or a homey cottage.
15. ScentSationals White Truck Hot Plate Wax Warmer
The ScentSationals Cream Truck Wax Warmer is ideal for any room. The Christmas wax warmers are a replica of a vintage truck, complete with working headlights and interchangeable magnetic signs to commemorate your favorite holidays. This vehicle gives any area charm while slowly melting fragrant wax and emitting enticing aromas that warmly envelop the entire space. There is no need for light because the truck bed doubles as an electric hot plate wax warmer.
Wrapping Up
These top 15 Christmas Wax Warmers Best Deals offered on Amazon, Walmart & eBay are going to enhance the gist and scents of the festival. This winter holiday, grabs the best deal for a Christmas wax burner that makes your home snazzy. These can also be given as a gift to make the time spent at home more enjoyable. So, what are you holding out for? Make sure to grab your favorite wax warmer now.