Why you may have left your old school habits behind, acne isn't always something you can easily say goodbye to. Acne, pimples, and blackheads have been troubling us, women, since forever. Once you get them, getting rid of them or their marks is very difficult. Don't miss to use amazon coupon code 20 off any item while purchasing any of the beauty and skincare products.
What causes acne? Acne occurs when the pores of your skin are clogged usually by dead skin cells. As a result, oil cannot discharge and accumulates under the skin to create a blackhead. In this environment, Propionibacterium acnes (the bacteria) flourishes, which causes inflammation, creating pimples or acne.
How to treat acne? Acne can be treated at home with a few self-care activities like cleaning your skin daily with soap, not squeezing pimples, not touching your face. If self-care doesn't help your acne, it has to be treated with proper medication available. The key ingredients that one should look while buying medication for acne treatment are:
Benzoyl Peroxide: it helps to kill the acne-causing bacteria and also helps to prevent clogged pores. It can also dry your existing pimples.
Salicylic Acid: Helps prevent pores from getting clogged and also dissolves the bond that holds dead skin cells onto your skin.
Sulfur and Resorcinol can also be used to remove dead skin cells.
While there are a million skincare products, it is very difficult for you to recognize the best products for acne that can work for your skin type. To ease your research, here we have rounded the 10 top-rated acne products for you to use to beat your acne and have clear and bright skin. Our list includes different products like cleansers, tools, spot treatments, and masks that are effective to cure acne and gives you beautiful and glowing skin.
Top-Rated Products for Acne
1. BEST CLEANSER: Neutrogena Oil-Free Acne Facial Cleanser
If you are looking for a basic facial cleanser to treat your acne, nothing can beat this one. Neutrogena oil-free acne face wash has a unique formula that reaches deep down into your pores to cleanse them and helps fight acne.
This cleanser has Salicylic acid and Micro clear technology that help to gently get rid of any acne from your skin and also prevents the formation of future inflammations. This facewash is oil-free, residue-free, and non-comedogenic that isn't oily on your skin and treats acne without overdrying or causing irritation to the skin.
It includes ingredients like Salicylic acid, water, sodium olefin sulfonate, propylene glycol, aloe leaf extract, anthemis nobilis flower extract, citric acid, and sodium hydroxide. Cleanse your face with it twice daily. Apply it on your hands, add water, and work it into a lather. Then gently massage on your wet face and rinse thoroughly. It is recommended to use acne-prone skin daily. One of the best products for acne.
2. BEST SERUM: Sunday Riley UFO Ultra-Clarifying Face Oil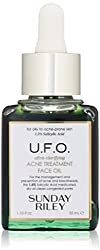 This ultra clarifying face oil is made from all the natural and synthetic ingredients and is the top-rated acne product for your skin. It is a quick-drying and fast-acting oil that clears up all the acne and blackheads from your skin for smoother and blemish-free skin.
Sunday Riley uses cutting-edge technology and all the highest quality ingredients for noticeable results. It's key ingredients include:
Tea tree oil and Black cumin seed oil supports clarity and helps to purify the skin
Salicylic Acid prevents acne and blackheads by clearing congested pores.
Licorice root and Hexylresorcinol naturally brighten your skin and appearance of dark spots
Milk thistle and Cucumber seed oil nourish the skin while smoothing the appearance of wrinkles and lines.
Chamomile and neroli soothe blemish-prone skin.
This product is vegan and is cruelty-free, sulfate-free, and gluten-free. Use it by massaging onto your face and neck after cleansing. It will absorb quickly as it is a dry oil. Use it regularly for visible results.
3. BEST CLAY MASK: Vivant Skin Care Sulfur Clay Mask
Vivant clay mask is the perfect example where beauty meets science. This mask is a hybrid blend of clay and 10% sulfur that helps to eliminate acne, blackheads, and skin inflammation by absorbing excess oil. It helps to reduce visible pores and gives you a vibrant and glowing skin complexion.
It has key ingredients like sulfur that helps to soak up dirt and sebum, and Salicylic acid combined in a bentonite clay base. This mask also detoxifies and improves your skin texture, making it a perfect choice for you. It is recommended for all skin types, especially acne-prone skin.
Cleanse your skin thoroughly before applying a layer of this Sulfur Clay Mask to your face. Wait 15 minutes and then wash it well. Begin with one application a week and progress to two or three if needed. The best acne product to get your hands on.
4. BEST CLEANSING BRUSH: Clarisonic Mia Smart Sonic Facial Beauty Device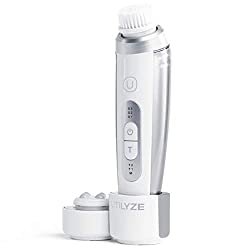 Recommended by the US dermatologist, this is an anti-aging device and a facial cleansing brush that gives your skin a gentle exfoliation, firmness, and better absorption of skincare products. It is one of the best acne products.
This device helps to visibly minimize your pores and reduce eye puffiness and fine lines. It doesn't disrupt your skin like strong exfoliants but is safe to use and suitable for sensitive skin types. It is designed to combat different concerns like acne, dryness, and dullness of your skin.
Furthermore, It cleanses oil and makes up 6x better than hands. Wet the brush head and apply a face cleanser on your face. Then gently do a back and forth movement with this device to create a vacuum effect that removes dirt, makeup, and oil from your pores and skin surface. Use it twice daily for visible results.
This device is waterproof and can be used in the shower or bathtub. It comes with a charging stand to charge the device and can work up to 100 minutes per charge. It has a timer that tells you when to move to the next area on your face. A must-have product to treat your acne.
5. BEST BODY WASH: Murad Acne Body Wash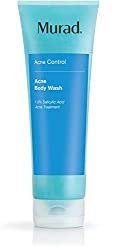 If you are looking for a solution to deal with your body acne, we've found the perfect antidote for you. Murad's acne body wash is a patented, triple-action formula that treats and prevents breakouts.
This gentle exfoliator is ideal for oily ad combination skin and treats and prevents body breakouts on the back, chest, and shoulders. It's active ingredients include:
Salicylic Acid that clears active breakouts and prevents new ones from forming by clearing your skin
Date seed powder and Glycolic Acid gently exfoliated your skin to remove dead skin cells and pore-clogging oil
Biodegradable beads, green tea, and licorice root extract that helps to calm irritated skin.
It is free of parabens, sulfates, gluten, and mineral oil. It is cruelty-free. The best acne product that is worth every penny.
6. BEST SCRUB: AcneFree Blackhead Removing Scrub
This gentle acne scrub by AcneFree is one of the top-rated products for acne that you can use. It combines the maximum strength of salicylic acid to clear blackheads and acne from your skin by deeply cleaning it. However, It also tightens your pores and helps remove debris from the skin.
It removes oil and dirt from your pores by exfoliating, which makes your face feel fresh and new. However, It also exfoliates dead skin cells and debris from your skin while removing excess oil and minimizing the appearance of pores. You don't have to use any other masks, scrubs, or facial cleansers if you have AcneFree exfoliator in your skincare routine.
It includes 3 effective ingredients to fight your acne that are:
2% Salicylic acid that minimizes breakouts on your face to treat acne and removes dead skin cells
Charcoal that helps to draw out impurities from your skin
Natural Jojoba that moisturizes, hydrates and soothes your skin
To apply this scrub, begin by wetting your hands and face. Next, apply the scrub on your face and massage gently. Avoid the eye area while massaging. Then rinse and dry. You can use this freely every day for a clearer and brighter face and skin.
7. BEST TONER: PCA Skin Smoothing Toner

Toning isn't an essential step for your skincare routine, but it can help remove pore-clogging debris from your skin. This skin toner by PCA is one of the best acne products for you to use. It has an alcohol-free formula that calms down the breakout-prone skin without stripping away the moisture from your skin.
This toner is a botanical blend that works to refine pores and remove the dead skin cells from your face, leaving it clear and smooth. The formula also helps to reduce wrinkles and fine lines from your face.
It includes active ingredients like:
Lactic Acid: that moisturizes and smoothes your skin
Aloe Vera Leaf Juice: a purifying ingredient that can soften and soothe your skin
Botanical Extracts (cucumber, sage, marigold, goldenseal, ivy, and guarana extracts) reduces the appearance of pores on your skin and calms it down.
Apply the toner after cleansing over your face and neck in upward strokes. Use it once daily for visible results.
8. BEST SUNSCREEN: Elta MD UV Clear Sunscreen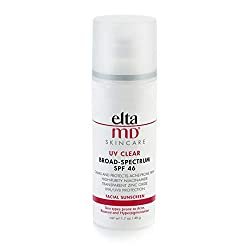 Sunscreen is a product that you can't skip on, especially in this scorching heat when you have to go out even to run errands. This oil-free sunscreen by Elta MD is a dermatologist recommended and is a good pick for acne-prone skin.
This facial sunscreen helps to protect and calm the sensitive skin types that are prone to acne, discoloration, and rosacea. It is lightweight and silky due to its mineral-based formula and doesn't contain any fragrance, parabens, or oil. The sunscreen contains zinc oxide that makes it suitable for even the most sensitive skin types.
This sunscreen contains ingredients like niacinamide, hyaluronic acid, and lactic acid that promotes your skin appearance to healthy-looking one. It also helps to protect you against UVB (burning rays) and UVA (aging rays). A perfect product for acne treatment.
9. BEST MOISTURIZER: Aveeno Clear Complexion Daily Moisturizer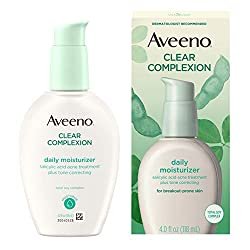 Acne-fighting daily facial moisturizer by Aveeno helps to prevent breakouts on your skin that results in an even skin tone. It is a fast-absorbing, dermatologist-recommended moisturizer that is gentle on your sensitive skin and has no chemical solvents.
This moisturizer includes the proven acne-fighting ingredient salicylic acid that clears up your existing blemishes while also preventing future breakouts from happening. It also features Total Soy Complex that helps transform your dull and uneven skin tone into a brighter and more radiant one and leaves it soft and smooth. It is oil-free, non-comedogenic, hypoallergenic, and gentle enough for you to use every day.
Clean your skin well before applying this product. Then cover the affected area of your skin with a thin layer of this moisturizer once to thrice per day as per directed by your doctor. The top-rated acne product for you to include in your skincare.
10. BEST UNDER $15: Majestic Pure Dead Sea Mud Mask
The salt and minerals in this mask help to reduce blackheads, acne, whiteheads and prevents future breakouts. It is made with natural dead sea mud which gives your skin a healthy rosy glow.
This mask is an excellent anti-aging skincare mask and helps in deep pore cleansing, detoxifying, and revitalization of your skin. It makes a fabulous facial mask that reduces the appearance of pores, evens your skin tone, and removes impurities.
Apply a thick layer of this mask on your face, avoiding the eye area, and the upper part of your neck. Leave it on 5 minutes to dry. Start removing the mask by gently rubbing in circular motions for exfoliation and then wash it with lukewarm water. It is recommended to use twice a week.
Includes ingredients like water, jojoba oil, shea butter, mineral dead sea mud, sunflower oil, aloe vera juice, vitamin E, beeswax, and lavender oil. A perfect product for you to treat your acne in 2020.
Frequently Asked Questions
Q. What clears up acne?
For prescription spot treatments, use products with salicylic acid or benzoyl peroxide that are special to target pimple. For all-natural spot treatments, dab tea tree oil on the affected area with a cotton ball.
Q. What is the most effective way to treat acne?
Leave the pimple alone for a week and apply acne cream with benzoyl peroxide to eliminate acne. Use moisturizer regularly.
Q. What Vitamins are good for acne?
Vitamin A helps counter the adverse effects of acne on your skin, Zinc decreases the production of oil on the skin, Vitamin E helps the products to be absorbed quickly into your skin.
Q. What deficiencies can cause acne?
Vitamin D deficiency can cause your acne to be worse. It can also be caused by changes in hormonal levels, oils, and bacteria.
Q. What foods cause acne?
A study found out that people who regularly consume dairy products like milk or ice cream are likely to suffer acne. Fast food items such as burgers, fries, and nuggets can also increase the risk of acne. Other than that, diets rich in omega-6 fatty acids also results in increased levels of inflammation and acne.