Have you ever wondered about watching YouTube TV but don't want to spend more on paid YouTube TV subscriptions? Be the first to get a Youtube TV free trial!
Did you try the YouTube TV promo codes to get a paid subscription at a discounted price?
It's time to upgrade yourself because now YouTube TV started offering their subscribers a 14-day free trial which could be a win-win situation for you to check out their services.
Forgot those days when you have to pay $64.99 a month to watch your favorite content on this platform. Now it's time to stream unlimited with a YouTube TV free trial to know the worth of paid subscription.
So, if you made up your mind to give it a try to YouTube TV, here's a free trial guide to start your journey on YouTube TV.
What Is YouTube TV?
Youtube TV is one of the best online streaming services in the USA. It covers hundreds of channels such as ABC, NBC, CBS, Disney Channel, Fox Sports, Fox, and PBS. That's not all you can also enjoy their add-on services such as EPIX, Shudder, STARZ, Curiosity Stream, and Showtime at extra costs.
YouTube subscribers benefit from watching content in English and Spanish both. You can also get access to their unlimited cloud DVR storage with three streams and six individual accounts.
Does YouTube TV Offer A Free Trial?
YouTube TV offers 14 days free trial for a base plan to the new subscribers. This free trial allows users to access over 85 channels and sign in to different networks such as Spanish Plus, HBO Max, and many more.
New subscribers for a base plan are eligible to try out YouTube TV 14 days free trial. This free trial allows access to over 85 channels. During your trial period, you can also sign up to try different networks like HBO Max or Spanish Plus.
Step-by-Step Guide to Start Your YouTube TV Free Trial
Be the first to access YouTube TV free trial by following these simple steps: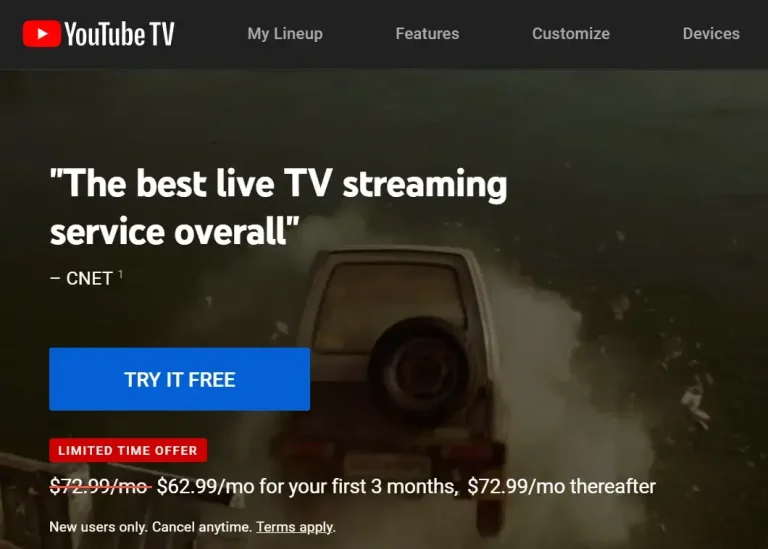 Tap on the "Try It Free" will redirect you to the Google account sign in page.
Sign up with a Google account.
Read all the terms and conditions and click on "Next".
Enter your Zip Code then click on the arrow.
Choose the Base Plan and click on "Next".
You have the option to choose the Add-on services to add more channels.
Check all the details carefully then enter your payment details.
Click "Start Trial".
Hurray! Your YouTube TV 14 day free trial is unlocked. Now it's time to Try before you buy the monthly plan. Beware to cancel the subscription before the 14 day trial ends; otherwise, you will get automatically charged.
What Does YouTube TV Cost After a Free Trial?
According to the YouTube TV Base Plan, It cost you $64.99/month after your free trial ends. With a monthly subscription, you can watch 100+ channels in English and Spanish.
However, the Spanish plan cost you $34.99/month. You can watch only 28+ channels in Spanish. In addition, both plans include unlimited cloud DVR storage and six accounts per individual.
Frequently Asked Questions
Q. How to Cancel YouTube TV Free Trial?
It's easy to cancel your YouTube TV free trial anytime by following these simple steps:
Go to YouTube TV.
Tap on the profile photo.
Choose "Setting" and click on "Membership".
Select Pause or Cancel the membership.
Now at the bottom of the page, click "Cancel Membership".
You will be then redirected to the next page where you have to select a reason to cancel your membership.
Click on cancel membership, and you have done it!
Q. How Long Is YouTube TV Free Trial?
You can get access to a free trial for 14 days only. Once the free trial ends, you will be charged for a Base Plan.
Q. What Happens When YouTube TV Free Trial Ends?
Once the trial ends, you will get charged for a Base Plan with any Add-on networks you have subscribed to.
Q. Does YouTube TV Have a 30 Day Free Trial?
Yes, YouTube TV offers a 30-day free trial to its new subscribers.
Q. Does YouTube TV Free Trial Charge You?
No, YouTube TV does not charge for a free trial.
Final Words
Are you still confused? Just give it a try by signing up for the YouTube TV Free Trial in less than a minute. Unlock the 14 days trial and start watching 100+ channels for free. The trial is now easily accessible to all of the subscribers that started their Base Plan on YouTube TV.