Are you in search of a smite promo code? Go ahead and look at our 100% working Smite promo codes that you can easily redeem at any time. These are the following Smite redeem codes that can be used on Xbox One, PC, PS4, and Nintendo Switch.
SMITE promo codes give you access to redeem a playable God in game, a chest roll, a skin for a God, and more. There are several ways to redeem SMITE promotional codes by following social media, console accounts, visiting conventions, Twitch, Alienware, and convention promotions.
How Can I Redeem SMITE Promo Codes?
Following these steps you can easily redeem SMITE promo codes on your PC:
Open up SMITE.
Click on the orange STORE text on the left menu.
Click STORE on the right menu.
Next the Bundles dropdown select Account.
Click SMITE promotional code and redeem.
That's all.
How To Get SMITE Social Media Follow Rewards?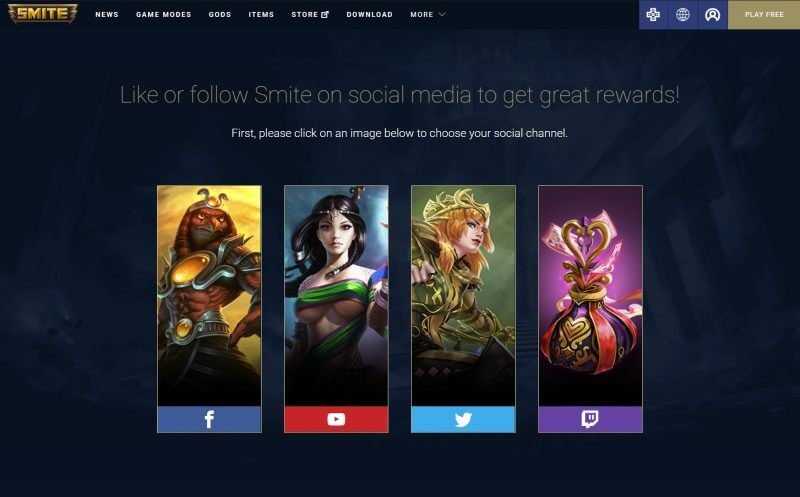 You can now get free Smite promo stuff by following SMITE on social media. This is one of the best and easiest ways to get SMITE code. You have to follow these steps:
Follow their Twitter account to unlock Artemis god and Stalker skin.
Follow their Facebook account to unlock Ra god and Solar Eclipse skin.
Follow their YouTube account to unlock Nu Wa god and Water Dance skin.
Follow their Twitch account to get a Cutesy Avatar Chest Roll.
How To Get SMITE x Twitch Promos?
SMITE and Twitch have promo codes through which you get free gods and skins if you have Amazon Prime. What you have to do is connect your Twitch and SMITE accounts together. If you don't have Amazon Prime then you won't be able to redeem them.
To avail this you have to just:
Create a Twitch account and sign up for a trial of Amazon Prime.
Next, connect your Amazon and Twitch accounts to get Twitch Prime.
After that, connect your Hi-Rez Studios and Twitch accounts so you can get bonus credit.
Go to the Twitch promo page, claim the package, and enjoy!
PROMO
DATE
REDEEMED
Awesome Chest
January 25, 2018
Awesome Chest
JT-6000 Janus
January 4 – February 3, 2017
"Janus (God)
JT-6000 (Skin)"
King Arthur Twitch Bundle
February 26, 2019
"King Arthur (God)
Deathbringer King Arthur (Skin)
King Arthur Cutesy Avatar
King Arthur Loading Screen
King Arthur Announcer Pack"
Desert Dragon Neith Bundle
March 27, 2019 – April 25, 2019
"Neith (God)
Desert Dragon Neith (Skin)
Desert Dragon Music Theme
Desert Dragon Loading Screen
Desert Dragon Jump Stamp
Mittens Chicken Skin for Realm Royale"
Prince of Darkness Hades Bundle
April 24, 2019
"Hades (God)
Prince of Darkness Hades (Skin)
Prince of Darkness Avatar
Prince of Darkness Loading Screen
Prince of Darkness Announcer Pack
+ All previous Twitch Prime SMITE bundles"
Gladiator Bundle
April 25, 2019
"Thor (God)
Gladiator Thor (Skin)
Gladiator Music Theme
Gladiator Loading Screen
Gladiator Announcer Pack
Pyre Warrior Drogoz Skin for Paladins"
SMITE x Alienware Giveaways

Alienware has been giving giveaway keys for a free Alienware Ra skin since 2014. To get Alienware Giveaways browse their official Alienware Arena website and create an account. After that, click the "GET KEY" button and then redeem the SMITE code.
Digital Loot Packs from Hi-Rez Expos With SMITE World Championships
Visit the Hi-Rez Expo (HRX), which's organized by Hi-Rez Studios there you will see a special SMITE promo code just for attendees that give you a chance to redeem a Digital Loot Pack. It changes every year. Also, there is a special option that can get you a Digital Loot Pack but you have to buy 1500 games. You can also get some goodies if you attend the SMITE World Championship (SWC).
HRX/SWC EVENT
REDEEMED
HRX 2019 Digital Loot Pack
"Galaxy Shaper Nox
Splyce Jormungandr
Nemean Lion Hercules
Convention 2020 King Arthur
Ouroboros Global Emote
Cosmic Void Recall Skin
Galactic Title
Horus Announcer Pack
Set Announcer Pack
Merlin Announcer Pack
Divine Chest"
SWC 2018 Digital Loot Pack
"Mystic Defender Neith
SWC 2018 Queen Aphrodite
SWC 2018 King Thor
Convention 2018 Cernunnos
Number One Global Emote
SWC 2018 Recall Skin
SWC 2018 Ward Skin
Divine Chest Roll
750 Fantasy Points"
SWC 2017 Digital Loot Pack
"Hades Heebee Chibi
SWC 2017 Amaterasu Heroine
SWC 2017 Apollo Hero
Khepri Convention 2017
SWC 2017 Ward Skin
Thundersticks Global Emote
SWC 2017 Recall Effect
Divine Chest Roll"
SWC 2016 Digital Loot Pack
"SWC 2016 Zeus
Convention 2016 Anubis
Curse Agni
SWC 2016 Ward Skin
SWC 2016 Fireworks
Divine Chest Roll"
Here you can find all the 100% working SMITE promo codes
Frequently Asked Questions
Q. How to Unlock Exclusive Skins in Smite?
SMITE exclusive skins can be easily accessed through chests, daily bundles, codes, etc. The SMITE chest takes 400 gems for each roll.
Q. What are gems in SMITE?
Gems are a kind of virtual currency in SMITE. Gems can be used in SMITE to unlock gods and to buy most of the Cosmetic items.
Q. How to earn Gems?
You can earn Gems in several ways:
Redeem SMITE promotional codes
Successfully completing offers
Daily reward bonus
Take part in special events
Buying Gems with real money
Buying Gems through Steam Wallet
For console, you can also buy Gems through the Microsoft Store, Playstation Store, and Nintendo Game Store
| | |
| --- | --- |
| Gems | Price |
| 200 Gems | 4.99 USD |
| 400 Gems | 7.99 USD |
| 800 Gems | 14.99 USD |
| 1500 Gems | 24.99 USD |
| 2500 Gems | 34.99 USD |
| 3500 Gems | 49.99 USD |
| 8000 Gems | 99.99 USD |
Q. What is Tier 5 skin smite?
This is a special limited smite skin that comes with unique cosmetic features such as Archon Thanatos, Ragnarok Force X Thor.