Nectar sleep has provided a new definition of comfort and solace. With a wide range of bedding accessories and mattresses, nectar sleep is the new center of attention for netizens who are willing to do some online mattress shopping.
The most sought-after and deluxe mattress of the nectar sleep I.e, the Nectar mattress is the most luxurious bedding essential you will ever come across. The high-end, state-of-the-art features a three-in-one foam that is designed to give your body a hugging embrace while you dive deep into your sleep.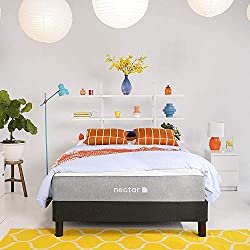 If you weigh a medium to a large number of pounds on the scale, the nectar mattress is a must-have for you. The mattress supports weight in commendable ways and gives you a feeling of sinking but not too much. Nectar is not a big fan of memory foam and that's why you won't get the feel of memory foam while laying on the nectar mattress.
The 12-inch thick mattress provides a motion isolation effect while you turn, move or toss around the bed. The motion isolation feature of the nectar mattress makes it the most popular among couples. The durable and firm mattress is a new standard of ease and relaxation.
Let's dive a bit deeper into the nectar mattress review and look at the tidbits of this prestigious mattress -to get a better outlook of how the mattress works and what the specifications are.
Materials And Stuff
The outermost part of the Nectar mattress is the cozy and snuggly cover which is a blend of three different materials. The cover accentuates the mattress and it is a mixture of Nylon, polyethylene, and polyester. These three materials give the nectar cover an enduring and long-lasting life while keeping it soft and rip-free.

Nectar King Mattress - 2 Free Pillows - Gel Memory Foam Mattress - Forever Warranty
Nectar Queen Mattress - 2 Free Pillows - Gel Memory Foam Mattress - Forever Warranty
Nectar King Mattress - 2 Free Pillows - Gel Memory Foam Mattress - Forever Warranty
Nectar Queen Mattress - 2 Free Pillows - Gel Memory Foam Mattress - Forever Warranty
Beneath the cover, three layers of foam combine together to make a 12-inch mattress. The layering of the nectar mattress is carefully designed to give you a plush feeling and a certain level of firmness as well. The layers of the nectar mattress are
➔ 1st Layer => Memory Foam (3″)
➔ 2nd layer => Soft Polyfoam (2″)
➔ 3rd layer => high density poly-foam (7″)
Nectar sleep introduces a soft and lavish 3-inch (1-inch quilt gel foam and 2-inch memory foam) comfort layer at the top of the mattress. This layer ensures that you get that sinking and body-hugging feel while moving on the bed. Below the comfort layer lies the transition layer which is made up of a soft polyfoam and is around 2 inches in width. This layer makes sure that your mattress is firm enough to support your body weight while you move in or out of the bed. The last layer is the base layer or core layer which is a sturdy, high-density polyfoam layer. This layer is the most heavy-duty and strong layer of your mattress that contributes to the long life of the nectar mattresses.
Specialized Features
The technical features of this awfully luxurious mattress will make you go Wow!. The 12″ nectar mattress is a bundle of comfort from tip to the core. It offers a motion isolating factor along with temperature regulating and strain releasing facilities.
Movement Isolation Element
With the Nectar mattress, you don't have to worry about the useless and irritating shaking of the mattress while someone moves in or out of the bed. The motion isolation feature takes extra care that you don't get disturbed while enjoying your cozy night's sleep. The memory layer absorbs motion pretty nicely, nullifying the effect of movement from the mattress.
Temperature Management Aspect
Just like the movements, the Nectar mattress also absorbs body heat and regulates it so you don't feel extra warm. Foam mattresses tend to absorb and retain the body heat which makes them uncomfortable to lay and slope on but nectar sleep has taken its engineering to the next level by introducing a cooling gel in its outer layer which absorbs the heat and draws it away from the body of the person laying on it. So you don't need to turn your ac down for that extra warmth built-up, nectar mattress has got you covered.
Edge Supporting Option
Nectar mattress, unlike the other foam mattress, has a supporting edge which makes it easier for the user to sit effortlessly on the edge of the bed. Some mattresses have a mushy edge that sinks deep down when you sit on them -causing your bum to strike on the side of the bed. Nectar stands on top of tackling this issue in an efficient way.
Pricing And Cost
The price of a nectar mattress depends on which size you're opting for yourself. Just like any regular mattress, the nectar mattress comes in a variety of sizes, and the price varies according to the sizes. Here is a list of the sizes of nectar mattresses and the cost accordingly.
Twin => $499
Twin XL => $569
Full => $699
Queen => $799
King => $999
California King => $999
The prices are kind of high, right? But if you compare the Nectar mattress price with other foam mattresses, you will see the difference. The Nectar mattress is below many and this makes it a budget and pocket-friendly option for people looking for reasonable damage.
Medical Windfalls
If you are on the verge of getting back and knee pain, the Nectar mattress is one of your ultimate picks. The mattress assures to soothe your pressure points and lifts off extra pressure from the knee joints and backbone.
The Nectar mattress is also ideal for people with higher digits on the scale. Especially for people who weigh 230 pounds or higher, nectar is sublime. It balances out the body-weight evenly and improves the posture while sleeping or sitting.
Specifications According To Sleeping Preferences
One thing you will have to ponder before buying a nectar mattress is your preferred sleeping position.
If you're a person who enjoys a side sleep, nectar is pretty much the mattress for you. It grasps your hips and back and lets them dunk into the bed but not too much. It's like a hotchpotch of soft and stiff which gives nice support and a comfy feel to your side laying body.
If you're a back sleeper, your body weight lies straight on the bed which means solid support is crucial. In this case, nectar has a sturdy foam base which gives you the required strength to hold your body in place while you sleep.
If you love to sleep on your stomach, you will be needing a much firmer mattress than the nectar mattress. Nectar has a gel quilting upper layer which means a memory foam-like effect. This causes a bit of a problem for the stomach sleepers but not too much.
| | |
| --- | --- |
| Pros | Cons |
| Soft and sturdy both | Not ideal for lighter people |
| Luxurious | Memory foam effect |
| Lifetime warranty | Bit pricey |
| Bug-proof | High temperature |
| No off-gassing | |
| 1 year Trial facility | |
| Level 7 firmness | |
| Higher weight capacity | |
Other Specifications
➔ The Nectar mattress is very much durable and reliable and is not prone to wear and tear.
➔ The Nectar mattress will not emit ours or smells from time to time. A slight of our at the time of unpacking is common but the odor will go away in a day or two.
➔ The Nectar mattress absorbs body heat so tends to increase the temperature while sleeping. This can create a problem with people who like to sleep in a less warm environment.
➔ The mattress will be a good option for couples as it minimizes motion and a great sex platform to enjoy a hassle-free fun time.
➔ The Nectar mattress will be the best option for people with medical issues.