Best Smartwatches for iPhone are not just for Silicon Valley but have become more common all around the world. They just don't tell you about the calls, texts you receive but are also concerned about your health and fitness from telling the rate of your heartbeat to your blood oxygen levels.
Best Smartwatches for Iphone Users
Some even tell you about your stress levels. Forgot your wallet? No problem, these watches act as a digital wallet and are quite useful for those people who are out on the run. Overall, these little gadgets are becoming more and more of a necessity.
Best Smart Watches Compatible With iPhone
If you're an iPhone user, the first thing that will come into your mind will be having the apple series watches. Apple series 7 is rather the best smartwatch for your iPhone. Being it newly launched and having more sophisticated details, series 7 ties down the iPhone and other android smartwatch users. Having all this in mind, the Series 7 watch may be the most compatible smartwatches with your iPhone. But wait, you may be looking for other options, rather than an expensive gadget, you may be looking for something more pocket-friendly, having the same sophisticated features.
In this article, we will discuss the list of the best smartwatches for iPhones.
(1) Apple Series 7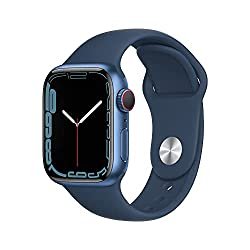 The apple series 7 is the best among all the smartwatches for your iPhone. The bigger screen may be the most prominent feature compared to the iPhone 6. The bigger screen- the better. It detects your blood oxygen levels and even has its ECG, detecting irregular heartbeats and immediately calling help. The bigger screen helps the elderly with shaky hands or the people who are out on a run. Overall, it is the best launched and of course, the best smartwatch compatible with your iPhone.
Pros
Having a bigger screen- the most prominent feature
User friendly
More advanced features for health and fitness freaks
Have a qwerty keyboard
Faster to charge
Cons
It takes upto 7 hours to startup
Sleep tracking is weak
Battery life- only one day
There is no power adapter with the watch which makes it more expensive
Very expensive
(2) Apple Series 6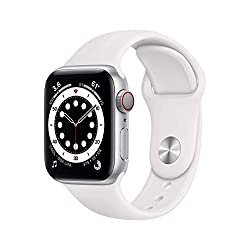 Looking for a smartwatch with stylish looks with great fitness features, the apple series 6 is for you. Not the latest apple watch but it is pretty great with its downright sophisticated features and a pretty stylish design. It also has a blood oxygen meter with ECG detecting your blood circulation. It also has a motion detector and an altimeter if you're climbing a mountain or falling down, it detects it and asks if you're ok. For someone who has an older version of the apple watch and is making way for a new watch, series 6 is the most reasonable option you can get.
Pros
Having stylish designs – great color options
Excellent support to applications and have an excellent software
Always on retina display
Increased battery life
Strong battery
Have a walky-talky feature
Cons
Only for iPhone users
Not fitted for fitness freaks
The updated sleeping tracker is quite basic
Not much software advances after series 5
(3) Apple Watch Series SE
At last, the moment we all are waiting for, pocket friendly, having a low budget with a software of series 5 and 6, Apple launched the SE series. Just like series 6, it also has an altimeter that can detect any kind of motion, has Bluetooth, can make calls and receive text messages, and also has a health tracker. Overall, it is the most affordable with a lot of feature similarities of series 5 and 6.
Pros
Affordable
Works fast and smooth
Have a better workout tracker and proactive health monitor
Sleek design and large screen
Cons
Doesn't have the software of always in display
Doesn't detect oxygen levels and ECG levels
The colors are rather dull
(4) Apple series 5
If the Apple Series 5 is on sale, I would recommend buying this watch. For the very first time, Apple launched an always-on display ie; when the wrist is down, it doesn't turn off rather it dims down making it quite attractive for fitness freaks to track down their steps without looking at their watch. Having all the accessibility of receiving and making calls, it also has a compass which is a plus point for this watch. It also has a larger display from its former series ie; Apple series 4.
Pros
Large display and sleek design
Always on display- the most prominent feature in the series 5
Colorful band options
Updated health features
Cons
Not much battery life
Only for iPhone users
Doesn't detect the heart rate
(5) Apple Series 3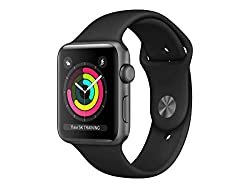 If you are looking for a cheaper side, the Apple series 3 is for you, having all the essential applications needed even though it has a smaller screen with a bulkier exterior, it may track down your motion and is water-resistant. It also has a heartbeat detector, not like the apple series 4 that has an electrical detector. Well, it is lacking in the processor, it doesn't have a fast processor like its sister but its software is updated to iOS 8. Overall, it is not the highest tech but it can perform simple functions.
Pros
It runs the latest software
Also has 4G and GPS
Cheaper than its sister watches
Cons
Small display and a chunky design
Not up to date processor
Battery life is short-lived
(6) Fitbit Sense Advanced
The Fitbit sense is better than the Apple series 7 in terms of health and fitness having electrical heartbeat detection and ECG monitoring applications and is also quite cheap. It also can detect any sleep disorders by the evaluation of oxygen saturation. All the plus points above, it also has electrodermal sensors which evaluate the stress levels and it also has a temperature sensor making it the first device with so many options related to our body health. For those who are hardcore fitness fans, this smartwatch is up to its mark.
Pros
Is cheaper than Apple SE and also has the features which are lacking in SE
Bigger screen
Is a better health care device
Charging is quick and battery life is upto 6 – 7 days
Cons
It is an average watch in terms of designing
In-app purchases are quite high priced
It's quite sluggish
(7) Fitbit Versa 3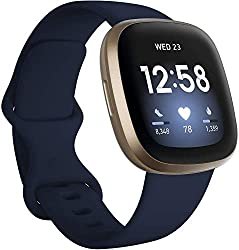 Compared to its sister watch (Fitbit sense), this watch doesn't have any temperature detector but it has good GPS, can evaluate blood saturation, and also a good sleep detector. It has super success in battery power upto 6+ day battery life. It is cheaper than the Apple series SE with on-display activity and resistant to water; may you shower or go out for a swim. Fitbit Versa can be used as compared to other expensive products.
Pros
6+ days battery life
Pocket friendly
Water-resistant
Has access to both Google Assistant and Alexa
On activity display
Ease in use of apps and programs
Cons
UI is slightly sluggish
Third-party apps aren't there as in Apple watches
(8) Fossil Sports
Fossil Sports is quite cheaper than Apple watches. It is basically a mid-ranged sports watch which focuses on performance and its value. It is built primarily for fitness purposes having a light, attractive and durable surface. This watch is quite good for avid runners but if you are looking for something more premium, then this watch is not for you.
Pros
Powerful software
Light-weighted
Stylish with sporty silicone band
Cons
Inaccessibility to high tech features
(9) Huawei GT2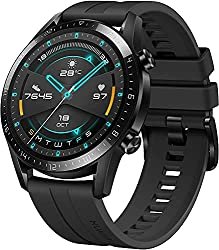 Huawei GT2 offers a lot of features at a lower price. It is advanced to a more sporty look with an extended battery life of up to 12 to 14 days being the best alternative for Apple watches. Sleep tracking is quite effective and this sports watch allows you to have effective tracking while you are running, hiking, and even swimming (resistant to water).
Pros
Battery backup is for 12 to 14 days
Also, have a mic and a speaker ie; you can receive or make outgoing calls
The rounded screen is quite preferable to users who don't like screens that are rectangular
Light-weighted
The best alternative for the apple series
Cons
Doesn't support the third party
No inbuilt voice assistant
(10) Withings Steel HR Sports
Line all the sports fans because this watch gives serious and excellent fitness and health trackers guided with its analog watch. It gets in the way of Apple in terms of its price. The heart rate of this watch is the most accurate and does give a detailed analysis of the oxygen saturations during workouts. It is also an excellent sleep tracker and has up to 25 days of battery life. Those who are interested in sports and are looking for accurate fitness trackers in Apple watches can look up to this watch.
Pros
Analysis of daily heart rates and tracks resting heart rates
Evaluation of blood oxygen during workouts
Battery backup may be upto 15 to one month
Stylish
Cons
Lack of music control
Bluetooth connection can be made better
Small LCD
Final Verdict
So, that's the end of the best smartwatches for iPhones users. Over the internet, you can find a huge list of smartwatches but the above list is the best we have searched for you guys.
I hope you will surely buy any one of these. If you want to recommend any smartwatch for iPhone, feel free to share your thoughts in the comment section.