At first glance, drones might seem like a toy for kids but it has many roles to play. You can capture the enticing sights of Zhangye Danxia Geopark or the Pitons of St. Lucia, it can be used in filmmaking or it can be used for many different purposes.
Finding a drone that is easy in the pocket and amazing in quality may be quite difficult as it will lack many other advanced features and will be less durable. We are not saying they don't exist but they are difficult to find.
In this article, we had dug out for you guys the best drones under $300 that are durable and have some of the advanced features.
1. Holy Stone HS720E GPS Drone
Holy Stone HS720E drone is one the best drones under $300. It is excellent for school projects, amateur filmmaking, or can go with any family event. It is quite stable and responsive to its user's output. It uses a brushless motor that adds up to its features as it makes less noise and saves from motor maintenance.
This drone has triple flight time as it has three batteries and one battery supports upto 23 minutes. The built-in camera is 2K FHD 5G and it can be easily transferred to the user's smartphone screen or an FPV monitor. It also supports GoPro and other camera options.
Pros
Easy-to-use
4K camera drone
Return to home functions
Durable drone under $300
2. Contixo F24 Pro 4K UHD Quadcopter
Contixo F24 Pro is one of the best drones under $300 that can be used in traveling. It can be carried easily from place to place as it is small in size and is provided with a bag. The remote controller has a phone holder in which you can easily make live videos with the help of the drone. The camera has a 120° FOV lens and a 90° vertical adjustable lens making the videos stunning and breathtaking. It also has a gesture control that lets you experience a hands-free mode i.e you can take pictures in between the videos.
The control range of this quadcopter is up to 2 km and the flight time is about 30 minutes. It has advanced features such as GPS follow me, auto return home, Tap Fly mode, and Orbit mode.
Pros
Great features
Light-weighted with a bag
Fit for travelers
Advanced GPS
High-quality camera
Cons
Software has issues
The phone holder should have more capacity for bigger phones
3. Altair Aerial Dagger Foldable GPS Drone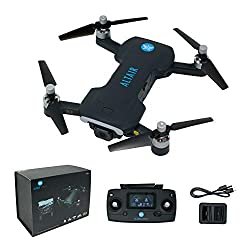 The Altair Aerial Dagger could be used by beginners or by any age group. It is about 250 gm, just the size of a smartphone. This drone has a 4K UHD camera and a top speed of up to 32 km/h. It also supports up to 300 meters of control range and has other GPS options. ( Follow-me mode, Optical mode, etc).
The most important feature about this drone that makes it one of the best drones under $300 is that it has an optimization flow stabilization system, which helps in stabilizing the drone with the help of a lens and makes it safe to fly out. if the controller loses the connection of the drone, it also has a fail-safe return home function that can bring back the drone safely.
Pros
Optical Flow Stabilization System
High quality in less price
4K camera
Light-weighted (up to 250 gm)
Cons
Short distance (300 meters only)
Not suitable for harsh environments
The software has some issues
4. Ruko F11 Foldable GPS Drone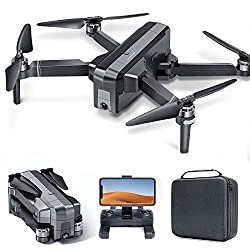 The Ruko F11 Drone has a 4K UHD camera and a flight time of about 30 minutes. It has a stylish aluminum body that is light-weighted and is easily foldable. It has a control range of up to 1.2 km which makes it the best drone under $300.
An important feature about this drone is that it has shock absorption functions which help the drone to stay stable in windy weather. The advanced GPS has many options such as Tap Play, Optical Mode, or Follow-Me mode. It also supports a max 32G storage card which is not included in the package.
Pros
Light-weighted
Long flight time
Easy-To-Use
Durable constructions
5. Potensic D88 UHD FPV Drone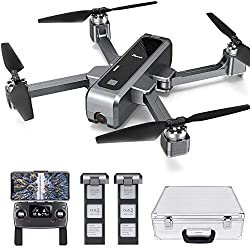 If you want the best drone under $300 having 5G transmissions, the Potensic D88 drone is just for you. It is slightly heavy with a simple aluminum case so you can take it outdoors or for travel. The camera is 4K with a 110° wide-angle and it can adjust automatically to 90° due to the presence of a gimbal stabilizer. It is also provided with a charger that charges two batteries at a time.
It has flight time upto 32-40 minutes and it speeds upto 50 km/hr. The presence of GPS and the optical flow make this drone smooth and stable during flight. It allows many interesting features, one of them is that if the battery is low, it will fly back to its start point.
An important feature about this drone is its 5G Wifi transmission but it needs to be connected to a 5G device.
Pros
5G FPV connectivity
Amazing flight speed (about 50 km/hr)
Can be used in slightly windy areas
Easy-to-use
Good quality cameras
Cons
5G connectivity needs 5G device
Instructions are not adequate
6. DJI Mini SE Drone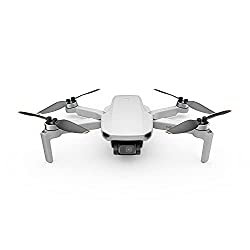 If you are looking for a small and light-weighted drone, this one is one of the best drones under $300. The DJI Mini SE is similar in size to a smartphone. It has an HD camera and has quick-modes like circle, helix, and rocket in which the Mini SE will carry out detailed preset motion modes while recording.
The flight time is about 30 km/hr and it has long battery life. The most outstanding feature of this little package is that it has a 3-axis gimbal-stabilized camera and it can withstand up to 29-38 kph of wind making it wind resistant despite its small size. The maximum altitude that it can reach is 3000 meters.
Pros
Wind resistant
3-axis gimbal stabilizer
Powerful software application
Light-weighted (light like a smartphone)
7. Holy Stone HS710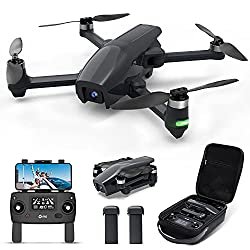 Like its sister, the Holy Stone HS710 is among the list of best drones under $300. It doesn't have some features such as the quality of the camera but that does not make it inferior. The battery life is about 50 minutes and if you forget to charge your drone, this will not be a problem at all. This drone comes up with a 5 GHz FPV drone technology which gives smooth live transmission.
The remote control ranges up to 600 meters and it also has a holder for your smartphone. You can be aware of the position of the drone during flight times by its GPS and dual-mode GLONASS global positioning.
Pros
Have GPS and GLONASS technologies
Extended battery life
Light-weighted
Flight-time and control range is quite impressive
Cons
The software application has some issues
The resolution of the camera is not much against its sister drone (HS720E)
8. Ruko U11 Pro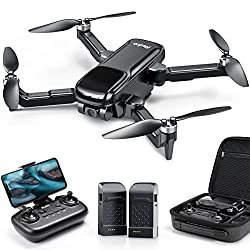 The Ruko U11 is a user-friendly and beginner-friendly drone that is under the range of $300. This drone is equipped with GPS and GLONASS navigation that could be a great help for first-time pilots. The return-home feature lets the drone fly back to the starting point when the battery is low or it loses its concentration from the remote controller.
The 4K camera is adjustable and has a shock absorber which reduces images or videos distortion. The average flight time is 26 minutes and the accompanying app has 6 different photo effects that allow you to create your own style while shooting or taking images.
Pros
Responsive
Has Optical Flow Mode
GPS and GLONASS technologies
Cons
The instruction manual is not simple
The accompanying app crashes
9. Contixo F30 Drone
The Contixo F30 is a mini drone with some sophisticated features and a stylish design. It has a flight time of 32 minutes and it has a 4K UHD camera. The drone has intelligent flight mode features and GPS advanced features. The dual GNSS receiver makes this drone the best drone under $300. The flying speed of this drone can be adjusted to the user's desires.
Pros
Portable
Quick setup
Great battery life
Holds its position in slightly windy weather
Cons
The image gets blurry when cropped or magnified
The smartphone application is glitchy
Drifts a little on the flight
10. Teeggi Visuo XS816 Drone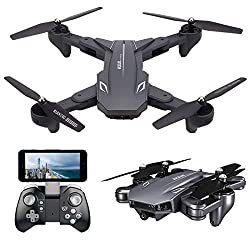 The Teeggi Visuo XS618 is one of the cheapest drones on this list costing almost $100. Its specialty is that it has a dual-camera option. The flight time is about 20 minutes and it is equipped with great LED lights. This is one of the best drones under $300 for beginners. This drone is foldable and can be easily carried around. It has a small camera underneath its body, which is used as an optical flow sensor that directly helps the drone to fly smoothly. You can also fly this drone with its application and guess what? It is compatible with both android and iOS devices.
Pros
Dual cameras
20 minutes Flight time
Easy-to-use remote control
User-friendly
Affordable
Cons
No GPS advanced features
Poor-quality videos
The application can be better
Frequently Asked Questions
Q. Are the best drones under $300 ideal for learning?
Yes, some of the drones which I recommended are beginner-friendly. All of these drones are easy to use but some require a little bit of professionalism in this field.
Q. Can I fly a drone in the rain?
Moisture can damage the drone so no, it is not recommended to fly a drone in rain or any harsh environmental conditions.
Q. Can you fly a drone without Wifi?
Yes, you can fly drones manually without Wifi or GPS settings.
Wrapping Up!
So, this is the end of the list of best drones under $300. I hope this article helps you to make the right choice while buying a drone. It would be an honor if you suggest your best drones under the comment box below.