Roblox Adopt Me is one of the most wanted Roblox games. In this Roblox Adopt Me game, players can easily raise, adopt and design a variety of cute pets. Roblox Players can also design their houses and play with friends in the fun family-friendly world of Adopt Me. For beginners we have some Roblox Adopt Me codes to help you get started with a discount gift.
Best Codes For Roblox Adopt Me
Roblox Adopt Me codes give you a free in-game currency. The Players can simply use the money however they want to spend. All adopt me codes are the best way to get started and boost your character.
Adopt Me Roblox Codes (2021)
There are currently no active working adopt me promo codes. But still, we keep you updated as soon as we get some new adopt me codes list. Here are some of the previous expired promo codes for adopt me.:
| | |
| --- | --- |
| All Adopt Me Codes List (2021) | Redeem Code |
| SUMMERBREAK | 70 Bucks |
| SUMMERSALE | 70 Bucks |
| 1B1LL1ONV1S1TS | 200 Bucks |
| M0N3YTR33S | 200 Bucks |
| GIFTUNWRAP | 200 Bucks |
| DiscordFTW | 70 Bucks |
| subbethink | 100 Bucks |
| GIFTUNWRAP | 200 Bucks |
| SEAcreatures | Reward |
How to Redeem Adopt Me Promo Codes?
Step#1 Open Adopt Me
Step#2 Join a game
Step#3 Look for the Twitter button located on the right side.
Step#4 Tap on the button and you will see a notice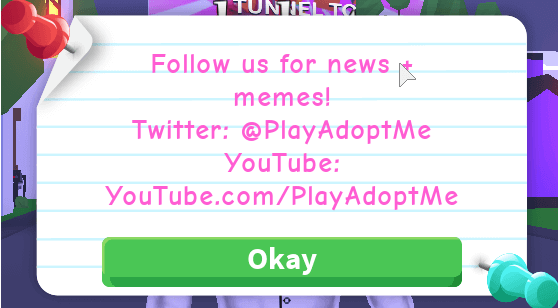 Do Adopt Me Promo Code Coupons Work?
Right now there are no adopt me cheats or codes list that actually works as many of the online scam websites will ask your Roblox username and password to provide you adopt me promo codes but that does not actually work. Beware of the scams and never give your Roblox credentials to anyone.
Any Future Update Regarding Roblox Codes for Adopt Me?
Hopefully, we are also waiting for that update regarding adopt me codes as we personally reach out to the Adopt Me team, who claimed that the codes for Adopt Me game will never be back again but this decision can be changed in the future, while the game upgrades. As soon as we hear from them we will definitely update our Adopt Me codes list.