If you're a new online business owner, you know two things to be universally true: you want to reduce your expenses, and supercharge your sales.
But how do you get there?
These days, I'm increasingly feeling like the answer is: all-in-one marketing platforms.
Think about it: why would you pay hundreds (or thousands) of dollars for different tools when you can get all the services you need within one tool?
There are a lot of all-in-one tools these days, but recently Kajabi has been making the rounds.
In this Kajabi review, I'm going to take an in-depth look at this tool's features and pricing.
Is Kajabi worth it?
It's time to find out!
1. What is Kajabi?
First things first, Kajabi is an all-in-one marketing platform.
However, unlike ClickFunnels and other similar tools, Kajabi best caters to a pretty specific audience:
Businesses that sell courses and memberships.
Yes, you can absolutely use Kajabi to sell digital products or offer services, but in my honest opinion, it'll be most valuable if you use it for your membership site.
2. Kajabi Pricing 2020
Kajabi currently has 3 pricing plans:
Basic – $119/month – 3 products, 3 pipelines, up to 10,000 contacts, and up to 1,000 active members
Growth – $159/month – 15 products, 15 pipelines, up to 25,000 contacts, and up to 10,000 active members
Pro – $319/month – 100 products, 100 pipelines, up to 100,000 contacts, and up to 20,000 active members
2.1. Kajabi Basic Plan
The Basic plan includes:
A. 3 products
When you subscribe to Kajabi's Basic plan, you can upload and sell up to 3 products.
This is where you can see that it's not really viable to use Kajabi for eCommerce.
Instead, it's best to use Kajabi for coaching, courses, membership sites, and subscriptions.
In addition to listing your products, Kajabi also offers:
Sales funnels
Payment gateways: Stripe and PayPal
Sales elements: 1-click upsells, and coupons
Abandoned cart recovery through automated sequences
Different payment models: one-time payment, subscription, payment plan, free trial
B. Kajabi Website Builder
The second staple of the Basic plan (and other plans, as well) is the landing page and website builder.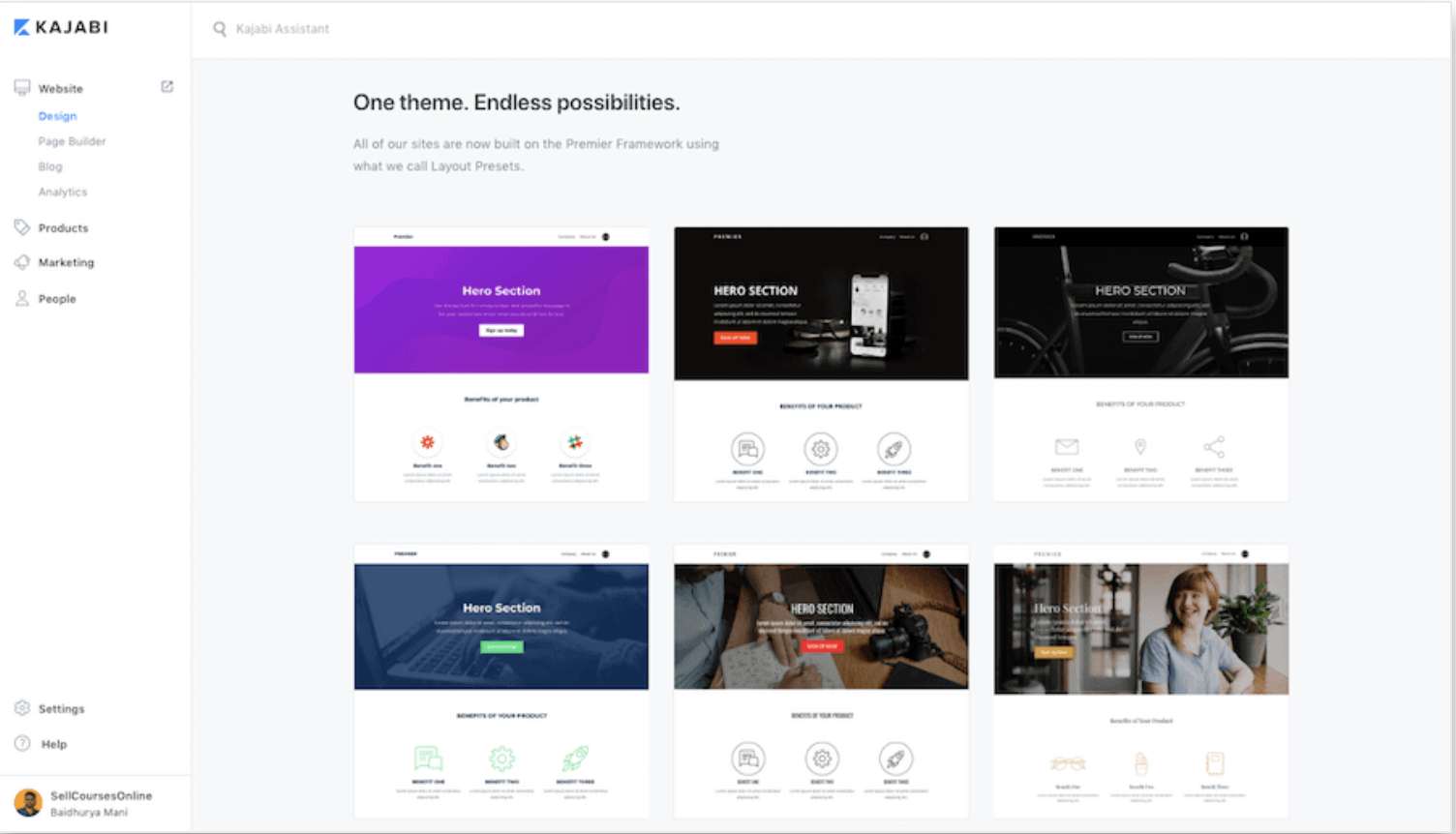 What does Kajabi's website builder include?
Visual, drag & drop builder
Custom domain
Unlimited hosting
Ready-to-use website and landing page templates
C. 3 pipelines
This plan also includes 3 pipelines.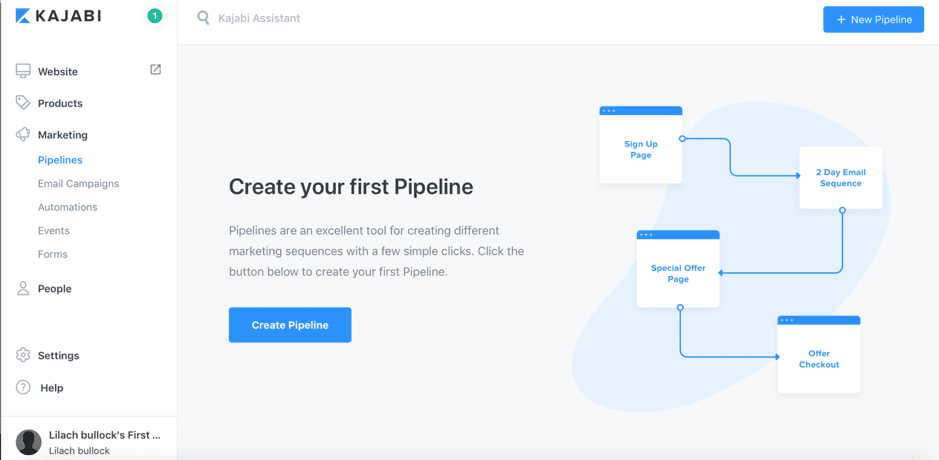 Pipelines are automated sequences that:
Add new leads to your mailing list
Nurture your email leads
Convert your leads into customers
Up-sell and down-sell
And more!
Pipelines allow you to run your business on autopilot, and it's a staple of numerous all-in-one tools.
You don't have to reinvent the wheel, either. Kajabi offers pipeline/funnel templates that you can customize to suit your business.
D. Email Marketing
Email marketing is one of the most important aspects of all-in-one tools.
In fact, Kajabi goes as far as to say that it can completely replace MailChimp, AWeber, and ConvertKit.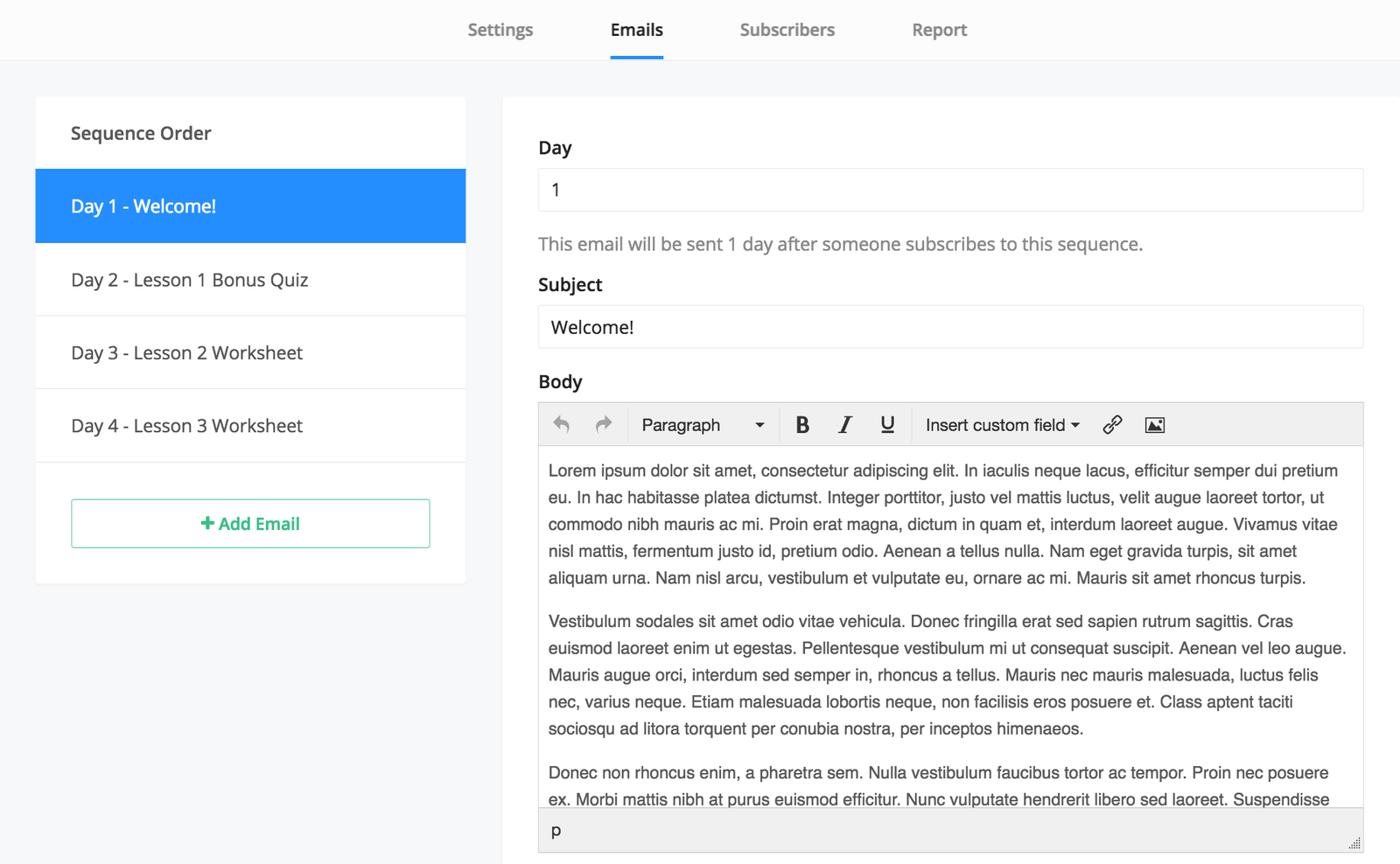 So, what does Kajabi offer by way of email marketing?
Audience segmentation
Automated email sequences
Pipeline integration
To put it simply: you can personalize your email content, create automated sequences to personalize at scale, and successfully integrate your email marketing with your website.
E. Membership sites with events and webinars
In the Basic plan, you can:
Host 1 (membership) website
Have up to 1,000 active members
Promote webinars and events
Create quizzes and assessments
I especially love the last feature: quizzes and assessments. They're a vital part of an engaging membership site, and Kajabi fully supports that!
You can also drip content to have your students gradually progress through lessons.
Finally, you'll be able to analyze your students' engagement. From grades to lessons taken, you'll know who's doing what, and how you can optimize your online business further.
F. Kajabi University Training
Kajabi helps you get started through their training program – Kajabi University.
Kajabi University is a collection of courses, and also serves as a great way to promote their platform. They cover basics, as well as some advanced topics to help you increase your sales.
Kajabi Basic Plan Summary
All things considered, Kajabi Basic is a great plan if you want to get your membership site up and running. The 0% transaction fee is a nice touch, as well!
Yes, I still think the price point is too high (there are better and more affordable alternatives, like systeme.io. But Kajabi offers plenty of features that would've cost you a lot more if you used them separately.
You'll also get free Kajabi University training and plenty of templates to help you get started.
2.2. Kajabi Growth Plan
The majority of features in the Growth plan are the same as in the Basic plan, but the caps are different.

You will be able to add and create:
Up to 15 products
Up to 15 pipelines
25,000 contacts
10,000 active members
10 admin users
However, you'll still get only 1 website.
The only really notable feature that makes this plan stand out is the ability to create your own affiliate marketing program.
A. Kajabi Affiliate Marketing Program
Instead of paying for ads, you can pay a commission for each product your affiliates sell.
Affiliate programs have become a staple of all-in-one tools. They also work great for courses; 84% of people trust online recommendations almost as much as personal recommendations.
You'll also be able to evaluate your affiliates' performance:
Clicks on share links
Form submissions
Conversions and conversion rates
B. Other Features in the Growth Plan
In addition to exceeded caps and affiliate marketing, you'll be able to remove Kajabi branding.
You'll be able to use advanced automation and get in touch with support 24/7.
Kajabi Growth Plan Summary
There's not much to summarize… You can onboard more users and promote your membership site with affiliates.
This plan isn't really a plan that adds on a lot of new features; it's more of an upgrade for online business owners who have exceeded the Basic plan.
2.3. Kajabi Pro Plan
I promise I'll be quick because this plan doesn't add on any new features.
Just like the Growth plan, Kajabi's Pro plan simply allows you to scale:
100 products and pipelines
2,000,000 marketing emails
100,000 contacts
20,000 active members
3 websites
25 admin users
Pay attention to two things:
Firstly, you can create 3 websites. This is new, as this is the first plan that allows you to launch more than one website.
Secondly, the cap is now 2,000,000 marketing emails.
This is quite strange if you're considering the fact that you could send unlimited emails with the previous two plans. It might be related to their anti-spam policy.
Other than that, the only significant feature you're getting is the Code Editor.
A. Kajabi Code Editor
Kajabi has a visual, drag & drop approach to building websites and funnels.
But if you're using the Pro plan, you can add custom code to modify things to your liking.
Kajabi Pro Plan Summary
Again, not much to summarize here. If you're successfully scaling with Kajabi, then you'll have to upgrade.
3. How to Choose a Kajabi Plan
My sincere recommendation is to just start with the Basic plan.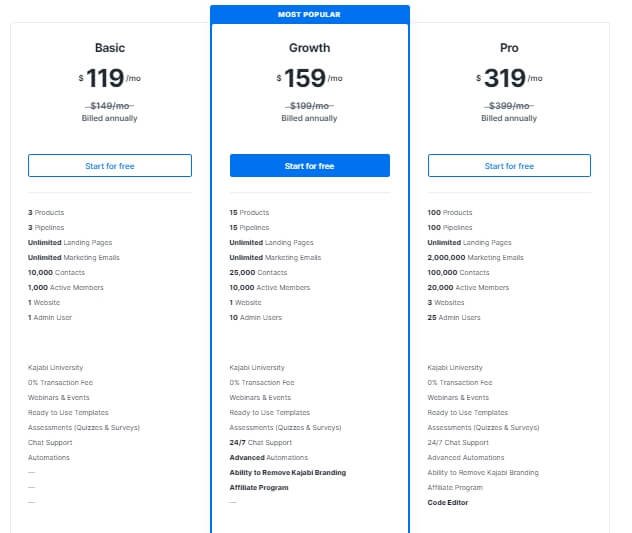 Kajabi plans are typical upgrade plans. You can easily switch up as you grow.
4. What Types of Businesses Can Use Kajabi?
Kajabi is a perfect fit for:
Membership sites
Courses
Webinars
Digital products
Be mindful of the product limit.
Kajabi is a great tool and it can work for a variety of online businesses, but it was made with courses and membership sites in mind.
5. How Does Kajabi's Pricing Compare to Competitors?
Kajabi has 4 main competitors. Can they give you more bang for your buck?
You bet!
5.1. systeme.io – the best all-in-one marketing tool
First of all, systeme.io is more powerful than Kajabi, and serves a wide variety of businesses – not just membership sites.
systeme.io as integrated and simple, but has plenty of other tricks up its sleeve.
A. systeme.io pricing
systeme.io offers 3 plans:
The first plan, Startup for $27/month, is perfect for budding entrepreneurs!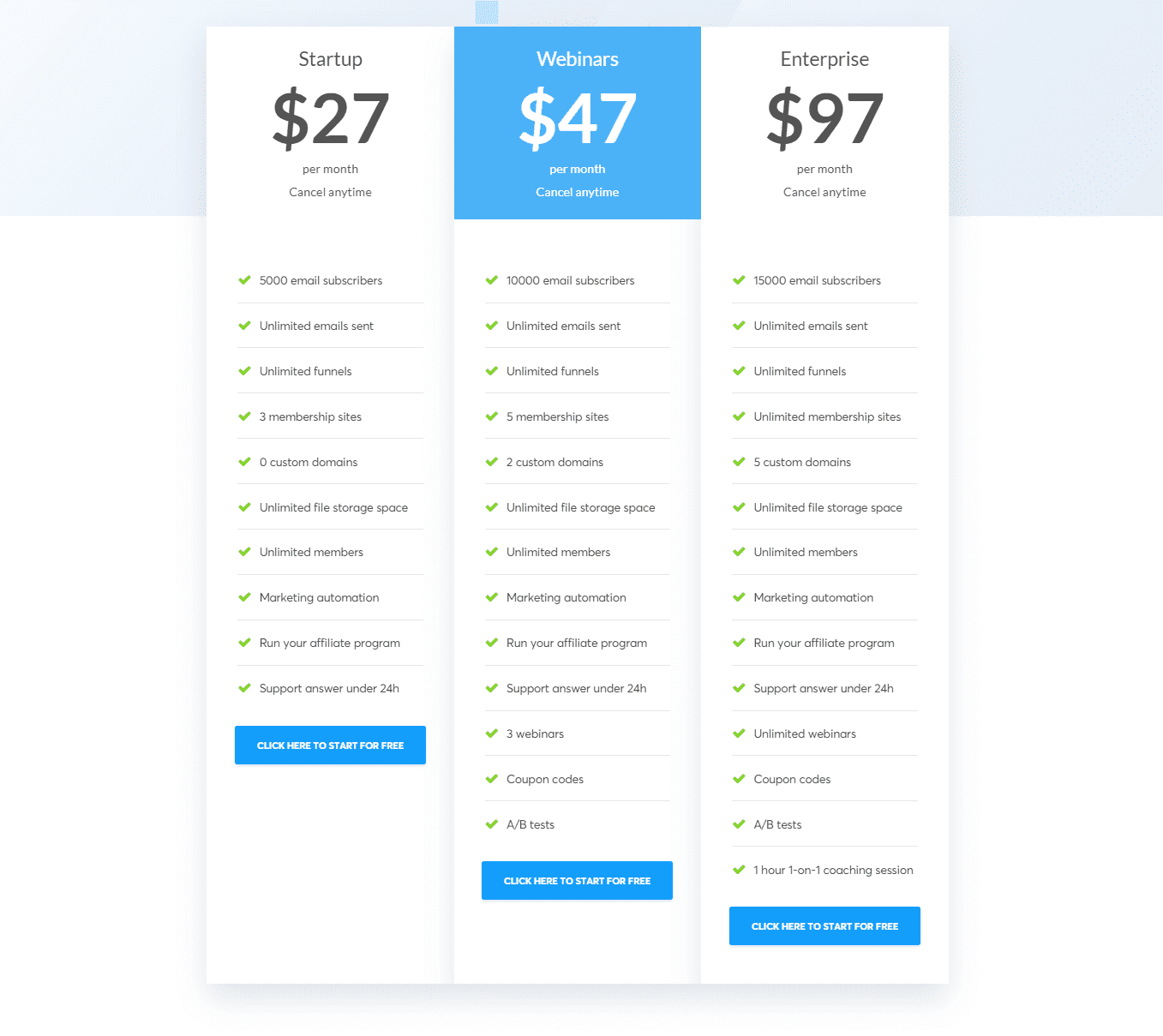 In addition to being able to create 3 membership sites with systeme.io's drag & drop website and funnel editor, you'll also be able to run your affiliate program.
systeme.io also offers powerful marketing automation and plenty of templates to help you get started.
At the same time, you don't have to think about exceeding the limits; you can create unlimited funnels.
The second plan, Webinar for $47/month, works like a charm if you want to sell access to your webinars.
You can upload 3 evergreen webinars to 5 membership sites, as well as conduct A/B tests on your systeme.io website.
Finally, the Enterprise plan for $97/month allows you to scale your business to infinity and beyond!
B. Is systeme.io better than Kajabi?
If you want an all-in-one tool that has more features and lower prices than Kajabi, then – yes!
systeme.io also supports different types of online businesses.
Yes, you can create a membership site and sell access to your courses.
But you can also sell digital products, dropship, and more!
5.2. Kartra
I already wrote an in-depth review of Kartra, so I'm going to keep it short and sweet.
A. Kartra Pricing
Kartra has 4 plans, but its features are similar to Kajabi's.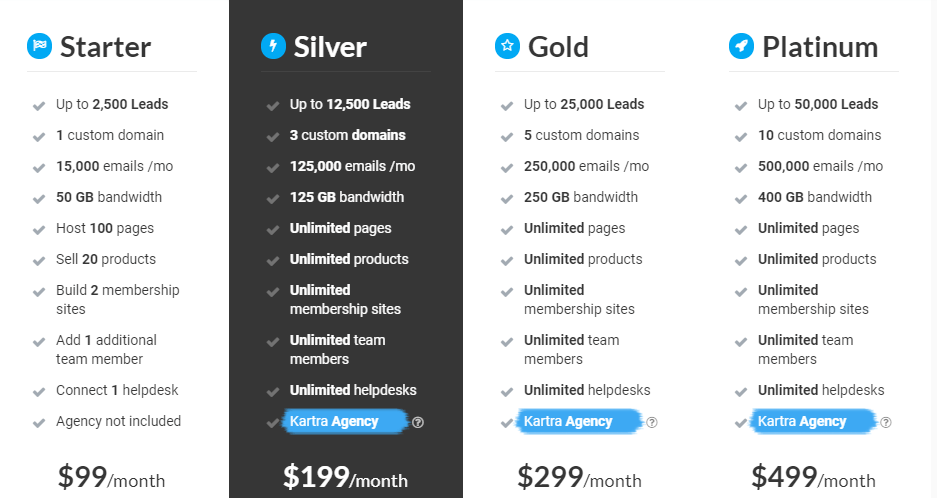 Its main advantage is the Agency feature which allows you to manage client accounts.
All in all, the Silver plan definitely gives you the most bang for your buck.
B. Is Kartra better than Kajabi?
Honestly? If you want to run a membership site – no.
Kajabi is definitely easier to use, while still providing similar features.
However, if you want something more affordable, then Kartra works like a charm!
5.3. Teachable
Teachable is even more niche than Kajabi. It's completely tailored to online businesses that sell courses, which makes it an excellent alternative!
A. Teachable Pricing
Teachable has 3 plans, all of which are significantly cheaper than Kajabi.
The Basic plan, $39/month, makes it really easy to get started.
However, the Professional plan for $119/month definitely offers the most value out of all three plans.
B. Is Teachable better than Kajabi?
I'm on the fence regarding Teachable.
It's definitely a powerful tool if you have an online business that offers courses. You can customize your school a lot more.
However, Teachable doesn't offer email marketing, so you're still going to have to set up integrations and pay for email marketing tools.
5.4. Thinkific
Thinkific is definitely an online course pro!
A. Thinkific Pricing
The best plan is certainly Pro + Growth for $79/month.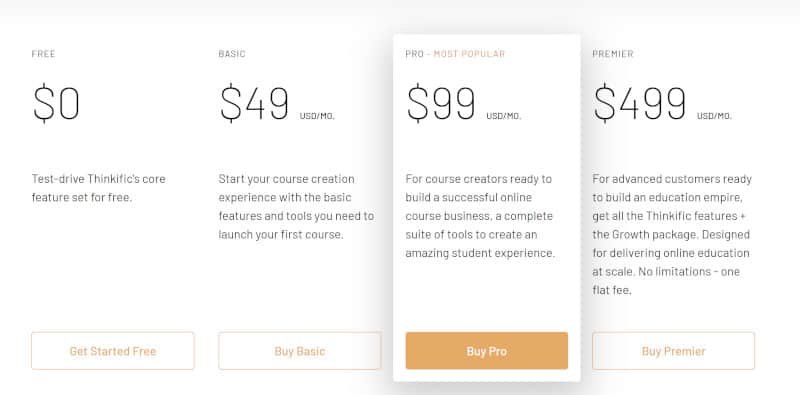 And even though Thinkific offers pretty advanced features for course-based businesses, it's still cheaper than Kajabi.
B. Is Thinkific better than Kajabi?
If you plan on creating advanced courses – yes.
However, Thinkific doesn't offer a lot of marketing options.
It's not really an all-in-one tool; it offers a membership website builder and course features.
6. Summary
All in all, Kajabi is a good software for membership site owners.
However, as you scale, you may find it limiting, either in terms of course features, or marketing possibilities.
And if you're looking for the full package, try systeme.io.
It's never been easier to scale!