Toaster ovens are compact kitchen appliances offering extended functions. They are energy efficient, so you don't have to waste a lot of money paying electricity bills. They offer multiple heating levels to help you cook or bake a variety of dishes. Thus, they are a better option than conventional ovens at your home.
Since toaster ovens are available in multiple sizes and value-added features, you may have to consider your budget and needs first. If you're looking for the best toaster oven, consult this review guide to help you make the right decision. Without further ado, let's dive into the list.
1. COMFEE'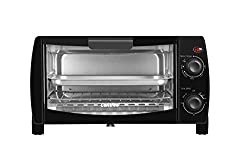 For enhanced experiences, COMFEE's toaster oven is the best for all users. This small appliance consists of 3 cooking options for baking, broiling, and toasting. You can prepare delicious waffles, nuggets, egg rolls, muffins, or get a meat broil via its multi-featured options. The COMFEE' toaster oven is also very easy to operate due to its precise timing and multiple modes based on your cooking preferences. Another of its notable feature includes a detachable crumb tray for easy cleaning. This versatile appliance lets you bake, roast, or broil food items while conveniently positioning them on the dual position racks.
Pros
Ideal for apartments, small kitchens, and offices
Integrates high and low oven rack positions
Has a user-friendly design with multiple options
Cons
Carries a limited capacity.
2. BLACK+DECKER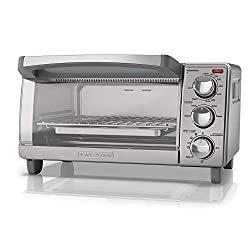 Looking for a cheap toaster oven with advanced technology and functions? The Black+Decker Toaster Oven has an in-built convection technology for optimal hot air circulation inside. This kitchen appliance comes with four cooking options: bake, toast, broil, or warm to meet your needs. Further, it has a 30-minute time that delivers precise cooking and a stay-on option for extensive baking tasks. Also, the Black+Decker toaster oven offers convenience as it comes with a rack and a baking pan.
Pros
Quickly prepares small or large food items
Provides best results due to its natural convection technology
Delivers four cooking functions
Cons
Doesn't have a dual rack option.
3. Breville BOV800XL Smart
What's better than a smart toaster oven offering ten cooking functions? Breville BOV800XL is an essential kitchen tool for all baking or cooking experts. It's also one of the best toaster ovens with a smart iQ system that delivers the perfect heat for outstanding results. The built-in LCD allows you to monitor the temperature and overall cooking time. The best part about Breville's smart toaster oven is its slow cook function for complex flavors. It lets you cook at low temperatures for up to 10 hours.
Pros
Integrates convection technology for hot air circulation
Incorporates a smart LCD and iQ system
Comes with ten advanced cooking functions
Cons
Compared to others, it's a bit expensive.
4. De'Longhi EO241250M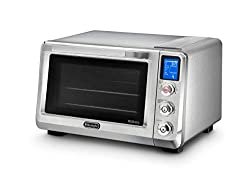 If you want the best convection toaster oven, De'Longhi EO241250M is the right kitchen equipment for you! This model integrates a European Convection offering 40% faster results than other toaster ovens. It covers an efficient heat lock system that controls up to 50% heat outside the glass door for safety and protection. Moreover, this EO241250M model is energy-efficient and offers multi-level cooking programs to save your time. It also includes an adjustable rack to provide enough space for large food items.
Pros
Offers eight preset cooking programs
Has a compact and spacious design
Provides easy cleanup with its detachable crumb tray
Cons
Some features need improvement
5. Cuisinart TOB-260N1 Convection Toaster Oven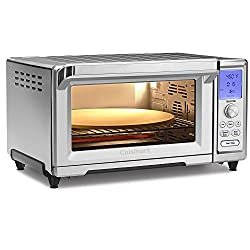 Cuisinart TOB-260N1 is one of the largest toaster ovens as it has a 0.95 cubic-foot space capacity to fit all your edible items. This kitchen appliance has advanced cooking technology to deliver consistent results with an optimal toasting time. For best results, it lets you choose from a variety of programmable cooking functions. Other features include cooking options, such as a +30-seconds timer and dual cook option. The Cuisinart convection has an intuitive interface that conveniently lets users select their preferred cooking function.
Pros
Provides a large space and convenience
Has an easy-to-use interface
Integrates convection technology
Cons
Some users may experience poor quality control.
6. Calphalon Quartz Countertop Toaster Oven
If you're looking for an aesthetically pleasing toaster oven for your countertop, Calphalon Quartz is for you! This stunning kitchen appliance preheats 40% faster than other conventional toaster ovens. It offers 11 cooking functions: bake, broil, warm, frost, reheat, roast, toast, dehydrate, cookies, pizza, and bagel. Moreover, it comes with an extra-large capacity to fit all your needs. The best part about the Calphalon Quartz Countertop is its intuitive LCD that shows visible features and control options. Bonus, it includes a dehydrator rack, baking pan, wire rack, and a pizza pan.
Pros
Features a high-contrast LCD Display
Has an innovative stainless-steel design
Covers 11 preset cooking functions
Cons
Not suitable for small countertops.
7. Toaster Oven by Mueller Austria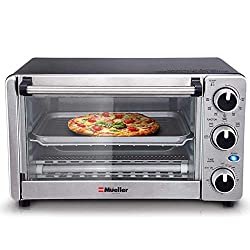 Modern baking and cooking require modern toaster ovens! That's why this Mueller Austria's is your safest bet. It's energy-efficient and consumes 60% less energy while delivering faster-reheating results. Further, this innovative kitchen appliance also covers a dual position rack to accommodate large food items. If you're looking for a convenient kitchen tool, this model has exceptional features to deliver the best cooking results.
Pros
Incorporates dual rack positions
Has an energy-efficient design
Ideal for small kitchen space at homes
Cons
Has limited space or food capacity.
8. HAMILTON BEACH PROFESSIONAL Digital Toaster Oven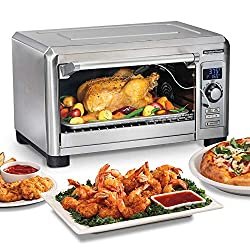 One of the top-rated digital toaster ovens- Hamilton Beach Professional, offers spacious capacity for your kitchen countertops. You can even fit a 12″ large pizza or a whole chicken inside without any hassle. The best-selling point is its integrated temperature control that ensures the doneness of the meat. Further, this kitchen appliance provides seven versatile cooking settings: bake, warm, toast, reheat, bagel, broil, and convection. This model by Hamilton Beach Professional also provides cooking flexibility with its three rack positions. You can easily monitor your food and prevent overcooking due to its digital display allowing users to track down the digital timer.
Pros
Incorporates seven cooking functions
Has a 3-year warranty
Delivers visible results with its digital display
Cons
It may lack advanced functionality features
9. Oster Digital Toaster Oven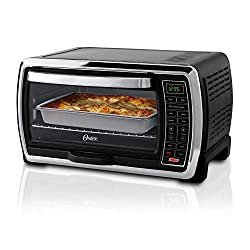 Oster is the ultimate digital toaster oven to fulfill all your baking and cooking needs. It has a large capacity for convection baking and provides hot air circulation for maximum support. Users can roast, toast, bake, or broil, depending on their needs. Moreover, this model comes with seven preset cooking functions and adjustment levels for an easy cooking experience. The best part about is its optimal cooking settings with digital controls. It lets you cook different food items after selecting your desired temperature range. Also, it includes a removable crumb tray for an easy cleaning option.
Pros
Provides convenience and affordability
Promotes convection baking and cooking
Has adjustment levels and feasible setting options
Cons
Users may complain about poor heating functions.
10 Panasonic FlashXpress
Ready, Set, Flash! This compact Panasonic FlashXpress provides perfection and maximum efficiency at the same time. It's an easy-to-use oven toaster that contains multiple heating elements for convenient cooking. Moreover, this appliance offers six preset cooking functions so that you can select one based on your preferences. Another of its unique feature includes an auto shut-off option that provides safety and prevents overcooking. It has a perfect design with an attachable rack for your countertops.
Pros
Provides infrared heating elements with a smart sensor
Has an auto shut-off option
Comes with six cooking functions and a connected rack
Final Thoughts
Now, you have the ultimate list of the best toaster ovens for your morning and midnight cravings. Although all products in the list are top-rated, our favorite pick is 'COMFEE'. It's energy-efficient, cost-friendly, and delivers a brilliant performance to its users. So, if the idea of using a conventional oven bores you, what are you waiting for? It's time to switch to a modern convection toaster oven.
Frequently Asked Questions
Q. Are Toaster Ovens safe?
Yes. Toaster ovens don't impose any health hazards. Most of the best toaster ovens have advanced features and heating elements to ensure users' safety.
Q. Can you cook Pizza or a hamburger in a toaster oven?
Yes. Some toaster ovens have a Pizza setting to help you enjoy a crispier edge and a delicious crusty pizza. Using the broil setting, you can also prepare a hamburger for yourself. However, make sure to select the right temperature for the doneness of the meat.
Q. Is a toaster oven better than a microwave or traditional oven?
A toaster oven fulfills your modern cooking requirements. Compared to a conventional oven or microwave, they consume less energy and time. They help you prepare quick meals while encouraging unattended cooking.
Q. What are some of the best features of a toaster oven?
When purchasing a toaster oven, you can consider specific features depending on your budget. You can get a toaster oven offering convection cooking or backing for optimal heating elements. Since a toaster oven comes in different sizes, it's essential to consider the size of your kitchen countertop. Apart from its size, you can check its multiple cooking functions based on your food preferences.