Who doesn't love a bright, dazzling white smile that won't stop them to grin from ear to ear all day and all night? Well, everyone does. As said by Karen Asp, having bright-white teeth can also make you look up to five years younger. But not everyone is lucky enough to have a smile that would look the brightest and the best.
The daily intake of your morning coffee or tea or even enjoying red wine a little too often can make your teeth look visibly yellow and pale. Even using tobacco, smoking cigarettes or simply aging can create stubborn stains on your teeth.
One of the solutions for this is to pay a visit to the dentist for an in-office whitening treatment, but of course, they are pricey and you need something more affordable for your teeth whitening to be done every day.
As many of us are also staying at home due to this ongoing COVID-19 pandemic, we are going to guide you here about the 10 Best Teeth Whitening products and kits that you can use at your home to make your smile shining and the brightest.
What is Teeth Whitening?
Teeth whitening is the process of lightening the stains and natural color of your teeth without removing any tooth surface. It is often done in-office that is done by dentists and at-home where you use different products and kits at home.
Teeth whitening products often contain peroxide-based bleaching agents that are from 3% to 20% in at-home and 15% to 43% in in-office. Teeth whitening done by dentists can give faster results but its cost varies from $500 to $1000. At-home products can be less expensive and can work efficiently if you will pick the best ones for your teeth.
10 Best Teeth Whitening Products
There are a variety of options for teeth whitening that you can get started with after first talking to your dentist about it. These include:
Stain Removal Toothpaste
Whitening Strips And Trays
Whitening Light Devices.
Here we have our best picks for the Top Rated Teeth Whitening Products.
1. Crest 3D White Strips Whitening Kit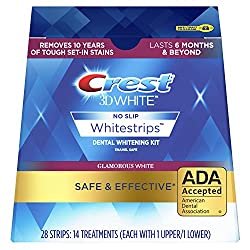 A total game-changer for at-home whitening kits, the Crest 3D whitening strips can make your smile bright and your teeth noticeably white. It whitens your teeth 25 times better than any whitening toothpaste. It is available at Amazon for $34.57 and consists of 28 whitening strips with 14 treatments, each with one upper and one lower.
How To Use This
You need to peel it off, apply it on your both upper(longer strip) and lower(shorter strip) jaw Apply pressure using your fingernails to make sure they stick well on your teeth and wait for 30 minutes until it does its magic. Once it's done, peel the strips off starting from the edges. Wait for another 30 minutes before consuming any food or drink. Repeat it for 14 days to see effective results.
Ingredients
These strips contain 14% of Hydrogen Peroxide which is a whitening agent, Glycerine makes the gel thick and sticky so it will adhere to your teeth, Water that prevents your teeth from dehydrating, Sodium Hydroxide that adjusts pH to neutral and Sodium Saccharin that gives it a better taste.
Results
Using these strips as per instructions can give you a really bright whiter smile without intense sensitivity. It does not even slip from your teeth and can be very effective in teeth whitening that you will officially call off the expensive visits to your dentist for teeth whitening. A must-try product.
2. Colgate Optic White Express White Whitening Toothpaste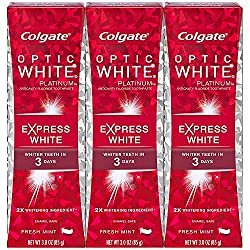 To be honest, using a whitening toothpaste is the simplest way of getting at-home whitening done for your stained teeth. The product that contains the dentist recommended whitening ingredient, Colgate Optic Express is one of the best whitening toothpaste of 2020. You can buy its 3 packs for $10.58 from Amazon.
Uses and Results
This toothpaste contains all the benefits for daily use of toothpaste and can give you a whiter and bolder smile. Its starts showing the result after 1 week of daily use. Use it for 4 weeks and you will get deep clean and whiter teeth. This toothpaste can remove deep set-in stains within a few weeks of its daily use. It whitens all of your teeth and not just the front ones as it contains 2x the whitening ingredient.It also has a great refreshing taste and doesn't burn your tongue. This Colgate toothpaste also protects against cavities with its Fluoride Toothpaste Formula.
Ingredients
It contains ingredients that includes
Inactive ingredients: Hydrogen Peroxide, Calcium Pyrophosphate, Glycerin, Sodium Saccharin, and Propylene Glycol.
Active ingredients: Sodium Monofluorophosphate that helps in Anticavity purpose.
Directions to Use
Children above 6 years and adults should brush their teeth with this at least twice a day or after every meal, or as directed by their dentist.
2 to 6 years children should only use a pea-sized amount while brushing under adult's supervision.
And under 2 years should ask their dentist before using this.
The most recommended product for teeth whitening, you should really give a try to Colgate Optic White Express Whitening Toothpaste.
3. Go Smile Sonic Blue Smart Brush Whitening Kit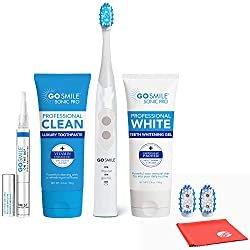 The fastest product to give you whitening teeth in less than 3 days, the Go Smile Sonic Blue Smart Brush uses blue light technology to give you whiter teeth. Blue light opens up your teeth pores, allowing the oxygen to enter the enamil and dentin that helps to break the stains, resulting in a lighter color of your teeth.
It comes with sonic vibrations that deliver upto 33,000 strokes per minute. It is available in one set for $89.99 on amazon that includes Go Smile On The Go Whitening Pen, Patented Luxury Toothpaste, Teeth Whitening Gel, and its Smart Brush with two extra brush heads.
Uses and Results
Sonic Smart Brush's blue light technology helps to remove the toughest stains on your teeth to ensure a whiter and brighter smile. It also creates a speed for this brush that makes it possible for you to see results within 30 days of using this product. The blue lights also kill the bacteria and germs in contact, giving you both healthier and brighter teeth.
The brush also has an automatic interval time that tells you when to switch to a different parr of your mouth. The two replacement brush heads help it to last longer for a year almost. The luxury toothpaste and teeth whitening gel perform the dual action of giving you the cleaner smile.
It's On The Go Whitening Pen is portable enough and can be easily carried around the town in your pockets that is perfect for quick freshening up of your teeth while you are socially interacting during the daytime.
How to Use It
You just have to combine the equal parts of Luxury Toothpaste and Teeth Whitening Gel and brush it using your Smart Brush for two minutes. Use it twice a day for upto 10 days to see visible results which is happier, healthier, and whiter teeth and gums.
4. Aura Glow Teeth Whitening Pen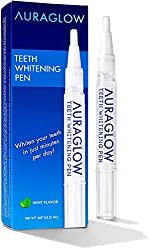 Looking for an on-the-go product to touch up your teeth while you are somewhere out? This Aura Glow Whitening Pen fits the bill. It has a sleek tube design of 5″ and can fit in your purse or pocket easily. The whitening gel in this pen helps to break down the toughest stains of coffee, wine or soda from your teeth.
Its clear tube design shows how much of the gel is being left in the pen. Each pen offers 15+ whitening treatments and is available in mint flavor. You can buy this from Amazon for $20 and on Walmart for $25.
Results
The Aura Glow Whitening Pen uses Caramide Peroxide which helps to remove all your stains from your teeth and won't cause sensitivity problems. Its mint flavor gel gives you a refreshing smile and breathe every time after use.
It is often recommended to use this pen 1-2 times a day for visible results. Continuously using the Aura Whitening Pen for two weeks can get your teeth 4-8 shades whiter and helps to maintain your perfect bright smile.
How To Use This Aura Glow Whitening Pen
Remove the cap of your own and twist it until the mint-flavored gel appears on the brush. Paint the gel onto each tooth and wait for 1 minute for the gel to dry and whiten your teeth. No need to remove the product as it will dry over time. You should not eat or drink anything for 1 hour after application for effective results.
Ingredients
AuraGlow Whitening Pen contains 35% Carbamide Peroxide that helps to breakdown and removes the stains. It is generally made in the USA and is gluten-free. The other ingredients include Glycerin, Glycol, Propylene, and Carbomer. It is also safe for your enamel.
A must-try product for teeth whitening that is easy to use, portable, and gives you really visible results for at-home treatment of your teeth.
5. GLO Brilliant Complete Teeth Whitening System Kit With Led Light
What if bleaching your teeth at home could be done even while watching Netflix on your couch? Invented by the dentist stars Dr. Jonathon B.Levine, this GLO Kit uses blue LED light and heat to boost the bleaching powers of hydrogen peroxide and gives you a sparkly bright smile at-home in just 5 days.
Its complete Kit includes the GLO Brilliant Teeth Whitening device, lip care balm, mouthpiece and case, 10 vials of whitening gel, USB power cord, adapter, a travel case, and a user manual. Its 10 vials of whitening gel offer 40 applications for teeth whitening. You can buy this product at Amazon for $179.10.
Uses and Results
This session of teeth whitening should be done four times a day for three to five days for impressive whitening results that are worth it. It works very gently on your teeth and won't bother your gums, results in your teeth looking brighter and cleaner.
It delivers teeth whitening without any pain and sensitivity. Its professional technology is perfect for noticeably white teeth and a bright shining smile that you wouldn't have to worry about.
How To Use This Kit
Start your process when your GLO control is fully charged. Apply a thin layer of GLO lip care to the top and bottom lips and even on gums if you are extra sensitive.
The next step is to squeeze pea-size amount of the Whitening Gel on the brush tip applicator and layer it on the top and bottom of your front teeth.
Put the mouthpiece into your mouth and turn the GLO button on to light it up brilliant blue. After 8 minutes, the mouthpiece will blink and turn off automatically.
Repeat the process for a total of four consecutive 8-minute applications for 5 days a week or until you achieve your desired and visible results.
Ingredients
GLO Teeth Whitening Gel Ingredients include Distilled water, Hydrogen Peroxide, Peppermint, Polyethylene Glycol, Glycerin, Sodium Hydroxide, Sodium Saccharin, and Flavor.
GLO Lip Care Ingredients include Castor seed oil, Peppermint leaf, Carnauba Wax, Aloe Barbadensis Leaf Juice, and Vanilla Planifolia Fruit Extract Menthol.
All of its products are made in USA. You should really try this product if you are looking for an effective kit for Teeth Whitening at-home.
6. Bright On Teeth Whitening Kit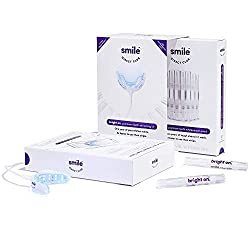 The best teeth whitening kit for sensitive teeth, this kit contains everything you need for brighter and cleaner teeth. Bright On Teeth Whitening Kit can make your smile 9 shades whiter and helps remove years of tough stain. It is available on Amazon for $67.
The kit includes 8 bright on premium whitening pens for 2 full whitening treatments, a hands-free LED accelerator light. You can also connect this on your phone for teeth whitening treatment at home.
Results
This whitening kit contains the same enamel-safe whitening agent used by the dentist that helps give you a brighter smile without causing your gums to bleed or become sensitive. It has a cool mint, fast-absorbing formula that gives visible results within a week and also gives a flavor to your tongue. It can remove the toughest stains of coffee or smoking within just a session of 10 minutes, giving you a shining white smile.
How To Use This
Before starting the process, brush your teeth properly to help absorb the teeth whitening properly. Next, take a droplet of gel form in the brush and brush it on your 6 top and bottom front teeth. Keep twisting the bottom of the oen slowly to dispense more gel until all the 6 bottom and top teeth are covered.
Next up, grab your LED accelerator light and connect it with your phone or USB port. Bite it down onto your teeth, pull over your lips, and use the light while the gel is on your teeth.
After 5 minutes, remove the light, unplug it, and spit out the excess gel. Do not eat, drink, or rinse for the next 20 minutes after you are done. The teeth whitening will continue to absorb into your teeth.
Continue this process for one week and then, your smile is ready to shine.
7. Cali White Deluxe Teeth Whitening Kit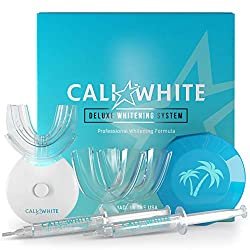 The best vegan Whitening gel, Cali White Deluxe Gel uses Carbamide Peroxide to whiten your teeth that minimizes the likelihood of any discomfort or sensitivity for your teeth. It is made with gluten-free ingredients in USA.
Available for $45 on Amazon, this product can remove stains from coffee, wine, tea, and smoking. You can get professional results just after 1 treatment. And it is as easy to use as using a toy.
Results
This kit has a whitening tray that provides full upper and lower bite coverage for your teeth whitening process. The Cali White system fills the crevices and whitening molars between teeth and gives them a uniform whitening effect.
You can experience a change of 2-8 shade whiter in your smile with low sensitivity. It is easy to use and can result in a crystal bright smile just within 7-10 days of its use.
How To Use This
Its kit includes
Whitening boost with 5X LED light that accelerates the whitening results and has a 10 minute built-in timer.
Patented Universal Comfort Fit Whitening Tray that works with any light and is the safest to use on gums and teeth.
Bonus Thermoform Trays and Palm Case that covers all mouth sizes and has a stylish sanitary case to store it.
First off, you should open the LED light, removing the plastic tab. Next up, rinse the mouth tray and attach the LED light to it. Fill the top and bottom of the tray with a lea sized amount of gel and place the light and tray firmly over your teeth. Turn on the power button to switch on the light in 10-minute intervals until 30 minutes, giving you whiter teeth at-home.
Ingredients
It includes ingredients such as Urea Peroxide, Glycerin, Carbomer, Xylitol, and Propylene Glycol to give the perfect and visible results of teeth whitening.
8. Opalescence Go Whitening Trays
A whitening tray that can perfectly fit your teeth, Opalescence Go whitening trays are prefilled with a whitening gel and doesn't require the time and mess for having to be filled. It is made of a special material that can fit and easily conforms to anyone's smile
This tray consists of 15% Hydrogen Peroxide and is meant to be used for 15 to 20 minutes for whiter teeth at home. It is available in two yummy flavors of lemon and mint for the price of $70.00 on Amazon.
Results
Opalescence Go trays are very effective and can give maximum results within a few days. Its gel contains the bleaching agent that seeps into the core of your tooth and break down even the toughest stains, giving you whitening from the inside out instead of just a superficial whitening.
Some customers say that it starts showing results just after a few days but for full treatment and bright whiter teeth, you should wear the tray for 10 consecutive days. Its result can last upto several years if used correctly.
How To Use These Trays
The kit includes upper and lower trays, 10 for each. First, brush your teeth and then place the tray on the arch of your teeth. Trays fill fit comfortably around the shape of your smile. Then suck down or swallow to attach the tray properly and then remove the outer tray.
Suck down or sallow again and leave it for 15-20 mins for visible treatment. When finished, remove the bleaching tray and gently brush your teeth without swallowing the excess gel. Let the get rest for a little while and then enjoy your white smile.
Ingredients
Opalescence Go whitening trays are gluten-free and are also kosher certified. Its active ingredients include Carbamide peroxide and inactive ingredients include potassium nitrate and fluoride that helps to combat sensitivity.
Overall, Opalescence Go whitening tray is a really effective whitening system if you are looking for at-home quick and easy treatment. It is great for those who want to invest a little in something for whiter teeth.
9. Supersmile Professional Whitening System
Don't feel comfortable while using trays and kits for teeth whitening? Forget all the plastic pieces and simply brush your teeth with Supersmile's toothpaste that is regarded as the best whitening toothpaste and works best to fight cavities and brighten up your smile.
This formula is created by Dr. Irwin Smigel and provides a fresh mint flavor along with whiter teeth and strengthens enamel. Available on Amazon for $22.43 currently.
Results
This toothpaste contains powerful whitening agents such as Carbamide Peroxide that helps to deliver ultimate whitening results within a few weeks of using this. Its accelerator formula quickens the process and also lifts the deep-set stains, giving your teeth whiteness for upto 6 shades and fights the plaque buildup 10 times better.
How To Use This
Place a pearl-sized drop of this Supersmile toothpaste on a dry toothbrush and brush it in circular motions for two minutes. Repeat the process twice daily for visible results.
Ingredients
Includes ingredients such as Calprox, Carbamide peroxide, Calcium, Magnesium, Phosphates, and fluoride that helps to whiten teeth, fight plaque, and remineralize enamel.
Something that gives you a really clean feeling. A product to fall in love with, this is a must-try if you want whiter teeth simply and easily.
10. Zimba Professional Teeth Whitening Strips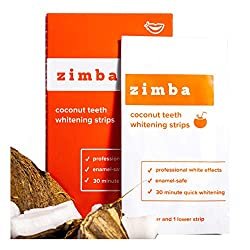 These strips are regarded as whitening treatment with the best taste as Zimba uses all the natural flavors to make this whitening treatment more enjoyable. They have essential coconut oil flavor that your tastebuds will love and is chemical-free.
It is available on Amazon for $24.99 and can easily remove years of deep set-in stains of coffee, wine, or tobacco. Each kit comes with 28 white strips (14 uppers and 14 lower) and also has a nonslip, comfortable technology as it can easily fit and secure your teeth. Don't miss to avail 20 off amazon coupon.
Results
Zimba strips offer easy-to-use treatment that is really gentle for sensitive teeth. It gives you the noticeably whiter smile that can last for months after two weeks of treatment. Also, It easily removes all the stains and is enamel-safe. It is not crazy expensive like other teeth whitening products or dentist visits and still gives the best result of whiter teeth and brighter smile.
How To Use These Strips
Start the process by peeling each strip and applying the sticky side against your top and bottom teeth. Avoid any gum contact and keep the strip for 30 mins. After that, remove it and rinse out. You can expect a whiter and brand new smile after 14 days.
Ingredients
The coconut strips include ingredients such as PVP K30, water, alcohol, Hydrogen Peroxide, Menthol, Coconut Oil, Glycerin, and Hydroxypropyl Cellulose.
Its other flavor includes mint. The most comfortable and affordable product for teeth whitening, you should really give it a try because everyone deserves the gift of having a brighter, white smile.
Frequently Asked Questions
Q. What is the number 1 teeth whitener?
Crest 3D White Strips are regarded as the best whitening strips and also the no.1 teeth whitener for 2020 as it uses the low dosage of hydrogen peroxide so that it doesn't affect the sensitivity of your teeth.
Q. Is teeth whitening safe?
As long as you use the products as per their instructions and after your dentist prescribes you the specific product, teeth whitening is safe. Also, use only the dentist-approved methods for your teeth whitening treatment at home.
Q. Is activated charcoal good for whitening treatment?
Activated charcoal in your toothpaste may help to fight the toughest stains and is also easy to ingest. However, it may cause abrasiveness of the minerals that can damage the enamel. So it is advised that you should talk to your dentist before using activated charcoal and should be gentle and light while using it.
Q. How much does it cost to make your teeth white?
If you are going for an in-office whitening treatment, its average cost would be from $500 to $1000. However, using at-home treatments like kits, toothpaste, etc would charge less and can also give you effective results.
Q. Why do your teeth get yellow?
The primary cause of your teeth becoming yellow is enamel thinning that is when your enamel starts thinning itself due to chewing, the yellow dentin is then exposed making your teeth look yellow. Other factors include aging, faulty diet, smoking, and wine intake.
To conclude, these were our best picks for at-home Teeth Whitening Treatments that are affordable and safe to use and gives you a whiter and brighter smile in just a few weeks or months. You should really try them out.