Are you planning to go camping and need a cool companion to stay hydrated? A portable ice maker is a useful appliance and your go-to friend. Whether you need supplemental ice for your kitchen or while staying outdoors, this compact equipment requires zero installation. A cheap portable ice maker can produce fresh ice with a simple touch of a button.
If you've decided to bid farewell to conventional ice trays, you are welcome to explore the world of affordable compact ice makers. It's a piece of fantastic equipment requiring minimal settings for instant ice preparation and a refreshing experience. Thus, you can simply pour in water and get the desired result without the need for a refrigerator/freezer. Bonus, it's easy to carry outdoors without any installation.
Here's our list of the 10 best portable ice makers for kitchens, homes, and traveling use. Let's dive into the list straight away!
1. GE Ice Maker- OPAL01GEPKT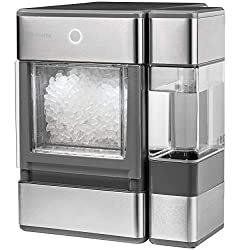 The Elegant GE-OPAL01GEPKT Ice Maker model prepares instant ice in just 20 minutes. You can enjoy chewable nugget ice flakes for refreshing beverages. This model creates 1 lb. of ice within an hour and has the capacity to hold up to 3 lb. of ice. If you're also looking for soft to chew and delectable ice, this countertop appliance is the right choice for you.
Further, this ice maker machine is portable and has built-in Bluetooth connectivity to schedule the preparation of ice. You'll need a smartphone to connect the device through an app so you can monitor the status as well.
Pros
Integrates a compact and elegant design
Prepares the best ice in 20 minutes
Provides smart connectivity via Bluetooth
Cons
Covers a limited ice storage capacity
2. AG Lucky Ice Maker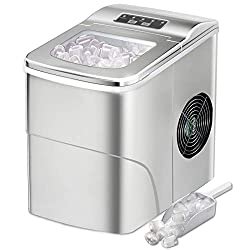 AG Lucky is a cheap portable ice maker with the ability to produce 26.5 pounds of ice cubes per day. This compact ice-making machine is ideal for kitchens, coffee shops, and offices. Within 8 minutes, you can prepare efficient ice cubes and enjoy them for your beverages. The best part is that it offers a quiet experience and saves your energy.
Another unique selling point of AG's ice maker machine is the smooth production of healthy ice cubes. It ensures health safety for you and your children. Also, it has intelligent control buttons to provide optimal size ice cubes to its users.
Pros
Prepares small or large ice cubes in 10 minutes
Comes with a convenient ice basket
Has an efficient compressor for cooling
Cons
Doesn't have a drawer. Only has a lid on the top
3. Euhomy Ice Maker
Are you in need to get the best ice maker for instant bullet-shaped ice cubes preparation? Euhomy is where your search ends. This compact countertop ice maker provides a flavor-retaining experience by producing 26 lbs. of ice per day. You can create 9 pieces of ice cubes within 8 minutes for your delicious drinks, smoothies, and food
Further, this ice-making device incorporates an efficient compressor for excellent refrigeration. It lets you enjoy a quiet environment without wasting water or energy. The best part is that Euhomy is user-friendly and has a super-ice-making capacity. It stops preparing ice automatically to prevent overflowing when the basket is full.
Pros
Integrates advanced infrared sensor technology
Contains a removable ice basket and ice scoop
Has a highly efficient compressor
Cons
The ice can cling together naturally due to melting if left for too long
4. Frigidaire Ice Maker- EFIC189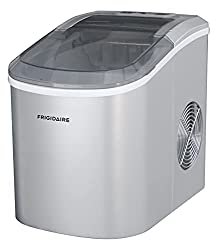 Made from top-quality material, Frigidaire EFIC189 Ice Maker Machine provides affordability and taste at the same time. Whether you're hosting a party or social event, you can prepare optimal ice cubes in less than 6 minutes. Moreover, this ice-making machine allows process monitoring and ice checking via large windows.
This Top-rated Frigidaire model has a highly functioning compressor offering efficient cooling time. For users looking for a hassle-free option, this machine offers a quiet experience. The best part is that it produces 26 lbs. of ice cubes a day and carries an ice basket with a capacity of 1.2 KGS with 2 ice size choices.
Pros
Contains a convenient drain plug for cleaning purposes
Prepares 9 ice cubes within 10 minutes
Includes an ice shovel to remove the ice
Cons
Features need improvement, such as the upside-down drain option
5. Kingswere Ice Maker
Looking for a convenient and powerful ice maker? Kingswere is one of the best portable ice makers for your homes and offices. This specially designed appliance takes around 6 minutes to prepare 9 pieces of crunchy ice. Moreover, it can create 1.5 pounds of ice per hour and almost 26 pounds of ice per day. It also has offers two ice sizes allowing users to choose a suitable shape for their favorite drinks.
Another notable feature is its intelligent LED screen that indicates if the ice bucket needs more water or when it's full inside. Also, Kingswere has an attached drain plug that rinses out the excess water to empty the ice maker. Further, it provides effortless clean-up via its automatic self-cleaning feature while saving your energy and time.
Pros
Offers a quiet experience
Incorporates a self-cleaning function
Has a convenient drain plug
Cons
Some users may experience low functionality.
6. Vivohome Ice Maker
What's better than a compact design ice maker offering easy operation and an efficient ice-making process? Vivohome's ice-making machine enables you to enjoy parties, holidays, and all the events with its lightweight portable feature. It helps you prepare 26 lbs. of bullet-shaped ice cubes in just 6-10 minutes.
Further, this equipment offers automatic overflow protection and multiple ice sizes on the control panel. Further, it integrates a fully-functioning compressor cooling system allowing users to enjoy a quiet experience while monitoring the ice level. Apart from this, Vivohome indicates the status of the bucket. Thus, when the bucket is full or empty, it alerts users.
Pros
Features an efficient cooling system
Integrates an automatic overflow protection
Covers an intelligent operation panel
Cons
Users may complain about being noisy at times.
7. Crownful Countertop Ice Maker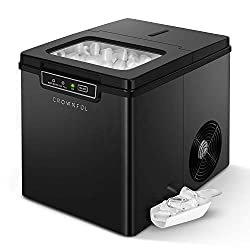 Crownful built-in ice maker is one of the best-selling machines on Amazon. This equipment provides a quick ice turnaround and consists of automatic sensors. Moreover, it has a large reservoir with the capacity to produce 9 pieces of ice flakes within 8 minutes. The sensors provide convenience and automatically detect when the ice is full. Another best part is its transparent lid that provides visibility during the ice-making process.
Whether your guests want to enjoy large-sized bullet-shaped ice cubes or small ones, this machine allows you to relax with its smart reminder option. Moreover, the brand also offers a ONE-year warranty with lifetime support so users can enjoy maximum support.
Pros
Incorporates an intuitive control panel
Ensures a drain plug at the bottom of the reservoir
Has a transparent lid for visibility
Cons
It may lack advanced functionality features
8. Kismile Ice Maker
Experience the purest taste of ice with Kismile Ice Maker designed for homes and outdoor use. This compact ice maker is portable and easy to carry around everywhere. It lets you produce 9 pieces of ice cubes within 6-8 minutes and up to 26.5 pounds of ice per day. The device also integrates a quiet cooling system to provide nugget ice without making any noise. Another unique feature is its self-cleaning function that allows users to clean the machine automatically with a button.
As a top-rated ice-making machine, Kismile also offers indicators to alert users when the basket is full or when the reservoir is empty. Further, the machine carries two sizes to help users enjoy their food and drinks with suitably shaped ice cubes. Also, it covers a transparent window that helps users see the progress directly.
Pros
Provides a faster experience
Features an easy self-cleaning function
Has an intuitive display and control button
Cons
Some users may complain about the crackling noise
9. Igloo Ice Maker Machine- ICEB33BK
With a robust design, Igloo ICEB33BK Ice Maker Machine offers convenience and a large ice-making capacity. Following its aesthetic design, this electronic appliance lets you prepare up to 33 pounds of ice per day and 9 small or large ice cubes in 7 minutes. One of the best features is its removal ice basket and scoop to provide easy transfer or storage. You can store up to 2 pounds of ice cubes in the ice basket while producing more ice.
The Igloo ice maker machine also has a built-in control panel with LED lights to provide a proper indication. It alerts users to stop the process when the basket is full or add more water when it's empty. You can also choose the size of your ice cubes and monitor the whole progress via its transparent lid.
Pros
Provides convenience with a hassle-free process
Incorporates LED lights for indication
Produces ice cubes for 24 hours
Cons
It may lack advanced functionality
10. Silonn Ice Maker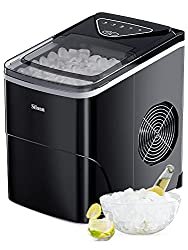 If you're out of ice, Silonn Ice maker lets you make 9 bullet-shaped ice cubes within 7 minutes to meet your daily ice-making needs. It offers a maximum ice capacity of up to 26 pounds per day while choosing different ice sizes. Also, the machine lets you enjoy a quiet experience with a lower noise level of less than 35dB.
The best part is its easy operation and control options that allow users to prepare ice cubes with just a simple switch button. The indicators on this machine enable users to refill the basket when it's empty and empty the ice basket when it's full.
Pros
Provides large-space ice capacity
Offers easy operation and control options
Has a compact design
Cons
Users may need to turn the device upside down to locate the drain plug.
Final Thoughts
There you go! Now, you have our ultimate guide list of the best portable ice makers to keep you cool and hydrated during the hot summers. They make up for an aesthetic piece of equipment on your countertop and provides maximum benefits at the same time. For now, GE Ice Maker- OPAL01GEPKT hits our chart list. It provides smart mobile app accessibility via Bluetooth connection and lets the users enjoy crunchy or soft ice throughout the day.
Frequently Asked Questions
Q. Is a Portable Ice Maker handy?
Compared to pesky ice trays or traditional ice-making methods, a portable ice maker provides a quick process. Users don't even have to use a water line. Thus, an ice maker can operate via a power supply. It provides large ice capacity and storage without the installation of a refrigerator.
Q. How to clean and maintain it?
The best thing about portable ice makers is that they are easy to clean. Some of them also include a self-cleaning function to clear the ice tray automatically. However, you can pour an ice machine cleaner inside the reservoir while discarding the ice cubes. Now, use water to wash the scoop and ice basket while washing the ice maker.
Q. Is it possible to use the ice maker machine outdoors?
Yes, you can use it everywhere after ensuring the availability of a power source. However, scorching temperatures can cause difficulty for the machine to operate outdoors. Thus, make sure that you keep the machine at a cool temperature.
Q. Does a portable ice maker require a drain line?
No. Portable ice makers can convert melted ice into proper ice cubes, so it doesn't require a drain line. However, you can consult the attached drain plug at the bottom of the reservoir to empty the contents inside.