AlsoEveryone loves to wear their hair naturally, but those with wavy or curly strands know that letting them loose is a big task and is easier said than done.
Maintaining the definition of your curls can be a big issue, especially in this heat and humidity. To deal with this, treat your locks with some styling best products for curly hair that are designed to tackle dryness, frizz, and tangles, giving your curls definition, structure, and extra shine. This can be done by using a team of shampoos, co-washes, creams, and gels specially designed for dry and frizzy hair.
Here we have our picks for the best hair products for curly hair. These products are not alcohol loaded but adds shine, moisture, and zapping frizz to your hair. Also, you can easily buy these products at discount using amazon promo code 20 off anything.
Top-rated Curly Hair Products
1. AG Hair Curl Re: coil Curl Activator
Nothing defines moisturizes and maintains your curls like AG's recoil curl activator. Also, it separates and holds your curls without stiffness and stickiness. It is a rich curl cream with herbal extracts like chamomile, rosemary leaf, wild cherry bark extract, and natural corn starch that keeps your hair shiny and soothes your scalp.
It includes ingredients like water, polyquaternium-55, Hydroxypropyl Starch Phosphate, Glycerin, Corn Starch, and natural extracts of sage leaf, melissa officinalis leaf, wild cherry bark, and hops.
Use it by scrunching a small amount evenly through your wet, clean hair. Use a diffuser to blow dry or air dry your hair. This would bring your curls to life so that you can flex your hair in every friend gathering.
2. Moroccanoil Curl Defining Cream
This featherweight formula works like magic to bring on the bounce to all your curl types, either waves or tight coils.
Moroccanoil Curl defining cream separates, defines, and conditions your naturally curly hair. It also helps you get rid of frizz and make your curls look shiny with its argan-oil infused formula. It helps create long-lasting and natural-looking bouncy curls that are gentle and touchable.
However, it has a fragrance of the signature Moroccanoil scent which is a blend of sweet floral notes and spicy amber aromas. Its key ingredients include:
Argan oil: it is rich in vitamin E, essential fatty acids, and antioxidants that nourish hair.
Polyquaternium that forms a lightweight film around the hair to hold your curls.
Hydrolyzed Vegetable Protein that coats your strands and split ends.
Apply one or two pumps evenly to your damp hair. Then diffuse it with a hairdryer to activate curls and let air dry for a more defined look. It replaces your need to have multiple curl products and is a must-try.
3. Royal Locks Curl Cream-Gel
Use this hybrid formula by Royal Locks to enhance your curls. This product combines all the benefits of hair cream, gel, and a conditioner to moisturize, repair, smooth and nourish your hair and volumize your curls while reducing frizz in your hair.
This curly hair product is designed for all hair types whether wavy, super curly, or afro-textured. It is a lightweight gel and gives your curls a bouncy hold without crunchiness and also fights frizz. Moreover, it also softens your hair and repairs the split-ends.
It is a tried and tested product that includes key ingredients like Moroccan Argan Oil that softens and conditions your hair. It is free of Sulfate and Paraben that makes it ideal for dry, colored, or damaged hair.
Apply a small amount of this product into your hair when they are towel-dried and twist your curls. Apply it on dry hair if you want to redefine your curls. It is safe for daily use for all men, women, and children.
4. Pattern Argan Oil Hair Serum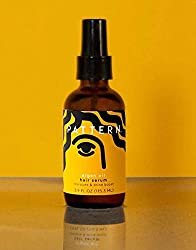 When it comes to oils that hydrate and nourishes your hair, Argan Oil is unbeatable. This serum has several oils in it including Argan Oil, Castor Oil, Sunflower Oil, Apricot Oil, Sweet Almond Oil, and Shea Oil that makes it great for keeping your strands and hair healthy.
It is made specifically for curly hair and helps them stay soft and protected against moisture loss. This hair serum leaves no residue behind in your hair, making your curls elastic and wavy.
Use it by applying a few drops onto your palm and then massage it evenly into your hair. You can use it on either wet or dry hair. If you are looking for a scalp treatment, apply a few drops to the targeted area, and massage it into your scalp.
5. Ouidad Curl Quencher Moisturizing Styling Gel

When you put effort to curl your hair in this scorching heat, you also want them to last long. Choosing the right product is very important for this reason.
This ouidad gel helps your curly hair to stay frizz-free all day and helps to form perfect spiral curls. This gel contains meadowfoam-seed oil with pro-vitamin B5 that locks the moisture in your hair and fight against the dryness.
When this gel is refreshed with water, it reforms the definition of your curls. Your curls will stay hydrated from the inside and soft and shiny from the outside with this gel. It includes ingredients such as water, glycerin, hydrogenated castor oil, arnica Montana flower extract, rosemary leaf extract, panthenol and, Camellia Sinensis leaf extract.
Apply it on your hair using Ouidad's Rake and Shake technique. Then blow dry it with a diffuser or air-dry it for tight curls with a frizz-free definition.
6. Pattern Hydration Curl Shampoo
Pattern's hydration shampoo helps give your hair and curls a wash of liquid shine. It is a creamy shampoo formulated with glorious oils that moisturize your hair and cleanse your scalp by removing all the dirt without stripping away any moisture.
It leaves your bouncy hair soft, healthy, and hydrated. Also, it helps strengthen your split ends, giving your curls a redefined look. It has a soft and not so over-powering fragrance of Jasmine, Bergamot, and Sweet Sandalwood.
This pattern's hydration shampoo includes ingredients like water, sodium hydroxide, glycol distearate, ArganIa Spinosa kernel oil, coconut oil, honey, tea tree leaf oil, olive fruit oil, biotin, avocado oil, castor seed oil, jojoba seed oil, shea butter, and many others.
Massage it into your scalp and wet hair and work the product throughout your hair. Rinse it thoroughly. Follow it with your preferred PATTERN conditioner to make your hair soft and healthy. Avoid direct contact with eyes.
7. Curls Cashmere + Caviar Hair Silk
This Curls 2018 award-winning product makes your hair feel downright luxurious. It is the leave-in from heaven. It hydrates, softens, and detangles your dry strands with ease and also helps to moisturize them.
At last, it will leave your hair feeling like silk. Its Cashmere and caviar extracts strengthen and hydrate your hair, working as a perfect base for any hairstyle. It also gives heat and UV protection to your hair.
Use this Cashmere + Caviar Hair Silk on dry hair to hydrate and soften your strands. Apply it on wet hair to detangle, soften them, and prep them for any styling. It includes ingredients like Glycerin, Hydrolyzed Keratin that is Cashmere extract, Organic Aloe Barbadensis Leaf Extract, organic coconut, and anthemis nobilis extract. It has a natural fragrance.
8. Design Essentials Natural Curl Enhancing Mousse
This lightweight mousse from design essentials helps you to achieve definition in your curls and reduce frizz, without making your hair stiff. This mousse works for any curl pattern whether tight curls or fine curls.
It is perfect for natural styling like doing a wash and then go or flip and scrunch. Also, it has a quick-dry formula that leaves behind no sticky residue, frizz, or crunch during styling. It makes your waves and curls look natural, voluminous, and beautiful.
Its active ingredients include:
Sweet Almond Oil: It helps prevent damage and hair loss and nourishes and strengthens your hair. It moisturizes your strands and adds shine to the scalp.
Olive Oil: It works wonders to keep your hair protected and healthy. As this oil is an emollient, it creates a shinier appearance and elasticity in your hair.
Avocado Oil: It absorbs into your scalp and is a great source of Vitamins and Minerals that helps to stimulate blood flow and promote hair growth.
It contains no alcohol, no sulfates, no mineral oil, and no parabens. Apply the mousse generously to damp hair. Comb it through and then allow to air dry or use a diffuser to add volume to your hair.
9. Tree Naturals Honey, Fruit, and Flower Hair Milk
Looking for a product that does it all for your hair? This six in one hair milk by tree naturals does it all. It acts as a leave-in, detangler, definer, moisturizer, refresher, and styler, helping you to say goodbye to frizz.
Also, it is a lightweight, nutrient-rich snd heavy scented hair milk that your thirsty curls will drink to keep in the moisture. It has a Vitamin Growth Blend that helps to grow your curls and nourish them.
Moreover, it is a perfect product for all hair types and can be used daily on either wet or dry hair without any buildup. Its daily use can give your hair all healthy and growing benefits.
Furthermore, it includes ingredients like Aloe Vera Juice, Distilled Water, Unrefined passion fruit oil, camellia seed oil, castor oil, avocado oil, cocus Nucifera fruit juice, and fragrance.
10. As I Am Coconut Cowash Cleansing Conditioner
If you are looking for a solution for your dry, brittle curls the right co-wash is all that your routine is missing. Try this hydrating formula instead of using shampoo for your everyday wash. It helps remove product residue and impurities from your hair and scalp while adding moisture to your hair.
It also enables you to detangle your curly hair easily and contains a special blend of natural ingredients that work to promote hair growth and revive your curls.
However, It rinses easily from the hair and promotes a healthy environment for your hair growth. Safe to use on color-treated hair.
It includes ingredients like water, cetrimonium chloride, alcohol, coconut oil, castor seed oil, coconut fruit powder, tangerine fruit extract, castor oil and, potassium chloride.
Rub a literal amount of this product on your wet hair using your palms and distribute evenly. Massage it onto the scalp and work through your hair. Detangle your hair with a wide comb and then rinse it well. Use it in a routine for visible results.
Frequently Asked Question
Q. What product holds curls in hair the best?
Texturizing sprays work best as it adds volume to your hair and can also neutralize the oils in your hair. It helps to hold the curls in place without dragging them down too much.
Q. Is coconut oil good for curly hair?
While jojoba oil gets in the first place, coconut oil comes in second place to reduce dandruff and help heal a dry scalp.
Q. How to keep my curly hair hydrated?
Use a moisturizer that has water as its main ingredient.
Seal in moisture by using shea butter or any oil.
Deep condition regularly.
Trim your hair frequently.
Q. Why does my hair become so frizzy and dry?
One of the main reasons for frizzy dry hair is the lack of moisture. When your hair lacks moisture, it searches into the atmosphere to find it, where it is exposed to dirt and impurities, making your scalp dry.
Q. How do I fix my dry damaged curly hair?
To bring your curly hair back to life, you need to do the following things:
Try to use a sulfate-free shampoo
Apply deep conditioning treatments or hair mask once or twice a week.
Use heat infrequently on your hair.
Rinse and wash your hair with cool water.
These were our best picks for the top-rated products you can use for your curly hair. Read this guide to help yourself with your research.