Do you ever have one of those days where you feel tired and exhausted from the daily struggles of life and are in search of a bit of relaxation?
What if relieving your stress and boosting your mental health cold just happen by taking a deep breath? Well, that's what diffusers are for.
Best Essential Oil Diffuser To Choose for 2021
What Is A Diffuser
A diffuser is simply a device that spreads the vapours over a larger area. In the case of essential oil diffusers, the oil is heated up in the system which turns it into vapours that is spread all across the room, leaving a soothing and an uplifting scent to brighten up your day.
You can use these oil diffusers to even freshen up your laundry and bathrooms, despite these places being filled with damp towels and dirty clothes. Oil diffusers are a new popular trend all over the internet and are the safest way to scent your home rather than using scented candles and air fresheners.
These devices are small and handy and can easily blend in any corner of your home to do their job. These are available in different sizes and designs and also have different features suitable for different purposes. To have a calm and clean home, check our picks for the best essential oil diffusers of every type and for every home size.
Best Essential Oil Diffusers
1. URPOWER 2nd Version Essential Oil Diffuser
If you are looking for a small and excellent diffuser for your living space, we recommend you this Urpower 2nd version. It is a great air humidifier that can add wetness to your space and can freshen it. It is the best handy product to gift to someone for their good self-care.
The best part about this product is that it comes with a measuring container that makes it easier to add the right amount of water. All you need to do is just add 100ml of water in the humidifier and kick start it, and it is gonna run for hours.
To give your room a sweet and soothing fragrance, you can also add one or two drops of essential oils. It can also make your bed time routine so much easier.
Adding lavender scent into the water might help in calming you down before bed, helps to keep away all the bad dreams, and keeps you asleep throughout the night. This style also has a built-in LED night light which might irritate sensitive sleepers in their sleep.
If you are having a dry throat or a sinus infection, it can really add extra moisture to the air and help you sleep peacefully. The unit can run continuously for six hours and also shuts off automatically when the water runs out.
It also doesn't even make any sound and is super quiet. You won't even feel that it's on. This review pretty much says it all. So go on and make the smartest purchase ever by filling your home with this Urpower oil diffuser.
2. Stadler Form Jasmin Aroma Diffuser
If you are looking for a diffuser for your small space, this cute little standard form jasmine aroma diffuse will do wonders.
This model is 5.12 inches high and 3.54 inches wide which comes in four different colors of black, white, grey, and red. It is shaped like a simple bowl that covers 550 square ft and gently releases your favorite fragrance to brighten up your day or helps you in sleep.
It also has a water capacity of 100ml but can last longer in comparison with the other diffusers due to its interval mode. When on interval mode, the unit operates on and off over the whole span of time (20 mins on, 40 mins off), extending the period to almost 21 hours during which it diffuses essential oils.
You can also add a bright citrus scent to it to help you keep awake and work for your school/office. The only drawback with this diffuser is that it can't handle small spaces and also has a very bright LED light that deep sleepers usually complain about. Other than that this diffuser is one of the best and easiest to set up in your rooms and to make your air pleasant and moist.
3. Smiley Daisy Hibiscus Essential Oil Diffuser
If you are looking for a diffuser that would add more of a natural look to your place, this smiley daily hibiscus which is an organic wood grain delight is best suited for it.
It has a very short but strong stature that can easily fit anywhere to make your living space full of aromas. This diffuser has a water capacity of 350m that makes it last longer than all the other diffusers (almost six to seven hours). It also has an automatic shutoff when the water is low.
This diffuser also works great with essential oils and diffuses their vapours throughout the space. It also doesn't have a really bright LED light that most deep sleepers complain about in other diffusers.
Its only drawback is that you can sometimes hear the electric motor which might irritate the light sleepers but overall this product works really well and also has an affordable price which is an in-win.
Best Ultrasonic Diffusers
Electricity breaks essential oil molecules and disperses them into thin air. These are better than steam and heat diffusers and are also easy to clean.
4. 3D Glass Aromatherapy Ultrasonic Oil Diffuser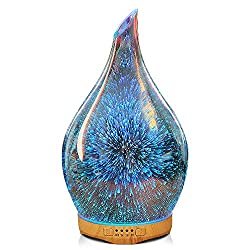 The most "wished for" product in the amazon category, this diffuser has a height of 9.3 inches and has an amazing light show that makes people more attracted to it.
It can be fixed to one color light or can rotate to 7 different colors automatically. This diffuser capacity is 100ml and can last upto four hours.
It also has 4 timer control which is 30 mins/1hr/2hr or over 3hr.
This is made of the handmade glass cover and will automatically shut off when the water tank is empty.
Also, It can also be used as a very good Christmas decorative piece, giving a show of lights and also creating a soft and calm atmosphere. A much-recommended product.
5. VicTsing Cool Mist Humidifier Ultrasonic Aroma Essential Oil Diffuser
This humidifier is best suited for large spaces and has a very lightweight and unique design. It has a water capacity of 300ml and works best in rooms or offices.
This diffuser can work for almost 10 hours straight which is longer than any other diffuser. It has a gorgeous wood grain exterior that looks amazing wherever it is kept.
Also, it comes with high and low mist settings and time settings for like 1 hour, 3 hours, 6 hours or steady. It also changes in 7 colors and is perfect to be kept in your kid's bedroom.
Even though the mist it releases is effective, some people complain that it does not release as much mist as competitors. Overall, it's a great product ith attractive design that can keep your home fresh.
6. Silent Ultrasonic Aromatherapy Diffuser
This diffuser is labeled as a lifesaver. It uses the vibrating sound waves to silently calm and freshen your room.
It is perfect for any room size and has 7 changing mood lights that add an after 3 hours or when the water runs out. Its capacity is 90ml.
It also has an overheating protection system that is that the machine will shut down by itself if abnormal heating occurs.
You can add essential oils to it to create a fragrance to calm down your soul. It is available in both black and wood grain. A must-have humidifier.
7. Geeni Smart Wifi Essential Oil Diffuser
It is a great addition to your diffuser collection. This diffuser makes no noise while working and gives out a smooth mist that can moisten your air and even your chapped skin in winters.
It has built-in wifi and can be controlled from anywhere using the Geeni app.
This app will also allow you to create schedules about when you have to work your diffuser so it can turn on and off at specific times. It has a capacity of over 200 ml and can work for 12 hours.
Also suitable for large spaces and had a voice controller through Alexa and Google home so that you can use your voice to control the diffuser. It is easy to use and has an affordable price so grab yours via amazon 20 off 100 code now.
8. Viva Natural Aromatherapy Essential Oil Diffuser
This diffuser vaporizes your favorite essential oils gently with ultrasonic technology and releases pleasant scents that improve the air quality of your home.
It has a large 300ml tank that can diffuse oils for upto 10 hours. It can also change between various colors when you turn it on or you can also keep it fixed to one color.
This function is very good if you want a certain light mood. Its ultrasonic technology uses less water to moisturize the air so it can work for longer hours.
It also has two modes: continuous that will work until the tank is an empty or intermittent mode where the device will release mist every 30 seconds.
This will help it last longer. This diffuser has an amazing design and will add elegance to any room where it is kept.
9. PureSpa Deluxe Ultrasonic Aromatherapy Oil Diffuser
PureSpa deluxe distributes a soothing and gentle mist throughout your workplace or your home to freshen up the air naturally.
It has a capacity of 140ml and can run upto 8-10 hours. It also has an automatic shutoff option when the water is low and operates silently without even making the slightest noise that helps you in a peaceful sleep.
Its modern features include soft-glowing lighting that helps create a calm and relaxed environment. Also, it has energy-efficient LED lighting of different colors like blue, green, red, yellow, and purple. A very simple and easy diffuser to use with just one button that controls both mist and lighting. It will surely help to make your room cozy and relaxed.
10. PureGuardian Ultrasonic Cool Mist Essential Oil Diffuser
This PureGuardian Diffuser uses ultrasonic technology and is the easiest to use.
You just need to add a few drops of essential oils to the water and it ill quickly diffuse if to create a soothing mist that will moisturize and freshen up the air of your room.
This diffuser does not create any noise and won't disturb you while you re asleep. It holds 100ml of water and can work continuously for 5-8 hours. It also has an automatic shut-off option when the tank is empty.
You can easily set it anywhere as it is very lightweight and its beautiful design ould also add a little show to your room.
It has simple touch screen controls for mist and nightglow. It has an optional night-light that can also act as a lamp for your kid's room at night.
A great diffuser that you won't regret to buy. Available at very affordable prices.
Different Essential Oils And Their Purposes
Essential oils are often used in aromatherapy and for relaxation purposes. It is a compound that is extracted from plants.
They are made by steaming or pressing various parts of a plant. They can act as a natural remedy for a number of conditions such as anxiety, stress, depression, insomnia, and others.
John Hopkins also found out that it could kill a type of Lyme bacteria better than antibiotics. There are many different types of essential oils in the market such as pure essential oils or diluted ones which are less expensive.
Different essential oils are used for different purposes. Some of them are:
Lavender Oil: Lavender oil is often used by people to help them with good sleep and to relieve stress. Its scent is often found relaxing and helps you throughout the night for undisturbed sleep.
Lemon Oil: The citrusy and zesty scent of lemon oil is often used by people when they are feeling low to boost up their mood and to enjoy their time at home or at the workplace.
Peppermint Oil: It can be used to treat nausea or if you are having a bad headache or cold. It can also provide relief from itching and muscle ache when applied directly.
Chamomile Essential Oil: A few drops of chamomile essential oils helps people to deal with their anxiety issues and promote better sleep. It can also help to deal with depression.
Benefits Of Oil Diffusers
Using a good oil diffuser can have certain benefits on your health and body.
One of the best-known benefits of essential oil is that it helps to calm you down and relieve your stress after a tough day.
Oils such as lavender and chamomile help to promote good sleep and can give you a much-needed break from your daily stressed life.
An essential oil diffuser can also be used to keep you safe during the cold and flu season.
The usage of tea tree or peppermint oil can help to boost your immune system to help fight such viral diseases. Oregano oil can help in flu prevention.
These oils can also help you lose weight as they target your limbic system that is the emotional side of your brain. This would switch off your desire to eat and would help boost your health.
An oil diffuser with proper oils can also help you save your money as you won't have to buy other products to help cure your headache or flu or to get your kids to fall asleep on time.
It is like a one-time investment helping you in many different ways.