Finding the right electric shaver for you can be tricky. When you don't understand the details of each shaver, you select and do not compare what you want to buy. You will end up trying and changing multiple shavers one after another, wasting both your money and your precious time.
But don't worry, we are here to help you find the best electric shaver for yourself and a perfect one that fits your needs. Never miss buying electric shavers using amazon coupon codes.
So what does the best electric shaver seems like? Frankly, it is impossible to find a universal best electric shaver that fits everybody on the planet best. But in particular, one can find an electric shaver that fits best to his choice, and it will be the best electric shaver for him.
So how to categorize an electric shaver in the list of best ones for you? You have to ask yourself some questions to do so. These questions are:
How often do you shave?
What kind of facial hair do you have?
What kind of shaver do you need?
What do you prefer most while shaving? (comfort or closeness)
Do you have sensitive skin or any acne?
What could you afford?
You have to consider these entire things while choosing the best electric shaver for yourself. Once you are done, it is not a difficult task to buy an electric shaver. You have to choose from the best ones down below that we have mentioned just for you. You can also buy electric shavers from Walmart using the best discount codes at Walmart.
So presenting the list of best electric shavers that you can buy in 2021:
Our Topmost Pick
1. Panasonic Arc 5 ES-LV95-S
Best Electric Shaver for Close Shaving
When it comes to shaving, a shaver with five ultra-sharp nanotech blades, honed at 30 degrees for précised, gentle, and closed shaving, cannot be ignored.
The five arc foils in its head don't let a hair go. They catch every hair, shaves it with perfect closeness, and stay in contact with skin to provide comfort and increase efficiency.
Its Multi-Flex pivoting head moves in all possible directions according to contours of your face to shave your neck, jaws and area under the nose without any effort.
Arc 5's high powered motor that delivers 14,000 cuts per minute gives it a lead over other shavers on the list. It is also equipped with a shaving sensor that automatically adjusts power according to beard density.
ES-LV95-S also comes with automatic charging and cleaning station, which cleans, dries, and charges shaver just with the push of a button.
It completes charges the shaver in one hour to give 40 minutes of soft, comfortable and gentle shaving. The shaver has 10 stages LCD, which shows battery status and other indications at a glance.
This shaver can perform both wet and dry shaving, so you can use it with foam or while you are in the shower.
It also comes with a precision trimmer for sideburns and moustaches. Furthermore, it also has a built-in travel safety lock to increase its portability.
Pros
Extremely close Shave
Extremely Powerful
Automatic Cleaning and Charging Station
Cons
Not as much Comfortable as Braun series 7 or 9
Satisfactory for Sensitive Skin
2. Braun Series 9 9290cc
Best Electric Shaver for Comfort
As a replacement to its long term market leader series 7, Braun introduced series 9 with some upgrades in physical features and ability of the shaver.
The reasons to buy series 7 for every buyer were comfort and closeness. If you want a bit more of them, then series 9 is what you should opt for.
Braun series 9 include five synchronized shaving elements. Of which 2 are OptiFoils, and 2 are cutters. The two cutters are highly efficient in shaving every hair type, especially flat hairs lying in multiple directions. As far as closeness is concerned, series 9 has 40,000 cutting actions that cut every hair as short as 0. 05mm.
Moreover, its Sonic Vibration technology allows the shaver to glide over your skin easily, to provide a shave as gentle as possible. And as it is a wet and dry shaver, it gives you shaving experience with water and foam.
Another main reason for the Braun series nine 9290cc is the cleaning and charging station that comes along with it. If you are tired of cleaning your shaver manually, then this will keep you at ease.
It cleans, dries, lubricates and charges your shaver just with a touch of a button. Braun has provided its series nine with a battery life of 60 minutes after one complete charge, 10 minutes more than its series 7.
If you are concerned about the design and color of the shaver, then let you know that Braun Series 9 comes with an elegant and glossy chrome design.
Pros
Extremely Comfortable
Good for close Shaves and Sensitive Skin
Automatic and Easy Cleaning
Cons
Expensive
Some users Consider Series 7 on series 9
3. Braun Series 7 790cc
Best Electric Shaver for Comfort
Braun Series 7 790cc has been the best pick for many people who consider comfort and closeness mainly while they are shaving. And especially for those who want these but have sensitive skin. It is also beneficial for those who think that a clean and charge station is a must-have thing for them.
It comes with Intelligent Sonic and Autosense technology that automatically increases power while shaving in difficult areas or while shaving dense hair.
It produces 10,000 micro-vibrations and an adaptive shaving motor to capture more and more hairs in one powerful stroke. Furthermore, it comes with four shaving elements, 3 for cutting and one for skin guard. As for its closeness, it cuts hair as short as 0.5mm.
It possesses an 8D flexible head and floating shaving elements that capture hairs in areas where other trimmers can't reach. As taking about the head, Braun Series 7's head performs more précised shaving than series nine due to its three cutters, which can shave in tricky areas more easily than four cutters in series 9. Moreover, Braun updated its series seven by giving it five personalized shaving modes for extra power compared to 3 in the older series.
The best thing that comes along with Braun 7 series 790cc is its cleaning and charging station. It performs alcohol-based cleaning and using a heating element to dry your shaver.
It also supports charging functions and fully charges the shaver in 1 hour. Once fully charged, the Shave can give a comfortable, cordless shaving experience for 50 minutes.
Braun Series 7 790cc is a Wet and Dry shaver and is waterproof up to 5 meters so that you can shave with running water if you love to.
Pros
Very Comfortable
Effective Cleaning Station
Suitable for sensitive skins
Cons
Poorly implemented Head Locking Mechanism
Not closest as compare to Arc 5 and Arc 4
4. Philips Norelco 9700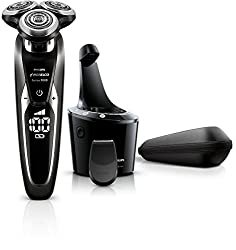 Best Rotatory Electric Shaver
It is impossible to exclude Philips Norelco from the list of best trimmers. Although its 9000 series is all best, we prefer to tell you about the latest one in the series that is 9700.
Philips Norelco 9700 comes with three rotary blades, each with 8D contour detect technology which helps you catch 20% more hair in a single pass. Its V-Track Precision blades pro capture each hair on your face and neck regardless of its length. TheseThese blades also cut 30% closer in fewer strokes and leave you with a smooth face and a comfortable experience. Philips has provided 3-speed settings along with this shaver that you can use according to your desire, slow for sensitive skin, medium for a thorough everyday shave, and fast for a high-powered quick shave that will save your time.
Philips Norelco is accompanied by a Smart, clean plus system that cleans, lubricates, dries and charges the shaver. It cleans the shaver with an alcohol-free skin-friendly formula and removes foam and gel through filtration. It lubricates the shavers' blade and charges it to make it always ready.
The shaver comes with digital user interference that also indicates battery, cleaning, changing head and travel lock.
Philips Norelco allows you to experience both wet and dry Shave along with the comfort of using shaving foam too. Moreover, it also provides you with a facial cleansing brush that removes oil and dirt from your face.
Pros
Suitable for coarse beard
Automatic Cleaning and Charging Station
Great for long Flat-Line hairs
Cons
Expensive
Shave less close than Arc 5 or Arc 4
5. Panasonic Arc 4 ES-LA93-K
Best Electric Shaver for Closeness
Panasonic Arc 4 shavers may be underrated, but they do the same shaving as others do but at a lesser price tag. And when it comes to closeness shaving, they are direct competitors to Braun, and according to many users, they are better than every shaver when it comes to closeness.
Arc 4 comes with four shaving elements along with the efficiency of a dual-motor system. One linear motor produces a speed of 14,000 CPM for a powerful Shave, and the second one moves the shaver head up and down to lift and catch hairs for a clean, smooth and efficient shave.
Its Multi-Flex pivoting head moves in all directions to give a smooth and gentle shave. The four nanotech blades are precisely forged at an angle of 30 degrees to cut the hairs until their root.
Moreover, these blades and foil are hypoallergenic to ensure a smooth and comfortable shaving experience. It also has a precision trimmer for sideburns and moustaches. Plus, this shaver performs both wet and dry shaving.
The best part of this model that separates it from other Arc 4 is its automatic cleaning and charging station to clean, dry and charge the shaver. It also has a sonic vibration cleaning mode that makes it easy to clean under tap water.
This arc four also has a 10 stage LCD with multiple indicators regarding power status, charging, cleaning, etc.
Pros
Provide very close Shaves
Very Powerful
Automatic Cleaning and Charging Station
Cons
Replacement Foils are Expensive
Comfort is Satisfactory
6. Braun Series 5 5190cc
Best Comfortable Electric Shaver According to its Price Range
With 2 SensoFoil blades and an 8Dflexixible head, Braun series 5 5190 is known to provide close shaving (up to 0.058m) and is gentle and comfortable.
Its autosensing motor senses the density of your hair and adapts according to it for an efficient and comfortable shave. Its Actilift trimmer captures flat-lying hairs and hairs growing in multiple directions.
Alike other models on the list, this one also comes with a charging and cleaning station, which keeps you away from all hassles created by manual cleaning.
Its cleaning station performs alcohol-based cleaning and dries and lubricates the shaver. It performs cordless shaving for up to 50 minutes and completely charges in one hour.
Pros
It can be used alone and can be used with a foam or gel too.
A precise trimmer also comes with it for précised lining and sideburns.
Comfortable and Suitable for Sensitive Skin
Automatic Cleaning Station
Good Value for Money
Cons
Noisy During use
Manual Cleaning Could be Complicated
7. Remington F5-5800
Best Electric Shaver Under 50$
Are you among the men who don't like to invest much in their shavers? Then a small investment can give you a close and gentle shaving experience if you buy Remington F5-5800 for yourself.
Remington F5-5800 has a Pivot head and Flex foil technology which adjusts the head to shave with perfect closeness in tricky areas of your face. Its head has two indecently flexing foils that flex to adjust and shave in facial curves. It also possesses an intercept shaving feature which pre- trims long hair to get a close shave. It is equipped with surgical blades that are sharp and last long.
Remington f5 5800 can be used as both cordless and with cord. It has 60 minutes battery time, plus a 5-minute quick charge function to provide enough power for one gentle Shave. Thanks to its water resistivity, it doesn't come with a cleaning station but can be cleaned by just keeping it under the faucet.
Moreover, it also comes with a pop up detailed trimmer for precise detailing on your beard.
Pros
Budget-Friendly
Includes a Popup Trimmer for precise Grooming
Easy manual Washing
Cons
Do not work with foam
Limited Motion as Compared to other Trimmers
8. Braun Series 3 ProSkin 3040s
Best Electric Shaver for Sensitive Skin
Braun Series, 3 ProSkin 3040s, is an entry-level electric shaver that offers affordable prices and comfortable shaving all in one.
It comes with 3 Pressure Sensitive elements that work together to provide to close and gentle Shave. Its pressure sentinel blades automatically retract to protect your skin, providing the comfort you need. Its Micro comb technology catches more hair in one stroke. Series 3 ProSkin 3040s is designed for précised shaving as it easily reaches tricky areas of the face, such as areas under your nose.
Moreover, it is equipped with an extra-large precision trimmer on its back that comes in handy while shaping sideburns.
It is a wet and dry shaver that you can use with water, foam or gel. It lacks a cleaning station but is waterproof up to 5 meters, so you can easily rinse it with tap water.
Skin pro 3040s provides you with 45 minutes of cordless shaving. It takes 1 hour to charge completely and 5 minutes to become ready for single shaving.
Pros
Suitable for Sensitive Skin
Wet and Dry Shaving
Good Value for Money
Cons
A little bit underpowered for coarse facial hair
Does not Shave as close as Panasonic Arc 3
9. Panasonic Arc 3 ES-8103-S
Best Electric Shaver for Closeness in Budget
Panasonic Arc 3 ES-8103-S will serve as an entry-level electric shaver well due to its effective cost and efficient abilities.
Arc 3 has three sharp nanotech blades arranged at an angle of 30 degrees to cut hair from its base for close and précised shaving. These blades are hypoallergenic to provide a gentle Shave without any irritation. Its flexible pivoting head moves up and down And side by side to follow the contours of your face and provide you with an effortless, comfortable shave.
Arc 3 is equipped with a powerful motor that delivers 13000 cuts per minute, much more than the rest of the three blades shavers. This power serves as its backbone while performing close shaving.
This shaver performs shaving in both wet and dry conditions, so whether you are convenient in using only a shaver or love to use it with foam, you can do both. Arc 3 also possesses a précised pop up trimmer for moustaches and sideburns.
It is waterproof and is cleaned manually under tap water. To further enhance ether cleaning, it comes with sonic vibration technology to give extra cleaning.
An illuminated LCD indicates battery status along with cleaning reminder, charge indicator and sonic mode.
Pros
Provide Close Shave
Budget-Friendly
Powerful, Suitable for coarser Facial Hairs
Cons
Not Suitable for Sensitive Skin
Replacement foils are Expensive
10. Philips Norelco 3100
Best Rotatory Shaver in Budget
Philips Norelco is the best rotary shaver you can have for under 50$. Though it is a bit basic, it justifies its price quite efficiently.
Its head moves in 4 directions too easily shave every curve of your face. Their rounded blades glide smoothly over your face guaranteeing a comfortable shave. Norelco 3100 shaves in both wet and dry condition and can be easily cleaned with tap water. It also has a pop up précised trimmer for sideburns, which is seen less in this price range.
It can provide 45 minutes of cordless shaving. Plus, it also has an LCD battery indicator.
Pros
Budget-Friendly
Work well on Longer Facial Hairs
Good Rotatory Shaver for Beginners
Cons
Satisfactory for Sensitive Skin
Does not Shave as Close as Other Entry Level Shavers
Check out the best electric shavers at a discounted prices with AliExpress coupons.