Just imagine, you are traveling by road in your car with your family, it's a very long way and your battery runs out?
What would you do in a situation like this? Would you call for help? Would you wait until help arrives? Or would you wait for any jumper cars?
What if there are no cars across the lane? What would you do? Let's just stop imagining, and let's talk about the solution to this horrifying problem.
Best Car Battery Chargers
Car battery chargers are the ultimate solution for your problems. They charge your car's lead-acid battery and guess what? You can leave them for one day or a week, they will not harm your battery in any way possible.
When a car's battery is charged with another vehicle battery, it can damage it long term and it is not efficient for the car. Well, the option of having another jumper car to charge your car battery is useless. We wouldn't want any damages caused by any vehicles.
Due to Covid, cars remain still for a longer period of time, which leads to its battery decade, these battery chargers can help the vehicles from dying out. Now, the question is what are car battery chargers? First, let's answer this question.
These chargers are microprocessor controlled and are also called maintainers because they are able to detect lethargic batteries and are able to somewhat fix them. They keep your automobile in action even if they don't move for a month. In modern chargers, there are multiple sensors and even a led screen too.
In this article, let's all learn about the best car battery chargers and list the top-rated chargers for your cars.
1. Deltran Battery Tender Plus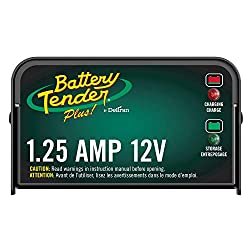 When it comes to a vehicle's battery charger, it doesn't depend on the vehicle type, be it a car, motorcycle, or a truck because almost all of the vehicles have lead-acid batteries. Being 4.7 out of 5 stars, the Deltran battery tender has a huge popularity rate on Amazon.
It is one of the best car battery chargers having 1.25 Amp so your vehicle's battery doesn't get damaged. It also has control units and maintenance units, in which it controls the amount of charge required for your vehicle, this really helps the batteries not to be overcharged and the maintenance unit is to maintain the charged batteries even when the vehicle is not moving around. The best of them all, it can handle harsh weather be it too cold or too hot.
Pros
It is easy to connect and disconnect
User-friendly
Work in extreme weathers- hot or cold
10- year warranty
Doesn't take too much space
Cons
Takes time for larger batteries
1.25 Amp lacks LED screen for accurate readings
Doesn't have a desulfation
2. NOCO Genius 1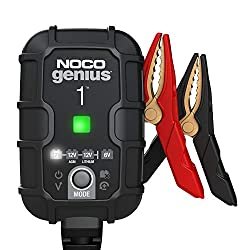 The NOCO genius 1 is one of the top-rated car battery chargers, having huge popularity on Amazon. Well, I will say it is of high quality with a low price being only 30$.NOCO genius 1 works with all kinds of batteries even with lithium-ion batteries, 6 and 12-volt batteries. It also has temperature sensors that help to detect the temperature and decrease or increase 1 Amp accordingly.
Another reason for it being the best car battery charger is that it also can charge dead batteries by turning itself into a manual charger, this means it will deliver a continuous charge not until you plug it out. It is also compatible with all types of other vehicles be it a car, a motorcycle, a boat, or a lawnmower. If you are looking for a pocket-friendly, portable, and highly-efficient battery charger, this one's for you.
Pros
Portable
Easy on the pocket
Work with all types of battery
Light-weighted
Cons
Doesn't auto-sense what type of battery it's charging
In-box instructions aren't written well
3. Schumacher SC 1281
Do you want a car battery charger that gives high power and is in your home and not in the auto-garage? Well, this car battery charger is just for you. It is an automatic microprocessor charger compatible with almost all types of batteries and that's just not all, it is also safe to use having reverse clamped hooks to ensure protection if the clamps are reversed. Do you have a car with a dead battery or do you want more power for a jump start? Let's say, Schumacher SC 1281 not only provides 30 Amp for a quick boost but also 100 Amp for a jump start.
Schumacher SC 1281 is almost 80$ on Amazon, a little bit pricey than other chargers but is one of the best car battery chargers on Amazon.
Pros
Safe to use
Easy to use
30 Amp is good for boosting the energy of dead batteries
100 Amp for jump starts
Cons
The charger doesn't sense different battery i.e it doesn't have auto-sense of different types of batteries
4. CTEK Mus 4.3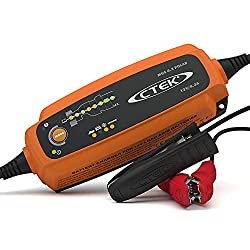 Let's shout out to the polar bears and the people who live with the polar bears out there because these battery chargers are for extreme cold weather. The CTEK Mus 4.3 uses both AC and DC adapters for severe harsh conditions. It is an advanced automatic microprocessor having the feature of diagnosis of battery condition. The 'Snowflake' mode ensures ideal charging in harsh conditions. The battery charger is splash and dustproof making it safe for all climate conditions.
It is about 92.74$ in Amazon, a little expensive but is the most top-rated car battery charger for those who live in southern and northern areas.
Pros
Used in extreme conditions
Simple to use
Spark proof
5. Battery Tender Junior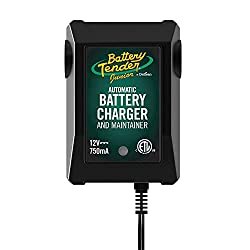 Deltrans's Tender plus is top-ranked in car battery chargers, its sister is a perfect choice if you are looking for long-term battery storage. Like its brother, the tender junior also has the 'float unit i.e: it doesn't overcharge the car batteries. It also can be used in many different battery types be it an AGM, lead-acid, flooded, and many more.
Another important feature about the Tender Junior is its indicator LED lights making it more user-friendly. It gives off about 0.75 Amp of volts which is not much but can be plugged in your car battery.
Battery Tender Junior is one of the best car battery chargers in Amazon and guesses what? It is pocket-friendly. (less than 40$ in Amazon)
Pros
Easy to use
Pocket-friendly
Long-term storage
Portable
Cons
Can give false indications of full-charge
The cord length is small
6. Optima Digital 400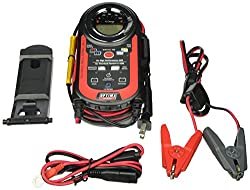 Looking for a car battery charger that can also deal with dead batteries? The Optima Digital 400 not only can detect a fault and failed battery but helps in maintaining the battery performance by desulfation the battery. It also helps in increasing the battery life and performance with its built-in battery health mode.
Optima Digital 400 is one of the best car battery chargers for dead batteries as many have reviewed on Amazon that it works wonders for dead batteries.
Pros
Smarter product- this unit has different types of settings for different types of batteries
Safe to use
Can maintain and fix dead batteries
Cons
Little Pricey
One battery at a time- can"t charge 2 or 3 batteries
7. NOCO Genius 10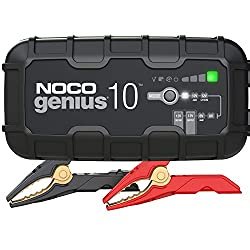 NOCO Genius 10 is smaller in size but is fast to deliver power to the batteries of a vehicle. It can be used for various types of battery types and have similar but better features from its sister Genius 1.
The NOCO Genius 10 has an integrated thermal sensor that detects the surrounding temperature and alters the charger not to overcharge or under-charge in certain circumstances. It helps to restore those batteries which lost their function or are sulfated and can charge dead batteries from 0 volts. It is an advanced battery maintainer which is compatible with many vehicles be it cars, motorcycles, boats, lawnmowers, etc.
NOCO Genius 10 is ranked seventh on the best car battery chargers on Amazon having 4.7 stars out of 5.
Pros
Simple to use
Rehabilitate older batteries
Has a thermal sensor
Cons
Can't resurrect completely dead and damaged batteries
8. Griot's Garage Charger/ Maintainer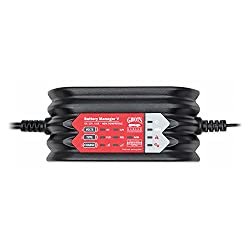 The Griot's garage is around 100$ in Amazon and is claimed to be 'The Roll Royce of battery maintenance'. There are a lot of features in this battery charger including three sets of charge units accommodating a 2 Amp vehicle to a 20 Amp lawnmower. It is safe to use and has LED lights to indicate any type of error be it a different battery type other than the selected one or a dead battery.
It's not among the best car battery chargers but can be the safest and the most reviewed chargers on Amazon.
Pros
Informative displays
Safe to use
User-friendly
Cons
Expensive
Error messages lack interpretation
9. NOCO Genius 2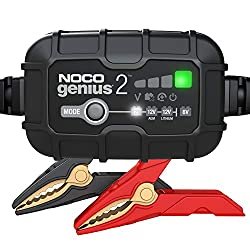 Just like its sister chargers, NOCO Genius 2 is rated as the best car charger on Amazon. Like its sister chargers, it is compatible with different types of batteries be it a lithium-ion battery or marine and deep-cycle batteries. It also has a thermal detector that detects any climatic changes and alters its charge with the cold and hot weather. It also has the function of restoring and charging your dead and damaged batteries and making them as good as new.
Pros
Easy to use
Smaller in size
Compact and light-weighted
Cons
Need larger cables
Needs to automatically recognize what type of battery it's charging
10. Schumacher SC 1325 Battery Charger
Schumacher SC 1325 is big weighing upto 43.9 pounds and its height is about 2 feet. It has charging and maintenance mode delivering upto 2 to 6 Amp power. If you want a big deal, it also provides a boost upto 60 Amp and even a 250 Amp jump start when necessary.
Well, I won't say it can cause permanent damage to the battery but sometimes, when it's really needed, it can be used. It is not only the fastest charger out there, but it is also compatible with many other battery types. If anyone wants a heavy-duty charger and a jump starter, this charger is one of the best chargers that could be used.
Pros
Multiple modes
Easy to use
Easy to transport despite weighing around 30 pounds
Automatic and a smart design
Cons
Expensive – costing around 200$
Instruction manual not readable
Frequently Asked Questions
Q. Which car battery charger should I buy?
It's pretty simple before purchasing any car battery charger, ensure that it offers 10% of your battery's amp/hr (Ah) rating. Similarly, upgrade the charger amps for better car battery chagrin performance.
Q. How long should you leave a car running to charge the battery?
That's an important thing to look for: after you have your car in the ignition, you have to keep the car's engine on a switch on mode for the next 30 minutes approximately. Because it gives the chance to alternator time to charge the battery.
Q. Why does my car battery die?
Well, the following are the reasons that become the reasons for a car battery to die:
Repeatedly loose of corroded battery connections
Charing problems
Explicit demand of the power
Extreme weather
Wrapping Up!
In the above article, we discussed the best and top-rated car battery chargers that are easily available on Amazon. These car battery chargers are automatic and can or cannot be compatible with different types of batteries. They are portable and can be plugged in without any worry of over-charging, unlike manual chargers. Overall, automatic car battery chargers are the number one solution for dead batteries.