Click. Click. Click. Oh no, not again. My mouse is not working. Now, I have to buy another mouse. Oh, I didn't see you coming, as you can see I was searching for stuff on Google but my mouse got stuck. What should I do now? Wait, you are a Gamer and you also want a mouse for yourself. Well, I have quite a list for you of the best budget gaming mouse.
A great mouse is necessary both for your work and for gaming. The level of accuracy and dependence can make a huge difference. Better quality can help you perform better. The usage of mouse in gaming is far more than the usage in work. I mean, in gaming, it is important to have a great mouse. The best mouse can make a huge difference in your gaming experience be it wireless/ wired or light-weighted/heavy-weighted and guess what? They can be as cheap as 50$.
Let's get back to the listing of the best gaming mouse in the budget, here are a few gaming mouse that is best and budget-friendly:
1. Razer DeathAdder v2 Gaming Mouse
The Razer DeathAdder v2 has 4.8 out of 5 stars in the customer review section in Amazon. Standing tall at approximately $35, the Razer DeathAdder v2 could be the best affordable gaming mouse.
This mouse has a maximum of 20,000 DPI and has optical left and right buttons (that means it has infrared lights) rather than a mechanical one. The Razer v2 can easily detect and do flawless tracking even if you move the mouse at top speed. The optical sensors are of high-definition, it can work with soft and even a hard pad. If you are not a wired-mouse person, don't worry, it also comes with a wireless version of itself.
Pros
Ergonomic ( fit for any kind of hand size- be it large or small)
Light-weighted
Economical
Tracking is great
Cons
Issues in the supporting software app
The buttons are far apart
2. SteelSeries Rival 3 Wireless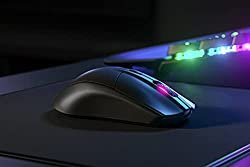 Want a wireless mouse that operates on AAA batteries? Well, this is the best wireless gaming mouse for you. The SteelSeries Rival 3 is operated with AAA batteries and can run upto 400 hours on one pair of batteries. It has an 18,00 DPI sensitivity with its tracking up to 400 inches per second. Being wireless, the mouse can be connected to your PC/Laptop or any other device by a Bluetooth connection or with its low latency wires.
Another important feature of this mouse is that it is compatible with Mac, PC, PlayStations, or Xbox.
Pros
Comfortable to hold
Affordable
Stylish
Great battery life
Cons
Rubber cables are flimsy
Heavy for some users
3. Corsair Katar Pro XT
Corsair Katar Pro XT is one of the best affordable gaming mice and is about $30 on Amazon. The wireless fans have to pay 5 dollars extra for this mouse. This mouse is light-weighted being only 73 grams and having 18,000 DPI optical sensors making it best in tracking precision and accuracy.
Another important feature of Corsair Katar Pro XT rather than its weight is Corsair's iCue Software, you can remap every button (left-key is excluded) and can edit RGB options.
Pros
Light-weighted
Software is user-friendly
Affordable
Cons
Battery life is short (upto 3-4 days)
The size is too small
The scroll wheel is stiff
4. Razer Naga Pro
Want a wireless mouse that can deal with MMO, MOBA as well as general games? The Razer Naga Pro is the mouse for you. It has a tracking accuracy of 20,000 DBI and upto 19 programmable buttons offering it to perform macro functions in its software. The optical sensors of the Razer Naga Pro detect click with its light beam-based actuation making it faster than mechanical buttons.
An important feature about this mouse is its 3 interchangeable side plates with 2, 6, and 12 buttons and the battery life is upto 150 Hrs.
Pros
Battery life is excellent
RGB customization can be done as it supports upto 16.8 million colors
Good mouse for MOBA and MMO games
Fast-paced
Cons
A little bit pricey ($100 in Amazon)
The design is a little chunky
5. Logitech G203 Lightsync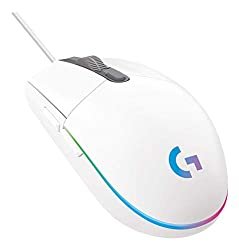 Want a cheap mouse that is dependable and responsive, the Logitech G203 Lightsync is one of the best cheap gaming mouse ones can have. This gaming mouse has 8000 DPI sensors that can detect precise movements. It's just like an all-rounder, giving you accurate
and stable performance with its classic design.it is designed in such a fashion that the mouse can be used by gamers or in the office. The left and right clicks are mechanical so it gives off an excellent feel. The RGB lights can be customized with its software application.
It is almost $39 and has about 4.7 out of 5 stars on Amazon making it a good cheap gaming mouse.
Pros
Light-weighted
No in-app downloads- just plug in the mouse and have fun
Professional
On the budget
Cons
The in-app software could be better
Too small for large hands
Less DPI gaming-grade
6. Fnatic Clutch 2 Pro Esports Gaming Mouse
The Fnatic Clutch 2 pro mouse can be one of the most top-best budget gaming mouse for about $24.40 on Amazon. The most important feature of this mouse in spite of being a cheap gaming mouse is that it has a PixArt PMW3360 optical sensor. This sensor allows you to not only do precise tracking but also offers a low lift-off distance that is desirable for a perfect aim. This mouse has 12,000 DPI sensors and can have a speed up to 250 inches per second.
Pros
Good Quality mouse
Have PixArt PMW3360 sensors
Easy-To-Use software
Budget-friendly
Cons
Simple design
Customization options are limited
A little heavy- about 98 gms
7. SteelSeries Prime Wireless FPS Gaming Mouse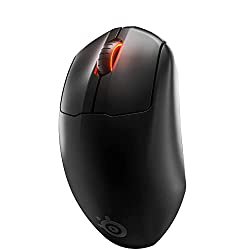 Want a mouse that is specifically developed for FPS players and is one of the best budget gaming mouse? The SteelSeries Prime (wireless) is the one for you. This mouse has an 18,000 DPI optical sensor and comes with a Type-C charger. The battery life of this mouse is up to 100 hours but can be drained quickly with high graphics and high performance. It has a very comfortable design and feels like it is just a part of the hand.
Pros
Good sensor- feels accurate and responsive
Comfortable design
Solid-feeling construction
100 hours battery charge with quick charge
Cons
A little expensive
The scroll button is hard to press
The buttons are too small
8. ROCCAT Burst Pro PC Gaming Mouse
The ROCCAT Burst Pro gaming mouse is one of the best budget gaming mice so far. The ROCCAT Burst Pro gaming mouse has 19,000 DPI Owl-Eye sensors that hit the level of perfect accuracy and precision. The left and right clicks are basically operated by a light beam that provides long-lasting hundred million clicks. The bionic shell has a transparent exterior and a honeycomb interior prevents dust from entering inside.
An important feature that makes it the top-best budget mouse in Amazon is that its sensors have a low-click latency and a wide CPI range.
Pros
Extremely well-built
Light-weighted
The glide is excellent and gives off a comfortable feel
Great performance in games and office tasks
Budget-friendly
Plug and play
Low-light Latency
The cable is light and flexible
Cons
Not suitable for small hands
The software is not user-friendly
9. Corsair SABRE Pro Gaming Mouse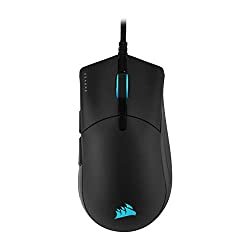 The Corsair SABGE is a wired gaming mouse that has a solid well-built structure and a highly comfortable plastic body. It is light-weighted and is about 74 gm which helps in supporting the rapid movements and twitch reflexes. It also has a very low latency click and a greater CPI. The built-in software of the mouse is compatible with both Windows and macOS.
It is one of the best budget mice that has a polling rate of up to 8000 Hz. it is approximately $50 on Amazon.
Pros
Amazing Quality
Light-weighted
Polling rate up to 8000 Hz
Fast sensors
Software is powerful
Comfortable
Cons
Rubber scroll wheel
Not suitable for small hands
10. HyperX Pulsefire Haste
The HyperX Pulsefire is among the best budget gaming mice that have precise and accurate tracking. It is ultra-light with its honey-combed design so dust could not enter. The dustproof, TTC micro-Golden mechanical left and right clicks make a satisfactory sound and are rated for upto 60 million clicks. You can customize your RGB lights and DPI settings with HyperX NGENUITY software. The USB cable is a flexible paracord that helps in mouse movement by reducing tension and resistance. The $40 mouse uses PixArt PAW3335 optical sensors which helps in accurate tracking in high acceleration.
Pros
Great mice for FPS gaming
Flexible mouse cable
Fast optical sensors
Light-weight
Cons
The software can be much better
Not for 'serious' gamers
The RGB lighting is low
Frequently Asked Questions
Q. Why should I choose a gaming mouse over an optical mouse?
The gaming mouse is designed in such a way that it has more precision tracking, is smooth, and is more responsive than a traditional mouse.
Q. Does a wireless mouse good for gaming?
In modern days, there is no difference between wired or wireless gaming mouse. You can use both wired/wireless, it would not make a difference.
Q. What to look for in a good-gaming mouse on a budget?
You should observe the DPI settings and the additional buttons used in the mouse for a great gaming experience.
Final Verdict
Well, that's all about gaming mouse that is on a budget. They could be wired/wireless or light/heavy weighted, the choice is up to you. I think I should also buy a gaming mouse for my work. I hope this article helps you out in determining the best gaming mouse. It would be nice if you comment down below any recommendations.